I've been working in the Dallas real estate industry with JLL since 2012 and have seen first-hand the rapid growth of the North Texas market. Originally from Houston, I went to the Naval Academy in Maryland and served my active duty primarily in Virginia, followed by some time in Florida, before becoming a Dallas transplant myself.
Through my time in the military, I was exposed to cities worldwide and understand why the great North Texas pockets are distinct and have consistently drawn in new people and businesses at tremendous rates.
There is no doubt that in the past year, Texas has made headlines for the mass amounts of people from across the country flocking to the state.
During the COVID-19 pandemic, individuals and companies in more restricted places sought additional flexibility, employment opportunities, and lower living costs, all of which North Texas offers. However, these relocations were going on long before COVID-19 disruptions magnified out-of-state moves and will continue to increase in the next decade as North Texas communities continue to evolve.
Why North Texas
DFW has grown faster than any other major city, with almost 20 percent growth since 2010, and this rapid growth is expected to continue, according to JLL research.
North Texas offers residents an extremely diverse economy and a great job market. The area also provides various living environments with rural, urban, and suburban options, all within a reasonable distance. This, coupled with easy access to airports, leading school districts, and a remarkably low cost of living, attracts people of all demographics.
In the last decade, there's been a clear shift as companies started moving to where their best talent pool currently lives, rather than forcing employees to relocate. The lower operational costs in Texas also allow companies to pay competitive salaries, attracting and retaining top talent.
JLL findings show that during the 2008 recession, DFW lost a smaller percentage of its job base (4.6 percent) than many major metros and recovered by adding more jobs than any metro besides Los Angeles and New York, which have much larger populations. Additionally, DFW experienced fewer unemployment claims in 2020 during the COVID-19 pandemic than most major markets and recovered faster. These factors have continued to attract new industries to the DFW area, like life sciences and tech, and fostered expansion in other industries, such as finance.
What It Means for Real Estate
Since 2010, the DFW area has become a magnet for company headquarters, with 140 headquarters relocations to the region from across the U.S. and abroad, including more than 45 companies moving from California. A few notable recent moves to the North Texas market include Toyota's North American HQ, Charles Schwab, and PGA of America.
Dallas was named the No. 3 Top Metro for corporate facility investment projects in 2019 and 2020 (Site Selection Magazine, 2020). According to Dallas Morning News, DFW is home to twenty-two Fortune 500 companies, the third-most in the nation.
This real estate growth is evidenced by JLL's own DFW team, which has seen 78 percent revenue growth over the past 10 years. Industries from healthcare to industrial have thrived due to better business incentives, a diverse and strong talent pool, and lower operational costs than other states. While this is great for the DFW area economy, it could potentially lead to a spike in real estate prices. We're already seeing commercial and residential costs rise as the population grows, although costs remain low relative to other states.
The Next Ten Years
The DFW population is expected to grow by 17 percent by 2030, according to the North Central Texas Council of Governments' predictions.
GRAPH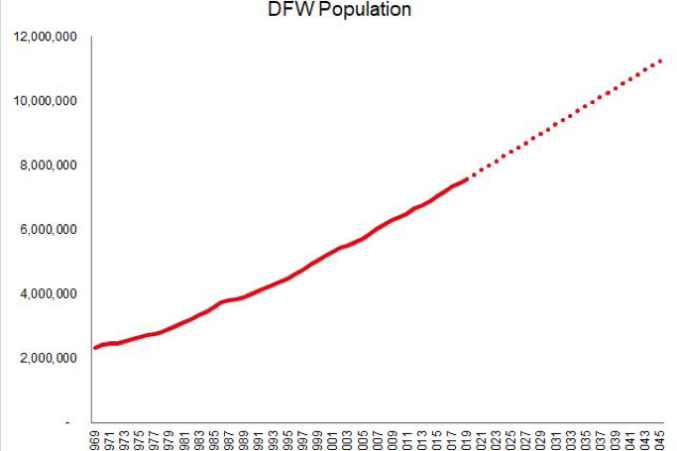 With these sharp population increases come additional employment available to the market. Our research identifies healthcare as a booming industry. Healthcare employment in DFW is projected to grow 14 percent over the next five years and bring in more than 338,000 new employment opportunities to the area.
The COVID-19 crisis demonstrates the importance of healthcare infrastructure, and while the shutdown was challenging to some providers, healthcare as a whole is expected to rebound faster than most industries. Additionally, DFW has 82 acute care hospitals, ten major hospital systems, and numerous medical schools that attract additional employees. The current healthcare and life sciences infrastructure and future demand will continue to fuel growth in this sector.
Overall, people are seeking more flexibility and a higher quality of life. This desire will only increase as companies continue to relax their in-office working policies and transition back to offices.
JLL's Worker Preference Barometer Report shows the workplace environment is trending towards more people wanting to be back in the office or work in a hybrid model, especially if amenities are available. As of June 2021, our research shows that Dallas had the highest number of workers back in office compared to other major metropolitan cities at 49.2 percent. These trends all point to increased growth and costs in both the commercial and residential real estate markets, as the DFW moving surge has only just begun.
Jeremy McGown is a senior vice president with JLL.
Get the D CEO Real Estate Newsletter
Get weekly updates on breaking commercial real estate news and relevant industry reports.