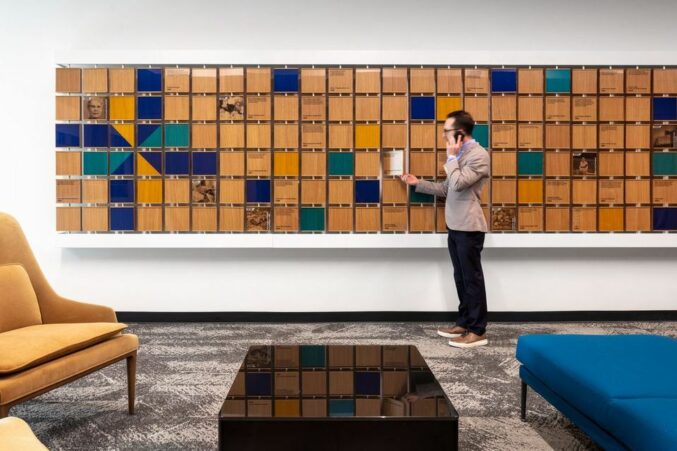 Retention in the Rebound
Employees are making inferences about what is important to the corporate culture. Corgan President Lindsay Wilson shares her thoughts on how to take note.
Open any news feed and you will certainly find a story about the job market, the lack of skilled labor, the staffing shortages, the war for talent, the impact of hybrid work, boomers and women not returning to the workforce. . . it is a job-seekers market for sure.
In places like Dallas, the rebound has happened more quickly than many predicted, creating a very dynamic hiring market. (Oh, I see you, Bill Cawley, you called it right here in the CRE Opinion, Get Ready for a Rebound.)
Regardless of how quickly we got here, the current market has led to many conversations about retention and recruiting, both internally at Corgan and with our clients and partners. There are many factors that influence how we feel about where we work. Several of them deeply relate to our work in strategy, planning, and design.
Communication
From post-pandemic workplace policies to the rollout of new technologies and teams, something is changing in practically every workplace.
How these decisions are communicated to employees, hopefully with great consideration, repetition, and intentionality, shapes the likelihood of their successful adoption as well as how the staff perceives their workplace culture. I would submit that investing in change management is akin to buying an insurance policy on your project and applies to whether we are talking about places or policies. How are you communicating those adjustments to your workforce?
Values in Action
I always find it interesting to see how quickly I can find a company's values published on their site. Are they front and center and woven throughout their communications or do I have to go to the careers page to see them touted?
No matter how good the graphics are or where they are located on your site or in your physical space – employees are looking to see how values show up in action. Yes, we can see them right there on the conference room wall, but can you feel them?
Food for thought: our research with recent college graduates reflected the importance of green practices in the companies they hope to work for -— this generation of workers isn't just looking for statements; rather, they want tangible solutions they can participate in to have a positive impact on the planet. Composting programs, green energy technologies, water conservation, the walkability of the office location, you get the idea.
At Corgan, curiosity is one of our values — like many, we aren't exactly sure where we should land on hybrid work. We are working through balancing the needs of individuals and the group. We are starting with a pilot to test shifting work hours and adding flexibility to work from home when your work is not interdependent with others. We have a communication plan, change agents, and a clear plan to gather feedback. This is how we are putting our value of curiosity into action.
Employee Experience
This is where a lot of things intersect. Are you creating a consistent experience for your employees – in both physical and digital formats? Does it align with your brand, mission, and values? Starting from their first visit as potential candidates through details from day-to-day interactions, employees are making inferences about what is important to the corporate culture. They are deriving opinions about their value and belonging as well.
It's the little stresses that add up -— badge doesn't work, can't find a parking spot, printer out of paper, fickle conference room technology. It's also the little moments of delight that define our positive experiences, from branding moments that tell stories to the ways you celebrate wins, from art that inspires to technology that simplifies.
The digital experience is just as important. Once reserved for the largest of corporations, many companies are now looking to workplace apps to provide a full host of employee resources in a unified spot.
I recently spoke with Paul Alley, director of strategic alliances at Appspace about the company's platform, "The physical workplace has shifted forever and organizations of all sizes have a laser focus on keeping all employees engaged and delighted, regardless of where they are working. Technology solutions providing the same experience for team members at home, in the office, on the factory floor, or on the go, will be critical success factors as more organizations continue to adapt to the changing workplace landscape." Human-centered design solutions depend on seamlessly connecting the employee experience between physical and digital platforms."
Of course, there is much more to putting your best foot forward as an employer: leadership, co-workers, job design, compensation, benefits, career path, and development are all significant factors in why people stay or go.
There are others more qualified to dive into those topics, but I can advocate for taking a fresh look at how you communicate internally, how your actions and your workplaces reflect your organizational values, and what your cohesive employee experience says about your company. I know there is real power in both the willingness to evolve and the opportunity this current moment has given us.
Lindsay Wilson is the president of Corgan.