Goldman Sachs Group is looking for a new office campus in Dallas. The site will be the Wall Street bank's largest presence in the U.S. outside of its Manhattan headquarters. Gov. Greg Abbott tweeted today that the financial sector is booming in Texas and that Goldman's DFW property will be "huge."
How huge and where? Well, here's what we know.
According to Bloomberg, executives with Goldman are in advance talks with developers as they scout expanded space in North Texas. A company spokesperson told the media outlet, "We continue to grow our presence in the Dallas area but cannot comment at this time on our future expansion plans."
Goldman currently has office space in Dallas at the Trammell Crow Center downtown, where it moved in 2018 and houses more than 330 employees. Sources say the company is looking for at least 1 million square feet for its new Dallas campus—about half the size of its 2-million-square-foot global headquarters in Manhattan.
The requirement seems in line with what we have seen from other financial institutions moving into North Texas. For example, Charles Schwab's headquarters at Hillwood's Circle T Ranch in Westlake totals about 1.1 million square feet. JPMorgan Chase & Co.'s campus in Plano has grown to 1.5 million square feet.
Other financial institutions in North Texas include California's First Foundation Inc. and Fidelity Investments; Vanguard Group plans for an office in the Dallas-Fort Worth area early next year.
Looking at existing space, Fountain Place and Renaissance Tower are the only two buildings downtown that can handle 900,000 square feet, according to CoStar.
For projects under development, sites such as Kaizen Development Partners' and Woods Capital's Field Street District comes to mind. The project will have 1.2 million square feet of office space—in 700.000-square-foot and 500,000-square foot towers.
A recent ambitious plan by Hunt Realty also sounds like a huge contender. In this linked Frontburner report, Matt Goodman reports that the firm has plans to turn a 540-unit apartment complex on 11 acres in Victory Park into a mixed-use high-rise development. The company has suggested in news reports heights of more than 80 stories, which existing zoning allows. The plan is in the early stages, but sources say Hunt is scouting an anchor tenant.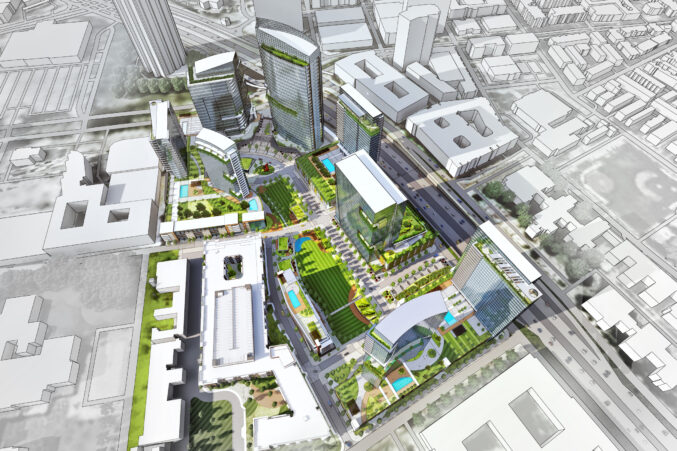 Another possibility could be at the former site of the Leaning Tower of Dallas (located at the northeast corner of US 75 and Haskell Avenue). De La Vega Development has plans for the 27-acre site, which will feature 2,000 multifamily residential units, 2.5 million square feet of office space, and 110,000 square feet of retail space. The first phase of the plan will consist of 350,000 square feet of office space, nearly 29,000 square feet of retail and restaurant space, StreetLights Residential's 350-unit apartment project, and a parking garage.
Hillwood Urban's 38-story Field Street Tower, planned at Woodall Rodgers Freeway and Field Street, is planned for about 520,000 square feet—half of Goldman Sachs' reported 1 million-square-foot requirement.
Thoughts on where it might land? Let me know in the comments section—or email me at [email protected].
Get the D CEO Real Estate Newsletter
Get weekly updates on breaking commercial real estate news and relevant industry reports.