When Bob Sulentic began his career as an industrial leasing agent in 1984 with Trammell Crow Co., real estate was a much more local business. Now at the helm of the world's largest commercial real estate firm, the president and CEO of CBRE says the industry's consolidation is one of the most surprising changes he's witnessed over the years. There are different forces at play, it has become more institutionalized, and it has evolved as an asset class.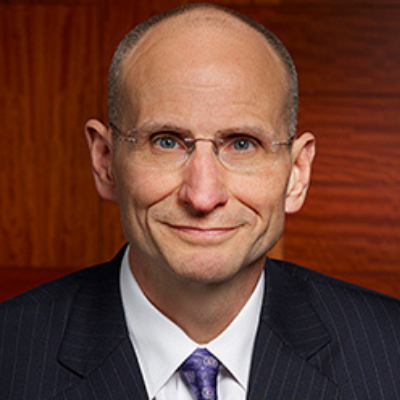 "It's just become increasingly clear over the last few years," he told a group of about 275 professionals on May 26, at TREC's first Market Matters breakfast in over a year. "I was there when we took Trammell Crow Co. public in 1997 when the firm's revenues were $250 million. There were no big global companies in our sector—there weren't massive companies that spanned the U.S. The industry has since consolidated massively across almost all lines of business, and we've ended up with some very large companies here (such as CBRE, JLL, and Cushman & Wakefield) that have gotten bigger than any of us ever thought. And what that's meant for those of us in the industry is we've ended up in places in our career that we never thought we might get to.
"But the big story, I think, is what has happened with the consolidation of the industry." At the same time, the sophistication in terms of level and diversity of services has grown, with professionals in the industry becoming corporate advisors.
Held at the Belo Mansion and sponsored by Grant Thornton, D CEO editor and longtime real estate journalist Christine Perez joined Sulentic on stage to talk about the industry, his thoughts on the post-pandemic recovery, and one of the most important issues facing the industry today: diversity and inclusion efforts. 
Overall Industry Outlook
In recent times, Sulentic said the real estate industry is doing better as it continues to grow into a more sophisticated industry while learning about risks and opportunities and increasing transparency.  
When it comes to pandemic recovery—and market adjustment—Sulentic says it will be easier for most to wrap their heads around why the industrial industry is booming, as much of its success is being driven by e-commerce. In North Texas' commercial real estate market, individuals have seen a shift in the industrial sector due to the widespread increase of e-commerce, primarily due to COVID-19. Sulentic said he had seen record performance based on rents and absorption values fueled by online shoppers, and he sees e-commerce continuing to grow, causing every type of distribution space to grow with it. 
And while the industrial market in DFW has been on fire—and continues to thrive, absorbing just over 10.3 million square feet in the first quarter of 2021, according to a CBRE report—Sulentic says brick and mortar retail isn't going anywhere. 
Sulentic has seen increased interest in multifamily housing options within Dallas, especially for young people. And those who reside in apartments want amenities, including brick-and-mortar retail, so the shift to primarily e-commerce will drive stores out of business. He reminded the audience that the most successful projects have been mixed-use with two to three retail options attached. 
"What's going on in the office sector is much more at the whims of COVID and how we will behave en masse when we get to the other side of COVID," Sulentic said. "We don't quite know what is going to happen." 
But if he had to guess on Dallas-Fort Worth's office market—which just so happens to be the new home base for CBRE—Sulentic said it would be closer to where it was pre-pandemic than most people think. Although most companies might offer some work-from-home options and flexibility, "people are going to mostly come back because they need to collaborate, they need to solve problems, and need to bring young people on board to get them up and running." 
But that does not mean things won't change. For one, Sulentic says he believes the office space will become less dense. 
So what does this mean for CBRE? Employees will mostly return to the office, but they will have flexibility. Those who work better at home, such as software engineers, will continue to work remotely. Companies will be hyper-focused on social distancing and comfort.
"And then, as the back half of 2021 plays out, we're going to define what the future looks like," Sulentic said.
Hot Topic: Diversity, Equity, and Inclusion
Commercial real estate has been an industry that has lagged when it comes to diversity, equity, and inclusion. It's quickly catching up, driven by the demand of corporate clients and a number of other factors.
CBRE has been making strides towards fostering an equitable space for its employees, clients, and shareholders.  
"It's just foolish to not attack the entire population of potential people, leaders, and others if you're not inclusive in terms of who you bring into the company," Sulentic said. 
It's just foolish to not attack the entire population of potential people, leaders, and others if you're not inclusive in terms of who you bring into the company.

Bob Sulentic
He has remained consistent with the company's general philosophy by encouraging diverse people to get in positions for promotion, in addition to mentoring programs and training programs. Right now, CBRE's board has seven members of diverse backgrounds, and the executive committee has five diverse members out of 13. (Update: the firm now has six diverse members out of 14.) This is a significant change from October 2017, when the entire leadership team was composed of White men.  
"We didn't just jump in and check a box," Sulentic says. "We started a long process that we hope will be meaningful in our community and in our industry to show a greater depth in inclusion." 
The strength of diversity comes through in many ways. "We have people from around the world, people from different ethnic backgrounds, people who came from outside of the real estate industry," Sulentic said. "And I think the prospects for our company have changed dramatically" because of the diverse perspectives.
Setting Realistic Benchmarks
CBRE has performed well so far this year. Shares are up 100 percent compared to last year, and the firm is on track to meaningfully exceed 2019 adjusted earnings per share this year. Sulentic talked about driving forces behind those numbers.
"When we talked to the public markets about three weeks ago about our expectations, we talked about last year, but last year was not a very good comparison. It was a very depressed year," he said. Comparatively, 2019 was a peak year for the industry.
Around 13 years ago, a widespread expression heard in the industry was "just give me one more cycle," Sulentic said. And then we came out of the financial crisis and ran for the next decade. "And we were all like, 'Oh my gosh, how are we going to keep growing on top of this—2019 was the ultimate year of how we can grow on top of this."
In 2021, CBRE expects to "meaningfully" beat 2019 performance.
"Of course, we are uncomfortable, and we're under pressure, but we have a huge presence in industrial real estate development and refinancing. We sell it. We operate it for some of the biggest companies in the world. We have a huge multifamily business," he said. That diversification both creates opportunities and reduces risks.
"We decided in a very deliberate way to focus in the areas where there's a secular tailwind," Sulentic said. "We've enjoyed the benefits of a humongous industry across multiple dimensions, and parts are doing extraordinarily well, and parts are under pressure. That's what you're seeing come through."
Get the D CEO Real Estate Newsletter
Get weekly updates on breaking commercial real estate news and relevant industry reports.
Author
Bianca Montes formerly served as online managing editor of D CEO, the business title of D Magazine Partners.