An emerging team of women designers from Dallas-based HKS Architects are joining forces once again to build one lucky child the playhouse of their dreams. But this isn't your average Little Tikes build. It's a masterpiece rooted in one of the biggest issues facing the industry today: sustainability.
"We were really interested in gathering or recycling materials and trying to collect as many of those materials as we could," said Erin Halliday, one of the HKS designers on the team building a playhouse for Dallas CASA's annual Parade of Playhouses. That purpose, she told 
D CEO
, pushed the design concept.
Now in its 26th year, the Parade of Playhouses will commence July 9 at NorthPark Center. The event pairs local designers with builders to help them raise awareness and funds for the local nonprofit rooted in advocating for abused children in foster care.
Eight houses will be showcased (and later raffled off) at NorthPark Center—including a Mavs Mascot-themed home designed by the Dallas Mavericks and DPR. KDC will once again serve as the Grand Marshal.
Joining Halliday on the design is HKS' Kay Curtis, Dora Figueroa, and Mike Cluff. The team worked with Brasfield & Gorrie's Michael Lewis and Steve Farabaugh to bring their intention to life. Woodhaus is helping with the build as well.
Working together often with commercial builds, the team said it made sense to collaborate on a philanthropic project. With this being this design team's third year donating to Parade of Playhouses, the designers had a better grasp on what to do differently, like incorporating more safety features such as railings and less steep slides. Through building for Parade of Playhouses, Halliday said HKS has gained a greater appreciation for the type of work Dallas CASA does to help the community while also getting to see what the other designers come up with.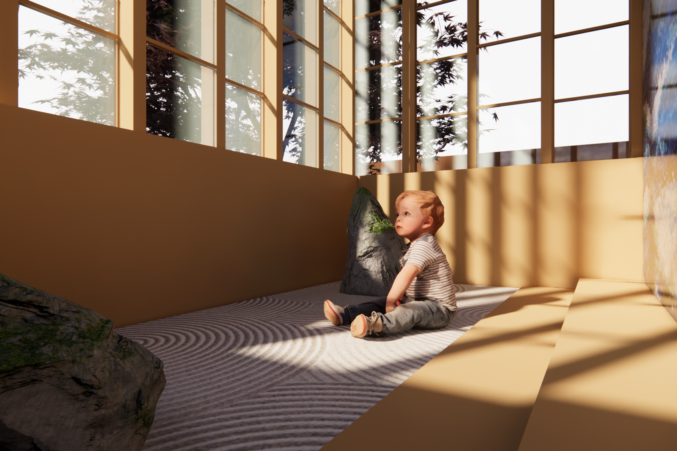 "This year, we've really wanted to explore the use of materials and how we can create these really interactive activities that were built into the playhouse," Curtis said. "Last year, we had more traditional elements like a swing and a hammock, but this year, it's a little bit more explorative play and playing with the textures."
"One of the things construction can do a better job of is waste [reduction].

Michael Lewis, Brasfield & Gorrie
This year, something the team is doing differently is building two houses instead of one—an idea raised by Cluff to give the designers a chance to explore different volumes and how they would interact together, Halliday said.
The team used pre-existing materials to construct parts of the houses to utilize products that would otherwise end up in a landfill. Most notably, Cluff and Curtis reached out to Roppe, who donated extra rubber base samples in order to create a mosaic design outside the house
"One of the things construction can do a better job of is waste [reduction]," Lewis said. "So, it makes me happy that some of the construction waste is finding a second home that is going to be used and appreciated."
While Parade of Playhouses is not one of the nonprofit's largest money raisers, it is considered a significant "friend-raiser" that not only raises awareness for Dallas CASA but helps bring in more volunteers.
"It's great to know that there are associations that do so much help for kids," Figueroa says. "I personally was not aware of CASA — I did not know what CASA was before this, so it was great to get involved and great to know that there are people helping out there."
Get the D CEO Real Estate Newsletter
Get weekly updates on breaking commercial real estate news and relevant industry reports.