A Dallas landmark once described as the "hip private club for creatives" that housed celebrities like Elvis Presley and Liza Minnelli will be preserved to create a modernized boutique destination.
International real estate firm Hines and its partners Mitsui Fudosan America and McNair Interests walked us through the reimagined concept for their 3.37-acre Uptown project, bringing full preservation of the 1920s Maple Terrace building and a new 22-story luxury residential with 12,000 square feet of street-facing restaurant space.
Located at 3001 Maple Ave., Maple Terrace was first designed as apartments by famed English architect Sir Alfred Bossom in 1925. In addition to Elvis and Liza, other celebrities such as Dean Martin and Judy Garland once called it home. (scroll down to read an excerpt about the property by the late Mary Brown Malouf)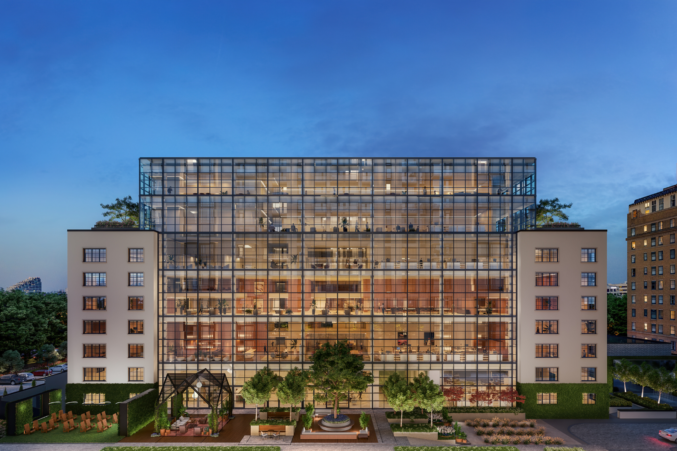 The original seven-story structure will be carefully restored by Dallas-based architects, 5G Studio Collaborative, to serve as the office centerpiece of the mixed-use development. The design firm and Hines recently worked together on The Stack in Deep Ellum.
Originally constructed as four towers in one, in a U shape, without a common lobby, all towers operated independently of each other with separate elevators and stairwells. The space will transition into 157,000 square feet of office space.
The Offices at Maple Terrace will pay homage to Bossom's intended exterior design with additions that ensure a sustainable future, including two new, glass-encased levels rising from the open-air rooftop lounge and terrace and a nine-story glass curtain wall system that overlooks a sprawling, 9,000-square-foot urban garden.
The motive for reimagining this historical building was backed by Dallas only having a handful of pre World War II buildings still standing, said Hines' Managing Director Ben Brewer. In addition, as the gateway between Turtle Creek and Uptown, he described this location as a hidden gem. The goal is to bring this space back to life and hopefully have it standing for 100 more years.
Adjacent to The Offices will be The Residences at Maple Terrace, a 22-story luxury residential tower designed by Dallas' GFF featuring 345 luxury apartment homes ranging from 601 to 2,879 square feet.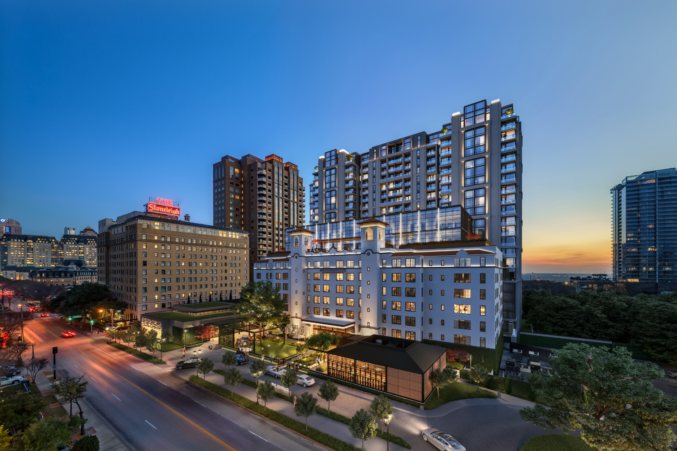 Featuring its own collection of elevated amenities, The Residences at Maple Terrace will showcase an expansive fitness center, relaxing pool deck, outdoor dog park, and 22nd-floor conservatory and rooftop terrace. In addition, parking at The Residences will include a partially subterranean, seven-story garage. Hines enlisted Lauren Rottet of international architecture and design firm Rottet Studio to design the offices, residences, and amenity interiors.
As a WBEA-certified firm, Rottet Studio is recognized as one of the finest design practices in the world with more than 65 million square feet of built design and a vast array of award-winning projects, including the renovation of two floors of The New York Stock Exchange; hospitality projects for Belmond, Four Seasons, St. Regis and Ritz-Carlton; more than 25 international offices for Paul Hastings; and numerous private residences for select clientele.
"Lauren Rottet is, in my opinion, one of the best interior designers in the country," said Brewer. "We felt like she was up for the challenge, to really celebrate Maple Terraces' history while making our project timeless going forward."
Additional plans for Maple Terrace include a 12,000-square-foot restaurant positioned at the corner of Maple Avenue and Wolf Street. Leased by nationally recognized hospitality group What If Syndicate, the space will house the Texas flagship location of award-winning, modern steakhouse, Maple & Ash. The restaurant will be open for lunch and dinner and helmed by two-time Michelin-starred chef Danny Grant. In addition, there are plans for an additional restaurant at Maple Terrace, with final details forthcoming.
"Maple Terrace presents a unique opportunity to create an all-encompassing live, work, and play destination in the heart of Uptown," said Hines Director Corbin Eckel. "Hines' commitment to delivering future-proofed, sustainable buildings has been deeply rooted in the firm's DNA for six decades, and we're honored to be able to preserve the legacy of Maple Terrace while bringing a modernized experience; that's relevant for hopefully another 100 years."
Maple Terrace is projected to be completed in Q3 2023.
In 2000, D Home published an article, written by the late Mary Brown Malouf, describing the culture of Maple Terrace in the 1920s and beyond:
"For 70 years, the Maple Terrace has been a building people aspired to. Artists, interior designers, clothing designers, architects, and general bohemian types have moved in and out and in and out of the Maple Terrace in a steady procession. Residence in "the building" has been almost a rite of passage. Saying "I live at the Maple Terrace" categorized you. Only a certain kind of people lived at the Maple Terrace. Not that everyone was alike who lived there. In fact, just the opposite.

Artist and resident Otis Jones says it was a "quirky place for quirky people." Former resident Jerry Price, one of Dallas' edgy designers, part of the team that made Neiman's downtown windows and visual displays a showcase, describes the Maple Terrace more bluntly. 'The place was full of kookheads.'"

"The parties began in the '20s and seemingly never stopped. Carol Wells, former owner of Silhouettes children's store, was introduced to the Maple Terrace when she owned the first gay nightclub in Dallas, La Pigalle. One of the club entertainers ("he was so handsome") invited her and her partner to the pool at the Maple Terrace.

"He was staying at the Stoneleigh, and hotel guests used the pool," Carol says. "It was the pool in the city. They had a bar out there and you could rent cabanas for the summer. Businessmen kept their mistresses there—it was on the way home from downtown. In those days, you could drive up to the door in the back and there would be someone who would help you with your groceries and park your car.

"You could have your lunch served by the pool—waiters would come from the Stoneleigh and mix drinks for you. It was just fabulous. Everybody who was anybody—movie stars, performers in the Summer Musicals, Greer Garson before she moved to Highland Park—would hang out at the Maple Terrace pool." Carol moved in and stayed for 20 years."

"Ken Knight relates the mystery of the List in his own words: 'Admittance to the Maple Terrace was like getting into a very exclusive club. There was seldom a vacancy. Some of my best friends lived there, so I wanted to live within the walls of history—thick walls, I might add.

"The intimate charm of a Chicago-style apartment building on the setting of a grand landscape, sitting in the middle of the busiest area of town was all well and good, but it was the challenge of getting in that intrigued me just as much. How did Gail Defferari, my jewelry buyer at the time, who now reigns over her San Francisco restaurant kingdom, land that studio on the seventh floor? I was green with envy. How could I find a way into that world of bigger-than-Dallas urban living? One day in 1989, I had an opportunity to find out.'"
Get the D CEO Real Estate Newsletter
Get weekly updates on breaking commercial real estate news and relevant industry reports.