Robin Autopilot, a leader in robotic mowing technology and the robotics as a service (RaaS) platform, announced that it would be consolidating its corporate headquarters with its recently acquired franchise business, North Carolina-based Mowbot and relocating to McKinney. Robin's new headquarters will initially occupy 10,000 square feet with an option to expand at 7850 Collin McKinney Pkwy.
Robin was represented throughout the selection process by CBRE, led by Renee Castillo, and Luke Franz with Jackson Walker LLP was the attorney representing Robin with the McKinney EDC on the incentive process.
Robin is one of the many tech companies that have recently announced their expansion or relocation into McKinney via the Innovation Fund; other startups like Alanna.ai, MyTelemedicine, and ContraForce also recently opened headquarters in the city.
With a grant from the McKinney Economic Development Corporation's Innovation Fund, the company plans to relocate 17 positions and create 58 new jobs over the next three years, bringing its total number of employees to 75, with an average salary of $90,000. The positions include back office, sales, software development, and engineers.
Robin offers subscribers a customized subscription-based platform for running a RaaS business. Based on their subscription level, Robin provides tiered access to proprietary products (software, operating manual, a robotic door for homes with fences, and more) and non-proprietary products (marketing program, training and support, financing for robots, and robotic doors).
INDUSTRIAL
FB Flurry leased 472,200 square feet at 3737 West Miller Road in Garland. Matt Dornak and Ryan Wolcott with Stream Realty Partners represented the landlord, Clarion Partners. Dan Lawson with Proterra Properties represented the tenant.
SupplyHouse Texas leased 177,320 square feet at Prologis Park 35 – Building 2 in Farmers Branch. Luke Davis and Charles Brewer with Stream Realty Partners represented the tenant. The landlord, Prologis, handled its own leasing.
City Electric Supply has leased 99,366 square feet at Speedway Distribution Center, 16200 Three Wide Drive in Fort Worth.  Grant Pruitt, Jade Scott, and Brendan Zrowka with Whitebox Real Estate represented City Electric Supply in the negotiation, and Pat Kersey and Jon Harmon of IDI Logistics represented the landlord.
Greater Metroplex Interiors filed a state permit to construct buildings two, three, and four in Southlake. Buildings two and three are both valued at $1.375 million and will be 16,161-square-foot projects. Building four will be a $2.02 million project at 23,768-square-foot project. Construction on the three buildings will begin in August and conclude in late March 2022. 
MULTIFAMILY
Hebron 121 Station, Texas' largest transit-oriented development located in Lewisville, has sold. EastSky, a well-known East Coast multifamily investor, purchased the 90-acre resort-style community of 1,429 units for an undisclosed amount from brothers Donald and Phillip Huffines of Huffines Communities. The identical twin brothers and co-owners of Huffines Communities, Phillip and Donald, started Hebron in 2007 when they acquired the land. They had a dream of creating a world-class community in their hometown of Lewisville.
Frankford Station, a 204-unit residential at 1700 West Frankford Road in Carrollton, has sold to Irving-based Darwin German Real Estate Investments. This acquisition brings DGRE's total current portfolio to 21 apartments and communities comprised of 2,312 units with most of those properties located in DFW.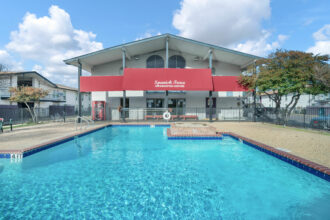 Spanish Trace, a 136-unit multifamily community, located at 1929 E. Grauwyler Road in Irving, has sold. Chris Deuillet and William Hubbard with CBRE Capital Markets' Investment Properties in Dallas represented the seller. William Givens and Robert Siddall with CBRE Debt & Structured Financing group arranged the financing on behalf of the buyer.
Andrew Murray filed a state permit to construct a 480,425-square-foot property of multifamily and townhome units in Prosper. The $47.8 million project will begin construction in August and is projected to be completed in August 2023. Charlan Brock and Associates will lead the design.   
Stone Manor, a 108-unit, Class C community located at 3122 Park Lane in Dallas, was sold from Gomel Texas to Worth Street Partners, a Dallas-based real estate investment company. The transaction was led by Mark Allen of Greystone | Investment Sales Group.
AHS Residential filed a state permit to construct a 118,555-square-foot multifamily complex of 366 units in Dallas. The project is projected to start in early August and conclude in December 2022. Hodges Architecture is the listed design firm.  
Mustang Flats and Bentley Terrace, a 38-unit apartment property at 507 Cora Street and 601 Fuller Street in Arlington, has sold. Nick Fluellen, Bard Hoover, and Matt Aslan of Marcus & Millichap represented the buyer and seller.
OFFICE
Heritage One and Two, a recently renovated, 367,364-square-foot office asset at the convergence of the Dallas North Tollway and LBJ Freeway in Dallas, has sold. Newmark's Gary Carr, Robert Hill, Chris Murphy, John Alvarado, and Chase Tagen represented the seller. It was the first acquisition in Texas for the buyer, Oregon-based Menashe Properties, who purchased the property without financing or partners.
Blue Star Land filed a state permit to construct a 34,081-square-foot Frito Lay office building in Frisco. The $1.15 million project is projected to begin in July and conclude on Oct. 15. Alliance Architects will lead the design.  
Interior Logic Group will lease 17,681 square feet at The Offices Three at Frisco Station—the building's first tenant. The California-based company plans to move in later this year, opening its first office in Frisco. VanTrust Real Estate worked on the deal.
Bragalone Olejko Saad has subleased its space at Chase Tower. The 9,218 square foot suite is at 2200 Ross Ave. in Dallas. Ben Crancer, David Harris, and Brendan Zrowka with Whitebox Real Estate represented Bragalone Olejko Saad, PC, on the disposition.
Zion Oil & Gas leased 8,774 square feet at 12655 N. Central Expressway in Dallas. Bill Bell with Republic Realty Advisors represented the tenant, and Michael Bowles represented the landlord, Hartman Income REIT.
Taylor Counseling Group has expanded its office at Campbell Centre in Dallas. The 6,402 square foot amendment was signed for the company's suite in the South Tower at 8150 N. Central Expressway. David Harris and Jade Scott of Whitebox represented Taylor Counseling Group, and Michael Williams and Barbara Houlihan of JLL represented the landlord.
Taylor Counseling Group also has expanded its office at Mallick Tower in Fort Worth.  Its offices will expand to 3,632 square feet at 101 Summit Ave. David Harris and Jade Scott with Whitebox Real Estate represented Taylor Counseling Group on the transaction, and Marshall Mays of Holt Lunsford represented the Landlord.
Skin Pharm has signed a 3,655 square foot lease for a clinic on the sixth floor of 3131 Turtle Creek Blvd. Jared Laake of Bradford Commercial Real Estate Services represented the tenant.
RETAIL
BH Properties has acquired Preston Shepard Place, a 361,780-square-foot community retail center in Plano. The acquisition is the first retail transaction in 2021 for BH Properties, which has closed on more than $100 million in commercial real estate transactions throughout the United States this year.
Hebron Heights, a 9,807 square foot, six-tenant strip is located at the intersection of Hebron Pkwy and Old Denton Road in Carrolton, has sold. Hudson Lambert of STRIVE represented the seller, a California investor, and secured the buyer, a Texas investor.
Dino's Live Restaurant & Bar leased 7,369 square feet at 5000 Western Center Boulevard in Haltom City. Jennifer Gray with TIG Real Estate Services represented the tenant, and Alan Hodges and Michael Berkowitz with Colonial Commercial Realty represented the landlord.
Chase Bank (ground lease for another 7.7 years), a 4,055 square foot net-leased property located at 161 W. Spring Creek Pkwy. in Plano, has sold. Vincent Knipp and Ryan Wolf with Marcus & Millichap represented the seller and buyer.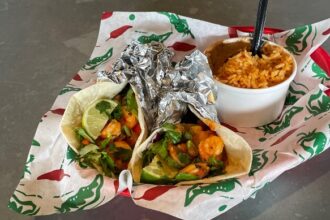 Taco Joint is breaching the traditional city borders for the first time to join the diverse dining options at Plano's Heritage Creekside in Fall 2021. Ryan Smith and Michael Mendelsohn with Venture Commercial are the broker representatives on the project.
Ricky's Nashville Hot Chicken, a DFW-based concept specializing in Nashville-style hot chicken sandwiches, has leased 2,665 square feet of retail space in Arbrook Oaks, a shopping center located at 3808-3810 S. Cooper Street, for a new location. Kevin Butkus with Weitzman handled negotiations as project leasing agent for the shopping center. Sophie Vongsombath represented the restaurant with New World Realty. Arbrook Oaks is located peripheral to The Parks at Arlington Mall.
Joseph Omobogie filed a state permit to open a 2,156-square-foot Captain D's restaurant location in Cedar Hill. The $7.5 million project will start construction in November and conclude in June 2022. Michael Legg Architecture will lead the design.  
Hummus Republic Modern Mediterranean Kitchen, a fast-casual restaurant providing flavorful, healthy, and primarily plant-based Mediterranean cuisine, has leased a 1,600-square-foot endcap space at The Highlands at the southwest corner of FM 407 and Morris Road. Giovanni Scardino and Stephen Wise with Weitzman handled negotiations as leasing agents for the landlord, Pine Tree, LLC. Scott Smith and Korey Silverman with Weitzman represented the restaurant.
Get the D CEO Real Estate Newsletter
Get weekly updates on breaking commercial real estate news and relevant industry reports.