I have never been the kind of person to do anything halfway. People who know me will acknowledge that I'm an all-in kind of guy. When I decided that now was the time to climb
Mount Kilimanjaro
, I knew it had to involve more than just training to summit the mountain. It had to be impactful beyond just crossing an item off of my bucket list.
I wanted to combine my goal of reaching the peak with raising funds for a good cause. That's when I reached out to Make-A-Wish North Texas leaders. I told them that I wanted to raise one dollar for every foot climbed on Kili – a goal of $19,341. They looked at me like I was crazy. They were dumbfounded. I knew it was ambitious, but I was like, no, I'm going to do this. We called it the Hope Climb.
I planned to make the trip in June 2020, but COVID-19 put an end to that; it was postponed until December-January. In retrospect, pushing the trip back was probably a good thing for many reasons.
Just like in commercial real estate, research and preparation are key components to a successful endeavor. I had never climbed a mountain before I decided to trek the tallest freestanding mountain in the world. I climbed to the summit of the second tallest mountain in the lower 48 states to gain experience.
It was good preparation and reminded me not to expect everything to work the way I anticipated. Some challenges were acclimating to the altitude, which can be a concern on Kili, and get the experience of what to expect on a climb.
The biggest lesson I learned was that I could do it. When the going got tough, I could push through. When things get really challenging, I have to tell myself "polepole, polepole" (pronounced polay polay), which means slowly, slowly in Swahili. And then I take my steps one at a time. It was something the guides on Kili told me, too.
"It is not the mountain we conquer, but ourselves."

-Sir Edmund Hillary
My yoga practice came into play, too. The night before my summit bid, I hit a wall. The incline was steep. I hadn't slept much in the last 48 hours, and the windchill was sometimes around seven degrees Fahrenheit, and I felt doubt creeping in. Taking one breath at a time and focusing on that breath helped ground me and served as a calming influence.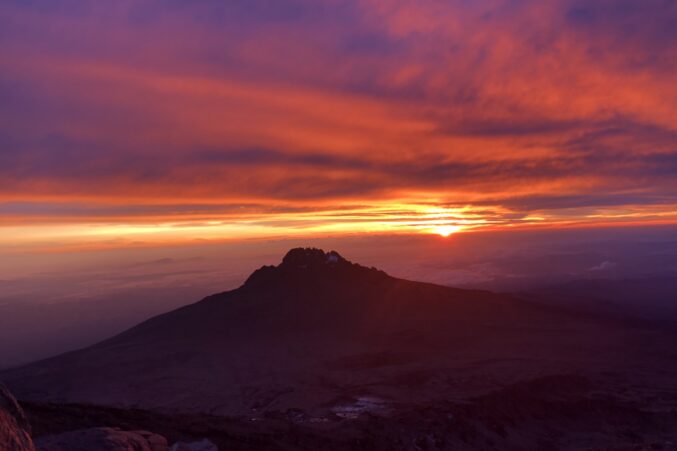 Around 5:30 in the morning, I saw the sunset just over the horizon, creating a sky filled with purple and red. That gave me my second wind. The motivational tunes I brought also bolstered my spirit.
When I reached Uhuru Peak and successfully summitted Mount Kilimanjaro, the emotions started pouring out, and my arms had to go up in the air. That's when I heard  "Gonna Fly Now" from Rocky in my earbuds. It was a magical moment.
Raising the flag for Make-a-Wish and knowing that not only had we hit our fundraising goal, but we surpassed it and raised almost $27,000 was such an amazing feeling: It was truly the experience of a lifetime.
It was refreshing to reach those goals after almost a year of watching and experiencing the struggles of 2020. Professionally, my business partner, Tom Strohbehn, and I continue our efforts to serve our clients relentlessly. We were fortunate to close several deals in the fourth quarter, including the 251,332-square-foot Creekview Corp Center I & II compound in Richardson; the 124,586-square-foot Preston Trail Atrium in Dallas; and the 45,978-square-foot Manhattan Plaza in Fort Worth.
We are focused on multiple listings for sale, including Metroplex Tech Center I, a 106,000-square-foot office building in Carrollton, the 194,000-square-foot Park Ventura office park in Plano, and the 439,801-square-foot Oil & Gas/Star-Telegram Buildings at 307-309 W. 7
th
St. in the Fort Worth CBD, among others.
Life is good.
Scot Farber is a Managing Principal with Younger Partners.
D CEO Real Estate Newsletter
Get weekly updates on breaking commercial real estate news and relevant industry reports.