As we mark a full year spent hunkered down at home, one thing is abundantly clear: We miss each other.
Our workplaces, schools, restaurants, stadiums and more, are not just places to inhabit. What we recognize now, more than ever, is the true value of commercial real estate lies in bringing people together for shared experiences, such as attending a client meeting at the office or cheering on the hometown team on game day. This is also the theme of Gensler's new trends report, Design Forecast/Reconnect: Design Strategies for a Post-Covid World. It outlines our holistic approach for the buildings and spaces in which we live, work, and play, emphasizing connectivity, wellness, and social equity.
Redefining Workplaces and Office Buildings
There is an ongoing debate about the future of the office, but we know it is still relevant. Workers with bustling households need a space for focused work, while younger ones are looking for the informal mentorship that comes from exposure to senior-level coworkers. Others may also need the office for strong internet access. Moreover, the workplace is where employees get to socialize and participate in the company culture.
How this will all actually function when we return to the workplace remains to be seen. But with more than half of all workers opting for a hybrid work schedule per Gensler's recent Work From Home survey, the question becomes what will make people want to leave their homes and come into the office.
Moving forward, these spaces need to be experience-driven and flexible, adapting to the employee's needs of the day, such as a client presentation or huddle space for a team brainstorm. This also includes the implementation of digital technologies to ensure a seamless integration between physical and virtual experiences, for example, providing mobile apps that coordinate building check-ins, room reservations, and lunch orders.
Office buildings must also evolve with a mix of amenities that go beyond the café and fitness center. On-site health checks, touchless security, enhanced air quality systems, access to natural light, and outdoor spaces now go hand-in-hand in creating healthy buildings. Owners should also look for ways to connect the ground floor to the community and regional culture. Think health centers, libraries, multi-purpose co-working or event spaces, and design that includes locally-sourced materials, art, and motifs. Accommodating new mobility options such as bike and scooter racks, electric vehicle charging, and even an influx of delivery vehicles is also critical for a successful, activated building.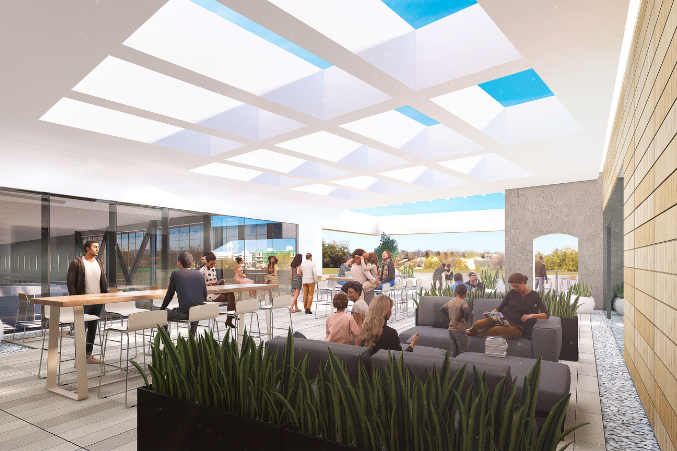 Designing Welcoming Lifestyle and Community Spaces
Today, our cities, neighborhoods, and recreational spaces can become more open, walkable, and accessible for everyone. Designers are revisiting the 20-Minute neighborhood concept in which commercial, residential and institutional services are all within a 20-minute walk or bike ride. This type of neighborhood would have a range of affordable housing options, grocery stores with fresh food, healthcare clinics, pocket parks, and smaller offices or coworking spaces that enable more people to live closer to their work.
One of our projects that embodies this approach is the Frisco Public Library. Designed as a multi-modal site for the entire city, the library is an airy, light-filled building with classrooms, indoor and outdoor seating areas, and event spaces. It is also a unique adaptive reuse project, transforming a former manufacturing warehouse into a center for learning, cultural programs and focused work that serves all ages and needs.
Efforts are also underway to revitalize central business districts, moving them away from just work-centric activities. We now see more opportunities to open up the area with streetscapes that provide outdoor dining, retail, events and walkability.
As designers, our fulfilment comes from creating places where people find joy and purpose. In the months ahead, we are eagerly looking forward to visiting them in person, alongside all of you.
Cindy Simpson is the Co-Regional Managing Principal of the South Central Region and Co-Managing Director of Gensler Dallas
D CEO Real Estate Newsletter
Get weekly updates on breaking commercial real estate news and relevant industry reports.