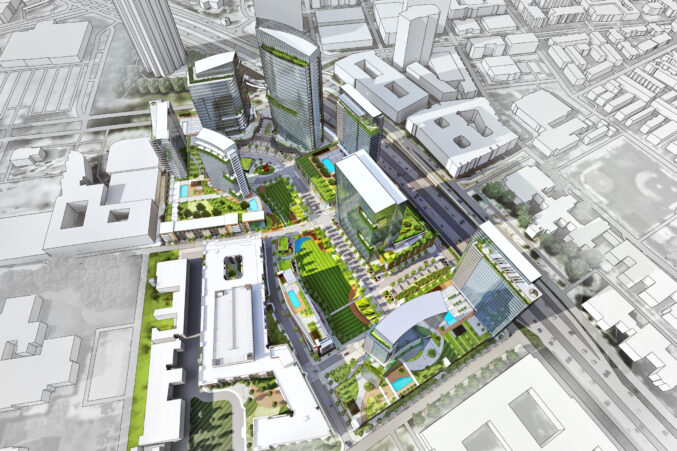 Former Leaning Tower of Dallas Site to Become a Health-Minded Mixed-Used Development
De La Vega Development has tapped Falcon Realty Advisors to lead retail leasing for the 27-acre project; new high-rise from StreetLights Residential also planned.
De La Vega Development has unveiled a revised master plan for its mixed-use development, The Central, that promotes healthy living through experiential retail and restaurant spaces, combined with creative leasing efforts. The developer altered its plans in response to widespread demand for outdoor accessibility and health-minded spaces in light of the COVID-19 pandemic.
"Listening to our community, we know we have the chance to deliver what people want the most—the opportunity to be outdoors, to create connections, and to feel safe and secure," said De La Vega CEO Artemio De La Vega.
The project was always intended to be nature-inspired, relying on an innovative architecture that utilizes biophilic design. Adjacent to North Central Expressway and Uptown, The Central will revamp and add much-needed green space to the site made famous last year when the demolition of a former building went awry last year.
To kick-off phase one of the development, De La Vega and Dallas-based Falcon Realty Advisors recently started leasing spaces surrounding a planned four-acre park. Dallas-based StreetLights Residential also has joined the project and will be developing a high-rise luxury multifamily project.
The first phase consists of 350,000 square feet of office space, nearly 29,000 square feet of retail and restaurant space, StreetLights Residential's 350-unit apartment project, and a parking garage. The project also will include a 430-unit multifamily community developed JPI. At the core of it all will sit the four-acre centerpiece park.
Falcon is targeting a curated mix of local and national brands that align with the nature-oriented and wellness-minded vision of The Central. The firm hopes to attract fresh, forward-thinking, grounded brands that complement the energy of both East Dallas and Uptown.
"Our goal is to program the development, as well as the four-acre park, with welcoming spaces, featuring approachable retail, food and beverage, hospitality, and fitness options, all to create a premier destination for our city to discover," said Falcon CEO and President Tim Hughes.
De La Vega Development plans to begin the next phase of construction before the end of the year. When completed in its entirety, The Central will feature 2,000 multifamily residential units, 2.5 million square feet of office space, and 110,000 square feet of retail space.
JLL is marketing The Central's office space for lease.