As more and more employees return to the office,
 the question on everyone's mind
 is: What will life in the office look like in our new world?
Historically, g
oing into the office 
was 
hardly 
c
onsidered
fun or a special experience, especially
 in 
a city like 
Dallas, where
you can 
add 
grueling 
rush-hour traffic
 to the mix
. 
Since the 
pandemic forced 
much
 of the 
world
'
s 
workforce to work from home for months on end, going 
back to a 
regular
 9-5 in 
the office seems daunting 
for many
.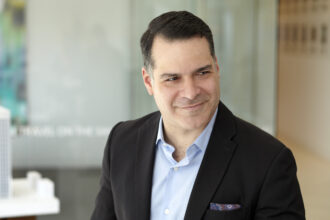 But, Ian Zapata, LEED-AP
d
esign 
d
irector
at Gensler, warns that
the office 
itself 
should not look the same as it did last 
s
pring despite the steady return to in-person work.
"Companies face the reality of having to engage in a different real estate market, where there's actually a glut of office space
," Zapata told D CEO. That is true: there are over 9 mill
ion square feet of active sublease office space in DFW alone
, as companies try to rid themselves of 
extra 
cost
s
. "
I think that gives power to people that are renting to demand the type of space that they want
,
" 
he said. 
This newfound power of office tenants forces
landlords and developers of 
office spaces to provide the same comforts and amenities that make working from home so easy, like Amazon pickup locations or spaces to attend virtual 
doctors'
 appoi
ntments. Zapata calls these
 amenities 
"
e
xperience 
s
upercharger
s
"
and expects them to be commonplace in the post-Covid office world.
While the trend of elevated office spaces was around pre-Covid, the pandemic has accelerated 
it
, sh
ining 
a sp
otlight on 
the need for healthy workplaces and
 office
 experiences. 
However, Zapata notes a difference between just a nice office building versus one that is designed
with the 
future
 in mind
. 
"Baseline attractors are the things that check the box that you've always had in an office building, like a gym or a café," he said. "No one's going to lease in your building if you don't have those things."
On
the opposite end of the spectrum li
es 
performance differentiators. Zapata 
defines these as amenities that would make an employee actively choose to go into the office instead of working from home.
"
These are the things that go above
–
and
–
beyond. We see this as making the office an experience
.
"
The idea of "making the office an experience" is the overarching message that Zapata feels the pandemic has forced upon 
those who work in commercial real estate. 
A survey done by KPMG found that 69 percent of CEOs are planning to downsize office space, meaning that the spaces that they do keep must be 
both 
functional and 
effective
 for maintaining a company's culture. 
The most important element of the 
new 
workplace will be the human connection that it brings. Zapata
 notes that the three C's
, 
culture, community, and collaboration
, will be
 at the center of 
this workplace shift. 
"One thing that I think stands out as a difference is this idea that the function of the office or the focus of the office changes
," Zapata said. "M
aybe means that I need a different type of office that isn't so much about desks and tables, but more 
so about 
the social spaces where you can sit and collaborate
, like l
ounge spaces and meeting rooms
.
"
Keeping with the trend following ideas championed by West Coast tech companies, outdoor community, and the workspace
will be one of the top demands that tenants have
 as they come back to the office
, Zapata predicts. 
"It's spaces that aren't just pretty to look at, but can be an extension of the workplace, where you can have meetings, you can have collaboration, and you can give employees places to recharge," he says. 
Outdoor workspaces can also help to ease some Covid-related concerns that employees 
returning
 to work may have. 
New technologies can also help to ease Covid worries while also elevating the overall office experience.
Technology being an extension of the workplace is a trend that the pandemic has accelerated, and now we will see it in office spaces themselves.
Touchless security and air quality monitors will be the new normal and improved office-to-home connectivity to increase productivity
 when working in a hybrid in-person and at-home 
schedule
. 
"There's going to be this whole technology overlay that helps me navigate my trip to the office so my relationship to the office can be managed through a whole host of concierge app-enabled services that let me plan ahead," Zapata said. 
All of this comes together to 
create a major 
shift 
in 
the 
reality
 of what compan
ies
will 
need out of their office building
s
 in a post-Covid world
. The pandemic has 
sped up this
shift
, giving power to tenants and shifting the focus of 
landlords
 away
from the density of an office building
to the building's quality
. 
Point blank: "
The way that we interact with our buildings is going to change
," Zapata said. 
Get the D CEO Real Estate Newsletter
Get weekly updates on breaking commercial real estate news and relevant industry reports.