I have been in commercial real estate for about six years, and I have taken a few career turns to get to this point as an industrial broker with JLL. I've had the opportunity to work with some great professionals in this short timeframe, and I would love to share some of the wisdom I have received along the way.
Be relentless
It's healthy to acknowledge the hurdles in life; it's a completely different issue to let them stop you. The question we must ask ourselves is, "Will we allow hurdles to stand in the way of our dreams and ambitions?"
When I started networking and researching the commercial real estate industry, I noticed a significant lack of diversity. I felt like I had to work really hard interviewing with several companies in the area, going to lunch or coffee with anyone who would give me the time of day.  I even joined several industry groups to learn the lay of the land.
As a Black man, there have been many times in my life where I have become very aware of the color of my skin and have wondered how I would be perceived.
Eventually, my work paid off, and I received a good job offer, but accepting the position only exacerbated my worries. I immediately had anxiety about my ability to be successful in this new world. As a Black man, there have been many times in my life where I have become very aware of the color of my skin and have wondered how I would be perceived.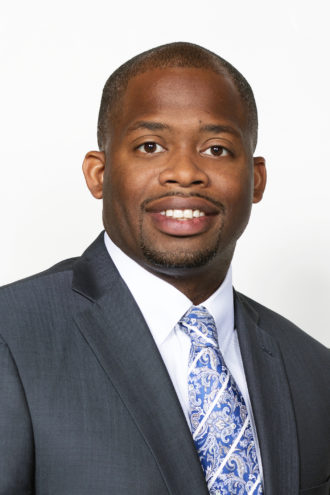 It was kind of funny sitting there with my new boss while he was wondering why I wasn't more excited about the offer I had just accepted. I figured it wouldn't be a big deal to tell him what was running through my head—and the anxiety of "what ifs."
We had a very candid and frank conversation, and his response was something that has stuck with me ever since. We both acknowledged that many conscious and unconscious biases cause people to form opinions: race, gender, socioeconomic background experience, alma mater, where you're from. He translated these biases into monetary terms, the "80/20 rule."
My boss told me, "Last year, there was $500 million in commissions paid out in commercial real estate. Suppose we were to eliminate the estimated number of people who would not want to work with you because of your skin color or for any other reason, which leaves $400 million of commission you can earn. Is that enough to fight for your opportunity in this career?"  Of course, the answerer was yes, and I have been in the industry ever since.
We must constantly ask ourselves if we'll allow these biases to stand in the way. It's healthy to acknowledge the hurdles in life, but it's a completely different issue to let them stop you.
Specialize
Commercial real estate is a big world, and if you come into it trying to chase and do everything, you can have some success, but you will rarely have the type of success that will make you a leader in the industry. My goal was to focus on an asset class in a specific geographic area and to make it my business to know everything going on in my little slice of the world.
The very successful owner of a bunch of industrial laundromats had begun pursuing small industrial investments as a means to continue to grow his portfolio. We met for coffee, and he was inquisitive to know what I knew about industrial real estate in Dallas, and at the time, my answer was nothing. He eventually figured that out and began asking me about myself and how I ended up in the commercial world. I told him my story, and he very kindly listened.  At the end of our conversation, I asked him, "Do you have any advice to share on what has made you successful?"
The gentlemen thought for a moment and said, "Specialize."
At the time, the advice struck me as counterintuitive since there are so many different facets to the commercial real estate business. I figured pursuing as many deals as possible would bring me success. Once I did specialize; however, I started to understand the power of knowing a small slice of the pie and how you can leverage that knowledge to create value for a specific subset of the market. Individuals interested in that same segment will happily work with you versus another professional who may be stretching themselves a little thinner.
This advice brought me to the industrial leasing team at JLL. My team is full of great professionals, and many of them have gone out of their way to help me find success over the years. One being Tom McCarthy, a veteran in the industry, who has been instrumental in providing his wisdom and valuable insights. His beneficial advice has been to focus on the angles, decisions, or options in front of you.
In any transaction, pursuit, or interaction in the market, you have to try to understand how the parties involved relate and determine what effects your choices can have. This decision-making perspective takes time but yields big dividends on the relationships you can build with your clients and constituents in the market.
Get the D CEO Real Estate Newsletter
Get weekly updates on breaking commercial real estate news and relevant industry reports.