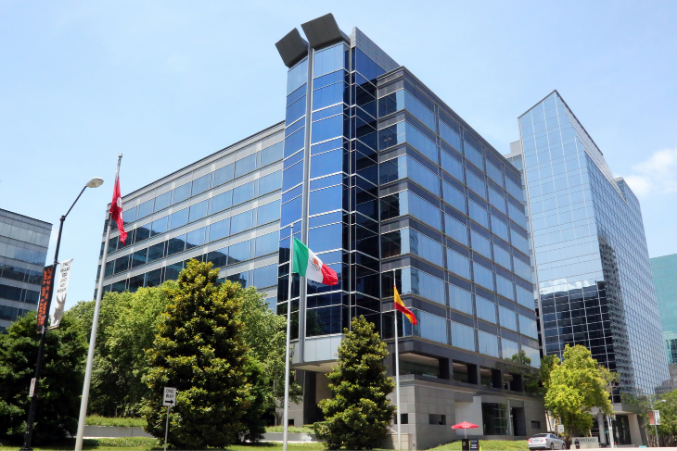 Deal Ticker: California Investment Firm Takes Space in Harwood District
Plus: Massive industrial lease signed at Denton Crossing, a $63 million multifamily development heads to Keller, YPI completed its first retail investment, and more.
California-based Canyon Partners, a leading alternative investment firm, will open a new office at Harwood No. 2. Andy Leatherman and Brad Selner of JLL negotiated the lease with Hannah Waidmann and Kelly Whaley of Harwood International. Leatherman, a managing director at JLL, called the deal a "big win for the region offering positive impacts within both the business community and the broader community." Dallas law firm Haynes and Boone is also moving into the district's new 27-story office tower on Harry Hines Boulevard.  
INDUSTRIAL 
EMLS has leased 398,442 square feet at 900 S. Western Blvd., part of the newly completed Phase 1 of Denton Crossing @ I-35, a two-building spec development consisting of approximately 525,000 square feet. The remaining property, 920 S Western Blvd, is a freestanding front park, rear-load, 126,890 square-foot facility that is available for lease or purchase. Don Frazier of Frazier Commercial represented EMLS. The Landlord was represented by Todd Jones of Ironwood Realty Partners and Kris Arviso of Scannell Properties. 
A 295,397 square foot storage warehouse will be built at 3932 Hickory Tree Road in Balch Springs. Construction on the $5 million project will begin in May and end by mid-October. RKAA will lead the design. 
There will be a 147,960 square-foot warehouse built in Wildlife Commerce Park on Beltline Road and Wildlife Parkway in Grand Prairie. Construction on the $5 million building is expected to end by late October. O'Brien & Associates will lead design. 
A 178,200-square-foot warehouse and a 100,800-square-foot warehouse is being built in the Star Business Park in Frisco. The buildings are being designed by Alliance Architects and will complete this November.  
U-Haul is building a 139,671-square-foot storage building at 1400 N. McDonald Street in Mckinney. Construction on the $6 million building is set to begin this May and complete February 2022. Americo Real Estate Company is leading design. 
HTH is building a 40,320 square-foot, $1.8 million office warehouse and lawn garden at 9800 N. Stemmons Freeway in Dallas. Construction on the site, designed by Luke Gardner, Lawns of Dallas, will begin in May and end by March 2022. 
CFC Print Solutions signed a lease extension for 40,243 square feet at 2800 112th Street in Grand Prairie. Jim Hazard and Barrett Bufkin of ESRP negotiated the lease with Gil Stroube of Lincoln Property Company. 
Bella Design Group renewed its 32,625-square-foot industrial least at 709 109th Street in Arlington. John Brewer and Riley Maxwell with Transwestern represented the landlord. Luke Davis and Charles Brewer with Stream represented the tenant. 
Mark Cuban Cost Plus Company is building a 22,000 square-foot, $11 million warehouse at 320 S. Walton Street in Dallas. Designed by Jacobs, construction is expected to be completed by late February 2022. 
Zenith Solar has signed a long-term lease for 14,000 square feet of office/warehouse space in the Great Southwest Industrial District. The Odessa, Texas-based company's new sales and distribution center is located in the I-30 Service Center at 1025 Avenue G in Arlington. Josh Meraz, senior associate of Dallas-based Bradford Commercial Real Estate Services, represented the tenant in a two-month search for a North Texas location. The firm also has a location in Corpus Christi. 
LAND 
Italy Family Pharmacy purchased 1.710 acres at 102 East Danieldale Road in Duncanville. Scott Axelrod, in the Industrial division of Henry S. Miller Brokerage, negotiated the sale. The sellers were private investors from Richardson. 
MULTIFAMILY/HOTEL
A new, 410,000 square-foot multifamily development called Elan Keller Center Stage will be built on 1400 N. Main Street In Keller. Construction on the $63 million development will begin in May and is expected to be completed by May 2023. Meeks + Partners will lead design. 
A new multifamily development called The Chloe at SoGood will be built at 2010 S. Cesar Chavez Blvd. in Dallas. Construction on the $43 million, 383,732 square-foot development will begin mid-September and is expected to be completed by January 2023. 
Touchmark senior living is building a $98 million campus at 350 S Hardin Blvd. in Mckinney. Designed by Three, the 305,157-square-foot building is expected to be completed by September 2023. Construction begins this April.  
A new, $10 million medical center called MacArthur Medical Center will be built at 2101 Westpark Court in Euless. Construction on the 62,400-square-foot building will begin in March and is expected to be completed by late-March 2022. 
A 251,041-square-foot residential community called Midway Row House will be built at 4020 McEwen Road in Farmers Branch. Architecture Demarest will design the $35 million development, and construction is anticipated to begin mid-April and complete in April 2022. 
Hawthorn Suites by Wyndham Addison Galleria, a 70-room extended-stay hotel at 15200 Addison Road, has sold. Chris Gomes and Allan Miller in Marus & Millichap's Dallas and Austin offices brokered the deal.  
Comfort Inn North Dallas Galleria, a Choice Hotels International-branded hotel at 7815A Lyndon B Johnson Freeway in Dallas, has sold. Chris Gomes and Allan Miller in Marcus & Millichap's Dallas and Austin offices brokered the deal. 
OFFICE 
Fleetpride renewed its office lease for 46,764 square feet at 600 East Colinas in Irving. Transwestern's Duane Henley represented the building owner. 
Industry-leading Biotech firm Allied BioScience its headquarters into a new Plano office at 7500 Dallas Parkway to support its growing team. JLL brokered the deal, doubling the square footage from Allied BioScience's previous office space (14,000 square feet) to 28,000 square feet. The company is also planning to move its research and development labs into a larger space to support its product line's robust diversification. 
SkyWalker Property Partners acquired a partially developed medical and office condominium park in Collin County. The acquisition is Crescent Parc at 1400 N. Coit Rd. in McKinney, which has 61 medical and office condominiums in various stages of completion. The 13.2-acre project was bought out of bankruptcy and now is parked in the portfolio of When Opportunity Knocks. 
Berridge Metals is building a 17,645-square-foot office at 2015 California Crossing Road in Dallas. Modus Architecture will design the $1.2 million building. Construction will begin in March and is expected to complete by late October.  
A 16,060-square-foot office building called the Will Care Offices will be built at 2225 Guthrie Road in Garland. Construction on the $1.9 million office space began on 2/6/21 and is expected to be completed on 9/30/21.
ASPII Corporate is building an 11,514-square-foot medical building at 200 Westpark Way in Euless. Construction on the $1.95 million development will start this March and is expected to complete May 2022.  
Duane Morris LLP has subleased 10,000 square feet in The Crescent at 100 Crescent Court in Dallas. Garrison Efird and Jim Cooksey with Newmark represented Duane Morris. Brad Selner and Blake Waltrip with JLL represented the sub-landlord, Westwood Holdings. 
Estrada Hinojosa, a financial advisory firm, is moving out of Comerica Bank Tower and leasing nearly 9,000 square feet at Plaza of the Americas, located at 600 N. Pearl Street in Dallas. Transwestern's Kim Brooks, Justin Miller, and Laney Underwood represented the landlord, M-M Properties, in partnership with Clarion Partners. Jayson Montoya with NAI Robert Lynn represented the tenant. 
Spotio, Inc. renewed 3,259 square feet at 14114 N. Dallas Parkway in Dallas for one year. Noah Burns represented the landlord, Hartman Income REIT. 
2020 Companies leased 2,228SF at 1333 Corporate Drive in Irving for one year. Allison Fannin represented the landlord, Hartman Income REIT.  
RETAIL 
Younger Partners Investments (YPI) completed its first retail acquisition: Heath Town Center, a 77,669-square-foot grocery-anchored retail center at FM 549 and Laurence Drive in Heath. YPI is Younger Partners' newest platform designed to acquire retail properties. Adam Mengacci provided financing with Hamilton Realty Finance. Younger Partners' Micah Ashford, Moody Younger, and Kathy Permenter represented YPI in the acquisition. JLL's Adam Howells represented the seller, Malouf Interests, Inc. Financing arranged by Adam Megacci of Hamilton Realty Finance. The terms of the deal were undisclosed. 
A new, 41,600-square-foot hotel called Tru Hotel will be built on Weyland Drive in North Richland Hills. Construction on the $7 million hotel begins in March and will complete in Q1 2022. RSS Architects LLC will lead design. 
Bright Realty brokered the sale of 21,269 square feet of land on the southwest corner of SH 121 and Castle Hills Dr. for a Domino's Pizza. The freestanding, 1,950-square-foot restaurant with a drive-through will be built in late 2021. The land purchased is part of 3.3 acres for sale in Castle Hills in front of Sojourn at The Realm, which is condos over first-floor retail and part of The Realm at Castle Hills mixed-use development. Dan Looney and Britton Lankford of Bright Realty represented the seller, BRECO Lands CH, LLC, which is part of the Bright Entities family of companies. Tim McNutt of DBA Real Estate represented the buyer. 
Kids Empire, a secure indoor playground for all children, has opened in 15,850 square feet of retail space in Hillcrest Village, a major redevelopment project located at 6959 Arapaho Road. Robin Barrow with Weitzman handled negotiations for the Hillcrest Village location as a tenant representative for Kids Empire. Stephan Ktorza and Shelby Dopps with Kidder Matthews acted as the national master broker for the retailer. Josh Beliak with SHOP Companies represented the center. 
Churchill Retail Center, a 13,937-square-foot retail property in Flower Mound, has sold. Chris Gainey and Philip Levy in Marcus & Millichap's Fort Worth and Dallas offices brokered the deal.  
Cycle Town is building an 11,967-square-foot retail building located at 1620 S I-35E in Lancaster. Construction on the $1 million building will begin in April and is expected to complete at the end of the year.  
A 5,275-square-foot Varsity Express car wash will be built on N.E. Alsbury Blvd in Burleson. Construction on the $3 million building begins in March and ends by Sept. 30. A Plus Design Group will lead the design.