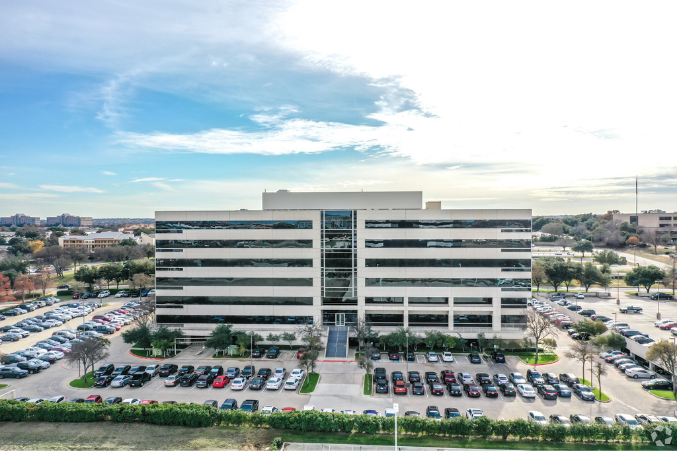 Deal Ticker: Cawley Partners Makes Two Big Office Buys
Plus, Dallas County purchases industrial site in the South Stemmons submarket, Locke Supply leases former supermarket space, and more.
Share your top deals by emailing Real Estate Editor Bianca R. Montes at [email protected].
Cawley Partners has closed on a couple of back-to-back acquisitions. Earlier this week, it announced it had teamed up with Staubach Capital to buy Sabre Global's two-building, 475,000-square-foot corporate office in Southlake.
As part of the transaction, Sabre inked a 12-year lease for the entire 265,000-square-foot first building and a short-term lease on the second 210,000-square-foot facility. The company found it didn't require as much space with so many employees working from home. The second building will be available for lease to other tenants in 2022, once Cawley has gone in, given it a full upgrade and renovation.
Cawley also joined with Balfour Pacific Capital of Vancouver to buy Westpoint I, a 150,000-square-foot office building in Las Colinas. The six-story property at 1255 Corporate Drive is 91 percent leased. Plans are in the works to renovate public areas and add new grab-and-go food service.
INDUSTRIAL/LAND
Dallas County purchased an office and industrial property with excess land located at 1460 Round Table in Dallas. Dallas County purchased the 104,427-square-foot property, situated on 9.6 acres of land, from a private, out of state ownership. Jamie Jennings and Andrew Rabinovich of Stream Realty Partners' Investment Sales team in Dallas, along with Jason Moser at Stream, brokered the sale.
Dalfen Industrial purchased nearly 40 acres on East Scyene Road in Mesquite (adjacent to the City of Mesquite airport). Younger Partners' John St. Clair and Jack Gail brokered the sale.
Buzzballz/Southern Champion leased 60,860-square-feet at 2161 Hutton Drive in Carrollton. Lee & Associates DFW's Adam Graham and Nathan Denton negotiated the transaction.
J & S Royal Lane sold a 56,211-square-foot space at 9150 N. Royal Lane in Irving. Nathan Denton of Lee & Associates DFW represented the seller. John Collins and Rhett Streelman out of the firm's Newport, Ca location represented the buyer.
Harrah Industries renewed a 24,128-square-foot lease at 2501 109th St. in Grand Prairie. Reed A. Parker of Lee & Associates DFW represented the tenant. Ryan McNaughton of Prologis negotiated the lease.
ZSW Products leased 21,500-square-feet at 601 Shepherd Drive in Garland. Matt Spellman with TIG Real Estate Services brokered the deal.
Team Rubicon leased 14,522-square-feet at 1209 W. Carrier Parkway in Grand Prairie. Mark Graybill and Colton Rhodes of DFW Lee & Associates represented the landlord, Link Logistics. John Murray with Murray Aronson represented the tenant.
Mercury GSE leased 11,638-square-feet at 905 Cook Lane in Saginaw. The ground support equipment provider is a leader in the aviation industry and is based in Los Angeles. Colliers International's Dave Cochran and Brad Balke brokered the deal.
2031 Quincy Street, a 10,060-square-foot property in Dallas, has sold. Adam Abushagur and Tyler Ranft represented the buyer and seller.
ITS ConGlobal, a leading operator of intermodal, finished vehicle, and depot service terminals leases 5,000 square feet with AllianceTexas' Mobility Innovation Zone.
MULTIFAMILY
Rishon Portfolio, a two-property workforce housing portfolio, has sold. The package included Rolling Hills, a 180-unit apartment community at 2010 Estrada Pkwy in Irving, and Cantera Crossing, a 230-unit community at 2727 W. Jefferson Blvd. in Dallas. The seller is a California-based operator, Rishon Companies, and the Buyer is The ValCap Group LLC, a Dallas-based investment company. Greystone | Investment Sales Group, brokered the deal.
The Falls and Oak Village, a two-property, 408-unit apartment asset in Fort Worth, has sold. Al Silva with Marcus & Millichap represented the seller, Florida-based Greenwater Investments, and procured the buyer, an out-of-state investment group. The Falls is a 256-unit property constructed in 1976, and Oak Village has 152 apartments built in 1980.
Woodland Trails, a 72-unit property in Nacogdoches, has sold. The Multifamily Group's Evan Burke worked with the California-based seller and procured the buyer.
Leuda, a 22-unit apartment property at 301 W. Leuda St. in Fort Worth, has sold. Al Silva, Nick Fluellen, Bard Hoover, Ford Braly, and Matt Aslan, investment specialists in Marcus & Millichap's Dallas and Fort Worth Offices, represented the seller, a local private investor and the buyer, a local partnership in a 1031 exchange
OFFICE
2021 Lakeside, a four-story, 60,000- square-foot office building located on the east side of U.S. Highway 75 north of Campbell Road in Richardson, has sold. International Leadership of Texas has purchased the building from California-based BH Properties, which acquired the vacant property a year prior. Colliers International's Office Occupier Services Group facilitated the sale.
Network of Community Ministries purchases 49,665-square-feet at 1500 International Parkway in Richardson. Mac Morse and Scott Jessen of Citadel represented the buyer. Tom Walrich, Brett Lewis, and Connor Hunt of Lee & Associates DFW represented the seller, Christar.
The Pasha Group leased 45,228-square-feet at Urban Towers, 222 W. Las Colinas Blvd. in Irving. John Fancher and Matthew Schendle with Cushman & Wakefield represented the landlord. Matthew Hickey, Johann Gerdts, and Charles Haley Jr. with TIG Real Estate represented the tenant.
Carroll Avenue Physicians Center, a 19,824-square-foot property at 1015 N. Carroll Ave. in Dallas, has sold. Ron Hebert and Brent Kopycinski, investment specialists in Marcus & Millichap's Dallas office, represented the seller, a private investor.
Deal Ark has leased 5,555-square-feet f of flex space at 2425 McIver Lane, Carrollton, from 2425 McIver Ltd. Brian Pafford and Susan Singer, of Bradford Commercial Real Estate Services, represented the landlord. Corbin Blount of DFW Lee & Associates represented the tenant.
Pediatrix renewed 3,882-square-feet at 12655 N. Central Expressway in Dallas for one year. Jessica Cyphers represented the landlord, Hartman Income REIT.
Lawrie Friedman renewed 3,565-square-feet at 685 N. Coit Road in Richardson for five years. Kat Morrison represented the landlord, Hartman Income REIT.
RETAIL
Locke Supply Co has leased a 34,000-square-foot former Supermarket located at 4414 Gus Thomasson in Mesquite. Scott Rose of Structure Commercial represented the tenant, and Coy Quine of Quine and Associates represented the landlord.
Spectra Salon Suites leased 9,108-square-feet at Preston Shepard Place, 1805 Preston Road in Plano. Jill Tiernan, Susan Ridley, and Jack Weir with The Retail Connection represented the landlord. Greg Pierce, with CBRE, represented the tenant.
Luv'Em & Leave'Em Professional Learning Center in southeast Arlington has sold in an all-cash transaction. Shane Benner in the Fort Worth office of Dallas-based Bradford Commercial Real Estate Services represented the seller, Sublett Holdings, on the 5,040-square-foot property.
15th Street Plaza in Plano has sold. STRIVE's Hudson Lambert represented the seller, a Dallas-area investor, and secured the buyer, a local investor from the Dallas area.
Shadow Nails has leased 2,304 square feet at 7335 Gaston Ave. in Dallas. David Lewis, with Lincoln Property Co., represented the landlord. Jaime Eagleson of Concept Commercial Realty represented the tenant.