At the end of every year, I always set aside time with my family to reflect on the past 12 months. What has changed within our family? What new challenges lie ahead? What dreams do we have for the upcoming year? It helps to put the past year in perspective and set our sights on the new year ahead, with a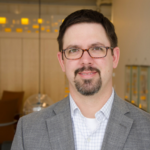 fresh focus and new goals.
The past year has made the entire world reevaluate many fundamental aspects of life. As my personal family reconciles 2020, I can't help but also think of my business family and the challenges we've been through. It's been a year of extreme change for everyone, but what has changed most, and what challenges lie ahead?
WORK AND PERSONAL LIVES ARE INTEGRATED
One aspect that has changed is our distinct split between work time and family time. The world embarked on a great work-from-home experiment in 2020, for which no business would have ever volunteered!
There are definite positives and negatives to working from home, but overall, employees have proven they can have more autonomy and still perform—in some cases, over-perform.
The ability to restructure your day and integrate your personal life into your work life has reduced stress and opened new channels of creativity and productivity for many people. Business leaders will have to be more accommodating in the future with blended work programs that allow higher levels of autonomy for all of life's situations.
Someday, the pandemic will end, but I believe a vibrant ecosystem of work settings is here to stay.
THE PARADOX OF HEALTH
Health and wellbeing have never spent this much time in the spotlight. Unfortunately, it required a pandemic for it to happen, but at least it's happening now. The paradox of health is this: to stay physically healthy; people need to remain apart. But to stay mentally healthy, people need to be together.
The world is learning that mental and physical health are inter-reliant. In Japan, there were more suicide deaths in October than COVID-19 deaths in the entire year. The pandemic's isolation and uncertainty have taken a toll on all of us, and the sole focus on physical health has left mental health unaccounted for.
As business leaders, we need to maintain our organization's mental health and wellness just as much as physical health. This requires a different, more empathetic, and personal style of management. This is something the best managers know already, but when it becomes a principle of your organization, the best employees will recognize it and value it.
PEOPLE COME FIRST
At PDR, we are lucky enough to get an inside look at our clients' businesses. We have seen trends in many industries of organizations getting smaller, more condensed, and more efficient. Much of this is due to technology's expanding role in industries such as energy, finance, and law.
Overall, there are fewer positions to be filled and, consequently, these positions must be filled with the best people if an organization wants to thrive.
Because of the pandemic, employees' needs have been refocused and are now more about flexibility, autonomy, and wellness (both mental and physical). Organizations that focus on these aspects and put their people first will win the talent war and accelerate new avenues of innovation, productivity, and profit.
ACCELERATING OUT OF THE PANDEMIC
So, where does your organization stand with these issues? How will you welcome 2021? What dreams do you have for your organization or your own role within it? Companies that provide blended work programs acknowledge the requirement for physical and mental health, and ultimately put their people first will accelerate out of the pandemic.
2021 is going to be a great year! Let's focus on people and move forward faster.
Marc Bellamy is a partner and principal with PDR, an architecture firm and business consultancy that helps companies best leverage their workspaces.
D CEO Real Estate Newsletter
Get weekly updates on breaking commercial real estate news and relevant industry reports.