Share your top deals by emailing Real Estate Editor Bianca R. Montes at [email protected].
Dallas Food Center, a 1.13-million-square-foot cold storage facility spanning approximately 61 acres with four distribution buildings, two refrigerated warehouses, and substantial trailer storage, has sold. Located at 2600 McCree Road in Garland, the property was originally built as a Safeway (Tom Thumb) distribution center then saw major expansions and renovations in 1970, 1972, 1996, 2006, and 2008. These renovations allowed high-profile tenant, Kraft Heinz Company, to quickly transport cold goods to more retail clients and consumers, resulting in the signing of a new 121-month lease that commenced in September 2017. Jonathan Bryan and Randy Baird of CBRE represented the seller in the sale transaction. Westmount was the seller.
INDUSTRIAL
Best Choice Products, an online retailer headquartered in Southern California, has expanded its presence into North Texas with a new industrial building in Eastern Dallas. The 442,035-square-foot facility, with 7,600-square-feet of office space, is located at 5151 Samuell Blvd. in Mesquite. It is the newest addition to BCP's nationwide fulfillment network previously served by its California, Indiana, and Georgia warehouses.
The company plans to begin receiving and shipping packages in the coming weeks and is partnering with local vendors to get the facility operational for the fourth-quarter shopping season. BCP has already added more than 30 new full-time jobs to the area and expects to bring on another 50 temporary workers for the peak holiday shopping season.
Reed A. Parker, at Lee & Associates Dallas-Fort Worth, negotiated the deal.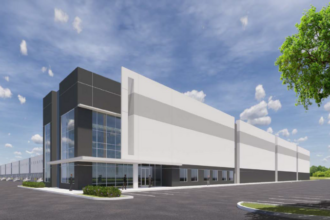 Black Creek Group, a Denver-based real estate investment management firm, recently purchased Turnpike North Logistics Center I & II, a 35.9-acre land site in Dallas, to develop two industrial buildings totaling 636,520 square feet with construction estimated to commence in January 2022. Eastdil Secured represented the seller.
Dot It Restaurant Fulfillment has secured a new, long-term, 134,272-square-foot lease at 4200 Empire in CentrePort, immediately south of Dallas-Fort Worth International Airport. The company was previously at 2001 E. Randol Mill in Arlington, where it occupied approximately 60,000 square feet. Transwestern Principal John Brewer and associate Riley Maxwell represented Dot It in the transaction.
CustomInk extended 90,200-square-feet at Lakeside Commerce Center in Flower Mound. Blake Kendrick and Mac Hall, with Stream Realty Partners, represented the landlord, Stockbridge. Chris Stout, with Jones Lang LaSalle, represented the tenant.
AVI-SLP leased 51,844-square-feet at CreekView 121 – Building 8 in Lewisville. Bob Hagewood and Eric Crutchfield, with Stream Realty Partners, represented the landlord, EastGroup Properties. Randy Touchstone and Caleb Lewis, with Jones Lang LaSalle, represented the tenant.
An undisclosed investor purchased a 40,000-square-foot industrial/flex building at 1900 Robotics Place. Forrest Cook and Seth Koschak, with Stream Realty Partners, represented the buyer. Ryan Buchanan and Jim Schoolfield, with CBRE, represented the seller, Pattonair.
National Joint signed a new 24,924 square-foot lease at 7000 W. Plano Parkway with Healthpeak Properties in Plano. Transwestern's Jeff Smith represented the landlord in the transaction.
Avyna Cosmetics Inc. leased 10,000-square-feet at Berry Business Center in Fort Worth. Jeff Rein, with Stream Realty Partners, represented the landlord, Circle Industrial.
Art N' Glow leased 3,713-square-feet at PS Business Park, 641 Presidential Drive in Richardson. Kelly Lyons and Carley Keiser of TIG Real Estate Services represented the tenant.
MULTIFAMILY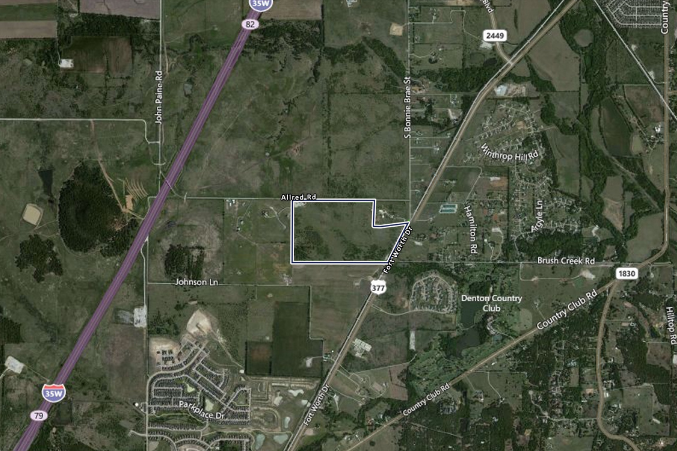 Grapevine-based Zena Land Development acquired 147 acres south of Denton proper on Bonnie Brae and Allred Road from the McCutchin family. Younger Partners' Ben McCutchin represented the sellers. The land is the remaining acreage of the 3,000-acre Pilot Knob Ranch, which had been in the McCutchin family for 80 years. The buyer has plans for residential development.
OFFICE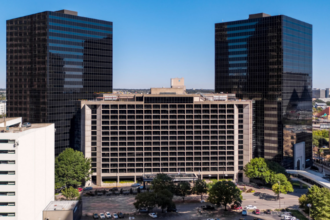 Award-winning law firm Thompson Coe has renewed its 69,130-square-foot lease at Plaza of the Americas, 700 N. Pearl Street in downtown Dallas. Thompson Coe has occupied floors 23-25 since 2002. Harlan Davis, Phil Puckett, and Jeff Ellerman, with CBRE in Dallas, represented Thompson Coe in lease negotiations. Transwestern's Kim Brooks, Justin Miller, Paul Wittorf, Laney Underwood, and Ford Childress represented the building owners.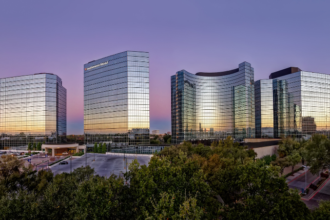 Design firm Huitt-Zollars is relocating to Three Lincoln Centre, a multi-building office campus located at 5420 LBJ Freeway. The building is currently undergoing a full-property renovation. The new location moves the office to North Dallas, which is closer to many of its projects in the Northern urban growth sector of the Dallas area, says company President Robert J. McDermott. Matthew Schendle and Clint Madison of Cushman & Wakefield represented the landlord, Nuveen, in the transaction. JR Tomlinson of Newmark represented the tenant.
Dickey's Capital Group, a Dallas-based holding company for international barbecue chain Dickey's Barbecue Restaurants, Inc., renewed a long-term lease on its corporate headquarters in the Knox-Henderson district. NAI Robert Lynn Vice President Justin Utay represented Dickey's in the deal.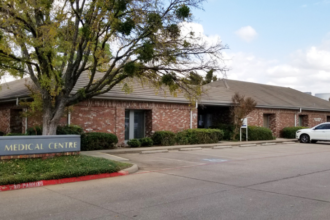 Modoc Properties has acquired one of six office buildings in The Medical Centre, a niche project situated within walking distance of the 369-bed Texas Health Arlington Memorial Hospital. The Fort Worth investor has snapped up a 7,156-square-foot medical office building divvied into two suites at 911 Magnolia St. in central Arlington. A triple-net lease is in place with a pulmonary group for 5,308-square-feet or 74 percent of the space. David Dunn of SVN|Dunn Commercial Real Estate represented the seller, PCT Leasing & Service Co.
Tollplus signed a new 6,610 square-foot lease at 4120 International Parkway in Carrollton. Transwestern's Billy Gannon represented the tenant.
Restoration CEC Texas renewed its 6,346 square-foot lease with the University of North Texas Health Science Center in Fort Worth. Transwestern's Whit Kelly and Dallas Margeson represented the tenant.
Oh Zone Clinics has leased 4,363-square-foot space in Highland Park West, 4300 MacArthur Ave. in Dallas, from 4300 MacArthur Partners. Richmond Collinsworth and Jared Laake of Bradford Commercial Real Estate Services represented the landlord. Jeremy Gray of Gray & Co. Realtors Inc. represented the tenant.
Rooshna Investments renewed 2,570-square-feet at 12221 Merit Drive in Dallas for six years. Jessica Cyphers represented the landlord, Hartman Income REIT.
TrueCloud PBX leased 1,453-square-feet at 5750 Genesis Court in Frisco. Kelly Lyons and Carley Keiser, TIG Real Estate Services, represented the landlord, Pirwig Properties.
RETAIL
Frank Auto Sales purchased an 8,896-square-foot retail building at 604 East Irving Boulevard in Irving. Hanes Chatham, with Stream Realty Partners, represented the seller, Porthos Group, LLC.
After Hours Dentistry leased 4,747-square-feet at Luna Crossing, 3933-3937 N. Central Expressway in Plano. David Levinson and Paul Cooke III of The Retail Connection represented the landlord, CH Retail Fund I/Plano Luna. Steven Jensen, with RCA Global Partners, represented the tenant.
America's Best Contacts & Eyeglasses leased 3,499-square-feet at Denton Crossing, 1400-1800 South Loop 288 in Denton. David Levinson and Jack Weir of The Retail Connection represented the landlord. Dawn Greiner and Ryan Johnson of SRS Real Estate Partners represented the tenant.
A Dollar Tree in the Dallas suburb of Rowlett, located on the corner of Lakeview Pkwy (Texas State Highway 66) and Dalrock Road, has sold. STRIVE's Adam Gottschalk represented the seller, a Dallas investor, and cooperated with an outside broker to secure the buyer, a private investor from Dallas.
A Chase Bank at 4709 Ross Ave. in Old East Dallas has sold. The property, built-in 2007, has just over two years remaining in the primary lease term. STRIVE's Adam Gottschalk represented the seller, a Florida investor, and sourced the buyer, a private investor from Dallas.
A 4,580-square-foot Shell gas station at 4751 N. Belt Line Road in Mesquite has sold. Jacob Luna of Marcus & Millichap represented the buyer and seller.
Legendary Black Belt Academy has leased 4,183-square-feet of retail space in Alpha Plaza, 4887 Alpha Rd. in Farmers Branch, from Kennington Alpha Plaza. Melanie Hughes and Elizabeth Hooper of Bradford Commercial Real Estate Services represented the landlord. Lynn Sivertsen of Better Homes & Gardens Winans represented the tenant.
Beauty and wellness retailer Bluemercury has expanded its space at Highland Park Village. Its new 1,861-square-foot storefront is double the original store's size with an 836-square-foot mezzanine and will feature the brand's newly expanded Conscious Beauty Program.
Get the D CEO Real Estate Newsletter
Get weekly updates on breaking commercial real estate news and relevant industry reports.