Dallas-based 
real estate company 
Cawley Partners has announced a new
1.5 million-square-foot
office space at 
Grandscape
,
one of the biggest mixed-use projects in Dallas' northern suburbs. The $1.5 billion development is home to a curated blend of experiential retail, dining and anchored by Warren Buffett's Nebraska Furniture Mart superstore—a luxury apartment tower is also scheduled to open in the coming months. 
The multi-phase office development is expected to combine three 500,000 squa
r
e-foot buildings
, totaling 1.5 million square
feet. Each building will be 17 stories tall, and all
office spaces 
have been configured to maximize 
employee 
health and safety in a post-Covid world. 
"Grandscape has already raised the bar for engaging dining, entertainment, and family experiences, and corporate users are going to gravitate to this dynamic project," said Cawley Partners CEO Bill Cawley.
Designed by Steven Janeway, Principal at Hoefer Wysocki, the offices are thoughtfully configured with the larger mixed-use development and the post-Covid work environment.  "Our team put considerable energy into designing a destination that would continue to elevate the landscape while being a timeless icon," said Rob Welker, president and national commercial practice leader at Hoefer Wysocki.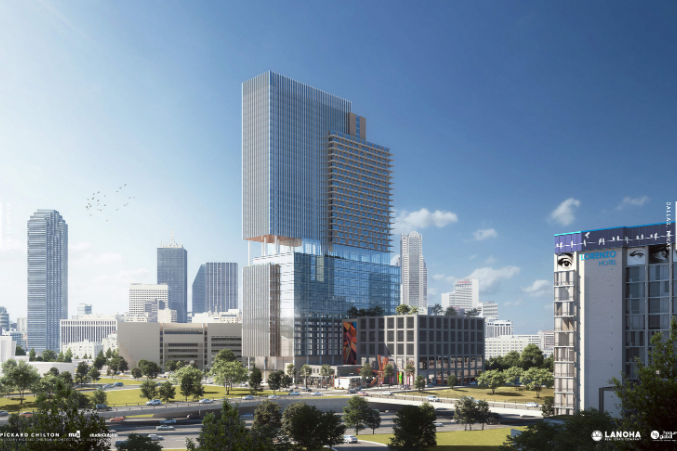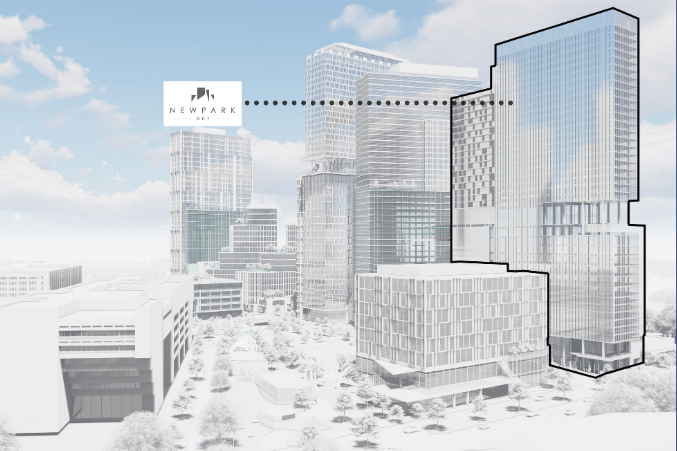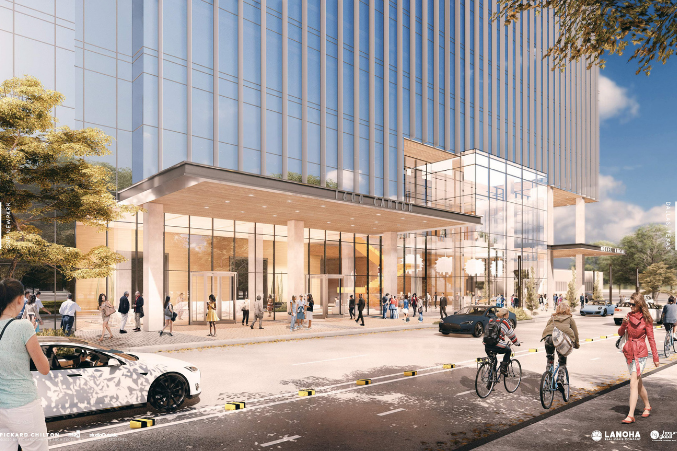 One Newpark will be the phase-one anchor of Newpark Dallas, a smart district with plans to transform downtown Dallas' southern limits. 
Development on innovation hub Newpark Dallas to begin in mid-2021.
Hoque Global and its partners will begin construction on the first phase of its new development, adjacent to Dallas City Hall, in 2021. One Newpark will be the phase-one anchor of Newpark Dallas, a smart district with plans to transform downtown Dallas' southern limits. 
Hoque Global and development partner Lanoha Real Estate Company will begin building the 38-floor tower in its strategic and catalytic project to create a major technology and education hub. That is slated to become the next center of urban growth. One Newpark is designed in partnership with Merriman Anderson Architects and Pickard Chilton and landscape architecture firm studioOutside.  
Intended to act as a catalyst for education and technological innovation in Dallas, Newpark Dallas will have more than 1 million square feet of Class A office space and 200,000 square feet of retail space, in addition to a four-star hotel and thousands of residential units. Developers have also proposed a 1 million-square-foot education campus as a part of the development, starting with Pre-K.
New brokerage firm aims to continue the family legacy in Dallas-Fort Worth
A new family-led brokerage firm founded in the midst of a global pandemic is looking to build a legacy in the Dallas-Fort Worth market. Co-founders Josh Bryan and his uncle Rodney Haggard say they are looking to create "relatable and reliable" partnership opportunities within the commercial land and development industries through their Bryan Haggard Land Group. The family has roots in the development of Plano and the areas surrounding Collin County.
"It's a pleasure to partner with my nephew in this new endeavor," said Haggard, who has more than 40 years of experience in the North Texas real estate development industry. "This is a legacy-building effort on his part, but it's also something the Haggards can hang their hats on and be proud of as we continue our efforts to help our community evolve into one that is rich and plentiful for generations to come."
Haggard currently owns and manages properties via Fairview Farm Land Company Ltd. His extensive involvement in all phases of real estate development in the Plano area, including residential subdivisions, multi-family developments, and management, created the Bryan Haggard Land Group partnership, a no-brainer for both parties.
Moss Construction tapped to complete Las Colinas luxury senior living facility
The Luxe at Las Colinas, a luxury senior living community in Irving, has tapped Moss Construction to complete the project. Ground broke on the 149,076-square-foot facility on Oct. 6, and construction is expected to be completed in November 2021.
The four-story community will consist of 140 units, ranging from one to two-bedrooms and 644 to 1,112 square feet. There will also be a main clubhouse and a dog park, a library, a fitness center, a media room, and a resort-style pool. 
Amazon Continues Dallas Expansion
Tech and commerce giant Amazon is continuing its expansion into Dallas, adding more than 100,000 square feet of office space in the Galleria office towers. The expansion means Amazon now owns over 300,000 square feet across multiple floors in the towers.
The company is investing more than $15 million in the expansion due to its pledge made in August to add 600 new technology jobs in Dallas.
Conlon & CO makes another investment in the future of Dalla-Fort Worth 
Global merchant company Conlon & CO finished a transaction on Nov. 4 for 690,000 square feet of soon-to-be constructed industrial and logistics space located in the Midlothian Business Park. The transaction marks the company's second major investment in the North Texas area, following last month's investment in White Bluff Resort on Lake Whitney. 
"We believe the attractiveness to this area is driven by several factors, including population size and density, educated workforce, and industry diversity," says CEO and Founder of Conlon & Co, Sean Conlon. "I strongly believe the Texas economy looks positive post-pandemic."
Conlon will have the help of urban leader and former Chicago mayor Richard M. Daley, and his son Patrick Daley, on this project.
Get the D CEO Real Estate Newsletter
Get weekly updates on breaking commercial real estate news and relevant industry reports.