In My Reality, an editorial series from D CEO, North Texas executives share their personal experiences of diversity and bias. Laura Ramirez, head of diversity & inclusion at Invitation Homes, discussed growing up as a child of immigrants in Dallas and how her experiences with racism and gender bias pushed her toward her career.
"My parents immigrated from Mexico to Dallas. They did that so that their children could have more exposure to diversity, different languages, and different cultures. They wanted their children to have more opportunities, so they left Mexico; they left everything behind them to come here. And I remember being so proud of my parents for that sacrifice that they made for us."
"Spanish was my first language. After all, my parents didn't speak English. I didn't learn English until my older sister went to elementary school, started learning the ABC's and the colors, and she would come home and teach me. That's how I learned English. So, by the time I started kindergarten, I was ready."
"I remember a classmate of mine, and she was struggling with English because it was not her first language, and she didn't have anyone to teach her. There was no diversity within the school, so the teachers couldn't really communicate well with her. And I remember she was struggling, and I started to help her. I remember a teacher scolding me. I got in trouble because I was being who I am, for speaking my first language. I got in trouble because I was doing the right thing."
"I stand to do what's right."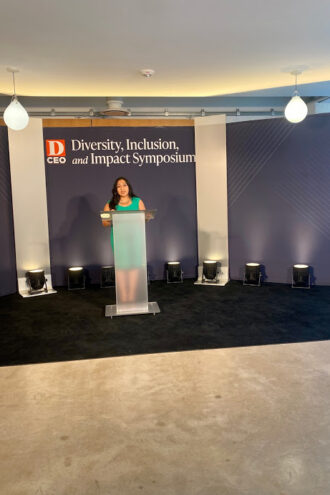 "I was at work, and I'd been at this company for a very long time. And I remember experiencing gender bias. There was this person, where no matter how good my ideas were, no matter how many times I held my hand out to him, he never once shook my hand. He never once wanted to work with me. He never advocated for me or cared for the work that I was doing. That wasn't a good feeling at all. I felt helpless because, again, just like when I was a child, I felt alone, even in a room full of 50 people. No one showed up. No one stood up for me or told this person, 'Stop. It's not right.'"
"After that, I started to talk more about it because I think that's what has to happen—more awareness. It's more people sharing their stories with others because the more you share, the more you're able to realize that it's not you. It wasn't anything I was doing personally; it was just that person having a bias. And so I started to have conversations with leaders in the business to share what I was going through in the hopes that they would speak up, or maybe they would have conversations with this person. It didn't happen."
"This was the first time that I considered going to the company compliance hotline. I would never have imagined that I would be doing that, but all of the other outlets I tried didn't work. So, I dialed the hotline. After that, he never bullied me. He never said anything else that made me feel less than, and he respected me. And that's why I firmly believe that the resources and tools that organizations and companies provide for their employees should encourage our people to use those platforms. We have to encourage employees to speak up if there is an incident or something that's happening. It's okay because it's going to help us become a better organization and better humans."
"I'm not the first one that has experienced racism. But I want to be the last one."
"All of these experiences that I've had, and that I've shared, I've also shared with my children. Because it's important for us, no matter how painful the situation is that we're going through, to be able to share that with our children and talk to them about it. The more we have this dialogue around racism and discrimination and disparity, the more we realize that it's not something that we did. It's the other person, and they have biases. It is something only that person can control."
"Now it's a pivotal time. We should not go back to the old ways. That's not an option. We should work and strive to get better and to be better for each other. The work that I do, it's for my people at Invitation Homes. It's also for my children. I work hard for equality, and I work hard for encouraging diversity and inclusion."
"I want us to challenge one another. I want us to challenge our suppliers. I want us to challenge our customers. I want to challenge community partners to ensure that we're on the right path and that we are doing better."
Get the D CEO Newsletter
Stay up to speed on DFW's fast-moving business community with weekly news reports, interviews, and insights.