Tomlin Investments
has repositioned its company for the future development of the $2 billion master-planned community underway in Celina. Now in its 50th year of operation, the company has been quietly putting together large land swaths in all directions, arranging for infrastructure, and getting them ready for development.
"We have the ability to envision the most profitable future land use, then obtain proper zoning and plan for utilities to maximize value," said Dan Tomlin. "It takes a lot of time and patience. It's what we did with Lone Star Ranch in the '90s and it's what we'll do with our next projects."
With construction underway at Green Meadows, initial lots and a $4.5 million amenity center, are scheduled for completion by the end of 2020. The first phase of Green Meadows will include 396 homes from the mid $200s by Castlerock Communities, Gehan Homes, Pacesetter Homes, and Stonehollow Homes. The community will have approximately 4,500 homes at build-out.
Ted Wilson, head of Residential Strategies, a market research firm, says Celina has been one of DFW's fastest-growing areas. "Six years ago, the area was producing under 100 new home starts per year," said Wilson. "Today, Celina is the fourth
most active new home market in DFW with almost 1,500 starts per year.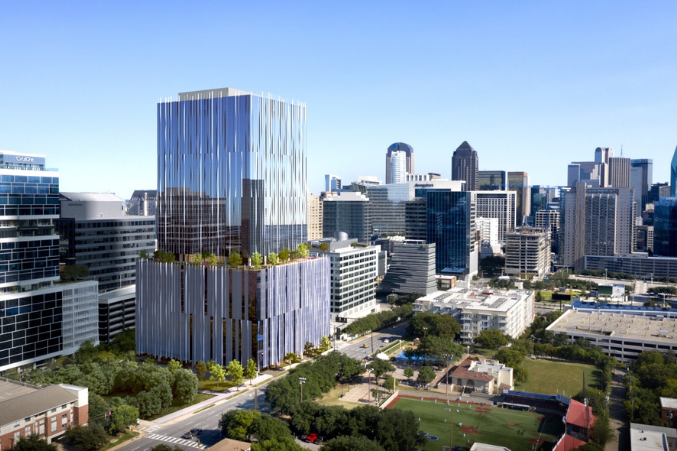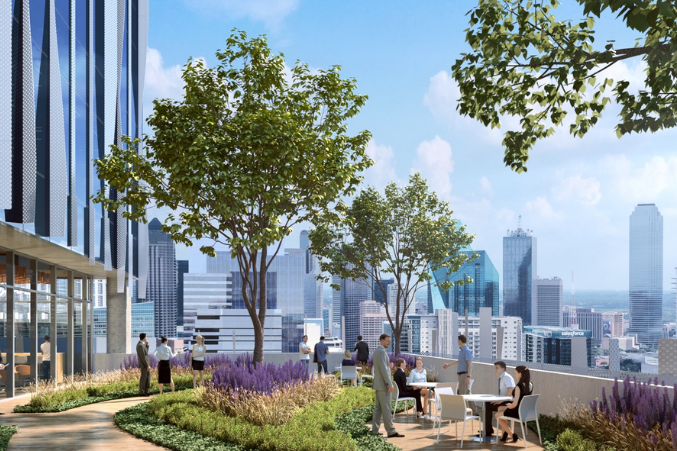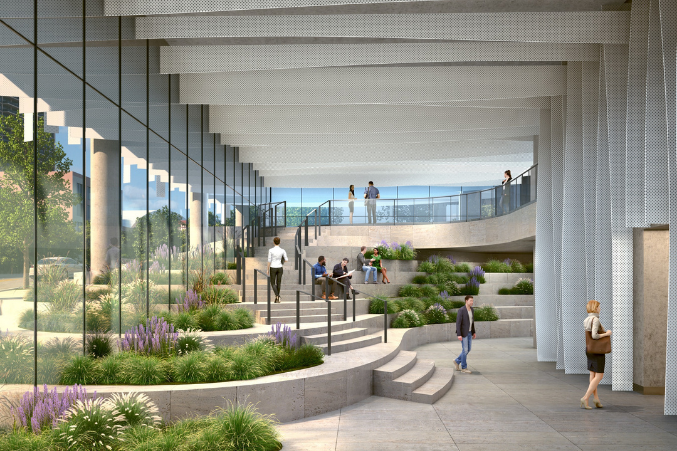 Towering at 27 stories, Harwood No. 14 will be centrally located in the 19-city block Harwood District.
Global real estate firm 
Harwood International 
has unveiled the design plan for its tallest office yet, Harwood No. 14. Towering at 27 stories, Harwood No. 14 will be centrally located in the 19-city block Harwood District. Designed by Kengo Kuma & Associates, Corgan, and the district's in-house firm, HDF, the build will be heavily influenced by nature, featuring a two-story lobby with monumental stairs blending indoor/outdoor features, landscaped plateaux, a finned curtainwall system that is the first in Dallas, open-air pocket gardens, and a 17,000-square-foot rooftop and sky garden complementing Harwood No. 10's sky gardens just across the street.
"We believe that the future tenants will appreciate the strong connections to the outside, with a big park-like terrace on level 12, the outdoor feeling in the lobby, and even two viewing balconies higher in the building," said Kengo Kuma, design architect, Kengo Kuma & Associates. "Fresh air and light are essential, and our connection to nature is more important than ever."
This will be Kuma's second office tower in the Harwood District. KKAA's first tower, the Rolex Building completed in 2018, won the "Best Office Project in the World" by Engineering News-Record magazine and was featured in a 50-minute documentary by NHK World News.
"The design-build approach with which we have gone about bringing Harwood No. 14 together has been extremely dynamic and we are very proud of what these talented groups have successfully produced," said Oliver Barbier-Mueller, managing partner, Harwood International. "We are confident that this tower will exceed our tenants' expectations and add an iconic new addition to the Harwood District."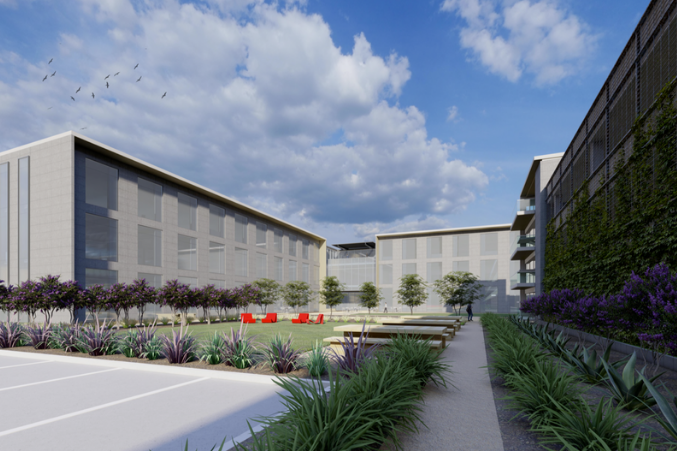 Cawley Partners
has announced a new office development near Love Field Airport. Located at 2221 West Mockingbird Lane, the 150,000-square-foot development will be designed by Corgan. The four-story office design will be framed by a central courtyard to bring natural space to thTherkplace. This will design be the first modern office building of this caliber to be developed in the West Love submarket.
The brand-new build will provide the latest air filtration systems and plenty of outdoor common areas.  A structured parking garage is planned for the office and will contain ninety percent of the available parking spaces.
"I believe this area has so much potential for companies looking to grow in Dallas," said Bill Cawley, chairman and CEO of Cawley Partners. "You are right next to Love Field, and UT Southwestern and Parkland have almost $2.25 Billion worth of projects going up in this area right now. I think we're going to see this become a more desirable corporate location with new companies looking to move in."
Growing architecture, engineering, and construction firm 
KAI Enterprises
has consolidated its North Texas operation with the sublease of 12,648-square-feet of office in Irving. Headquartered in St. Louis, KAI is one of the largest Black-owned businesses in the country. The company has been operating in Texas since 1999.
KAI will consolidate its two existing offices in the Dallas-Fort Worth into the new space at 5010 Riverside Commons. The space will serve as their Texas hub as t continue to grow and build off of the energy in North Texas.
"In a market as fluid and ever-changing as North Texas, we were presented with several hidden gems that allowed us to make the right decision for KAI," said Darren L. James, FAIA, president of KAI. "With the help of the CBRE team, we were able to discern and find space in our desired geographic area with the office-feel we were looking for. We are excited about the location and environment as KAI continues to invest in our people and Texas."
KAI plans to occupy the new space by Nov. 1.
Josh White, Chelby Sanders, and Ryan Buchanan, with CBRE, represented KAI in the sublease negotiations. Travis Boothe with Cushman & Wakefield represented Riverside Commons.
Rosewood Property
and
CityCentral
are partnering to bring flex office space to Uptown's Rosewood Court. CityCentral Uptown will be located on the 10th floor of Rosewood Court, 2101 Cedar Springs Road. "As work continues to look different for a lot of people, office space flexibility remains a strong trend that is in high demand," said Rick Perdue, president of Rosewood Property Company. "Rosewood Court's outstanding location and amenities make it an ideal choice for those wanting a professional environment at a prominent address."
The concept includes office space, coworking space, meeting space, and enterprise suites, available for short or monthly leasing.
In May, Megatel Homes moved its headquarters to Rosewood Court, followed by Frost Brown Todd in June, consolidating two of its Dallas locations to the building.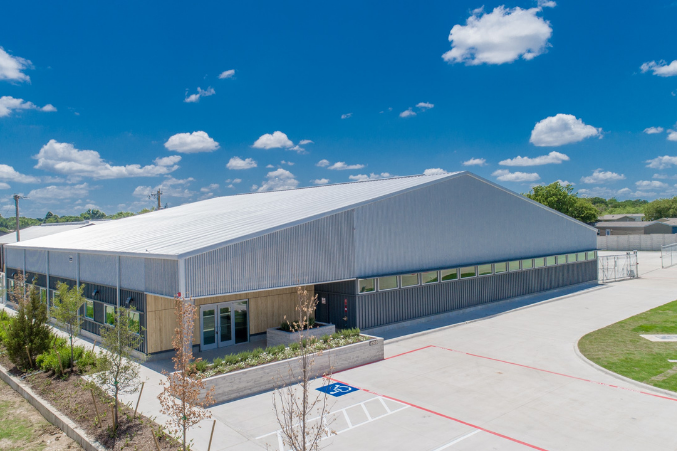 NAI Robert Lynn
has been named the owner's representative of Fort Worth's revamped Sun Valley Industrial Park. Empire Texas Equities, a real estate investment, and management firm has transformed Sun Valley Industrial Park over the last decade. Its latest transformation is two state-of-the-art, 13,036-square-foot flex spaces located at 4808 and 4809 Vesta Farley in southeast Fort Worth.
Todd Hubbard, president of Fort Worth for NAI Robert Lynn, is the owner's broker, representing lease negotiations. The new buildings are ready for industrial tenants, and six more buildings from the portfolio will be ready in 2021. The buildings range from 12,000 square feet to 30,000 square feet.
"It's been rewarding to see this area and industrial park transform," Hubbard said. "It has the functionality of the most sought-after industrial space with oversized doors and outdoor storage, but it comes with the modern amenities of a Class A office space. That's almost impossible to find."
Get the D CEO Real Estate Newsletter
Get weekly updates on breaking commercial real estate news and relevant industry reports.