Hoque Global and its partners will begin construction on what will be the tallest structure on the southern end of downtown Dallas—adjacent to Dallas City Hall, Dallas Convention Center, and Dallas Farmers Market in 2021. One Newpark is the phase-one anchor of Newpark Dallas, a smart district, which developers say will transform downtown Dallas' southern limits as the city grows south. Hoque Global and development partner Lanoha Real Estate Company will begin building the 38-floor tower in its strategic and catalytic project that will create a major technology and education hub, and that is slated to become the next center of urban growth.
Building off the widely acclaimed and City Council-adopted Downtown 360 Plan, Newpark Dallas has been carefully planned to exemplify smart urban principles and become the connective tissue linking key downtown zones.  The streets within Newpark will be full of life with shops and restaurants lining the base of buildings from the Convention Center to Farmer's Market with wide sidewalks, bike lanes, and urban landscaping.
Newpark Dallas will have over a million square feet of Class A office space, 200,000 square feet of urban retail space, thousands of residential units, a four-star hotel, and a proposed one-million-square-foot educational campus with facilities ranging from pre-K through higher education.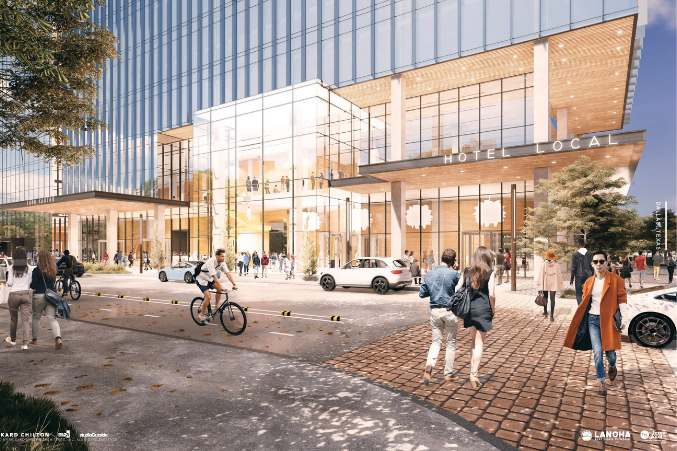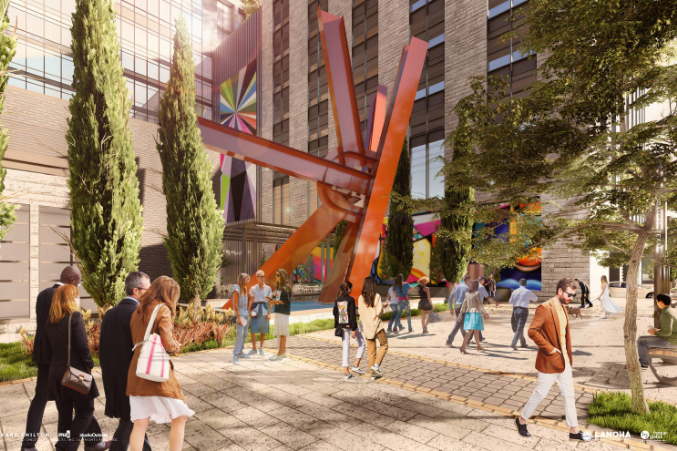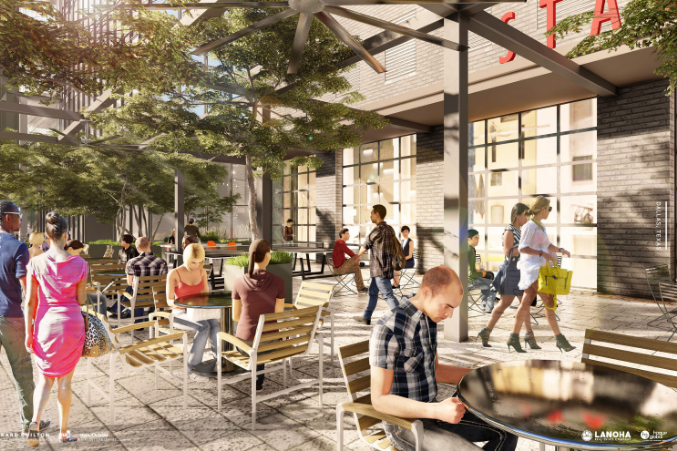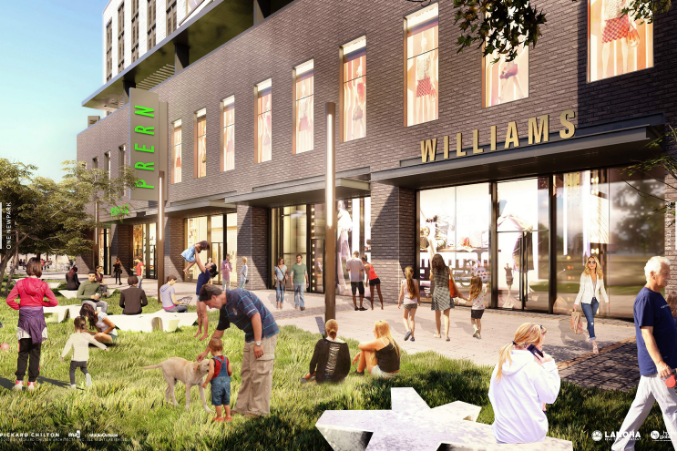 The development team is working with the City to create a large new urban park, which will anchor the district and offer a respite of green space in the heart of the bustling neighborhood and tie together surrounding civic and public spaces such as City Hall Plaza, Pioneer Park, Dallas Heritage Village, AT&T's new Discovery District, and future deck parks.
"A project of this magnitude with the ability to transform a city requires bold vision and relentless dedication to making a positive social impact in the community," said Mike Hoque, CEO & Founder of Hoque Global. "No single person or group can make such an undertaking become reality.   It requires a fleet of fearless and mission-focused leaders coming together under a common cause.  This is Newpark Dallas.
"A status quo development could have been built several times over," he continued. "But the opportunity to do something truly special for Dallas will take bold initiative from many stakeholders in our community.  We are so inspired and ready to move ahead working together as a community."
Dale Petroskey, President and CEO of the Dallas Regional Chamber, called the project imaginatively exciting.
"In recent years, we've felt the positive impacts of several transformative new developments all around downtown Dallas, and we appreciate Hoque Global's vision and commitment to making downtown even more attractive for companies looking to locate here and people looking to work and live here," he said.
Dr. Eric Anthony Johnson, Chief of Economic Development and Neighborhood Services at the City of Dallas, said a major technology and education hub next to City Hall will be a huge economic catalyst that can transform this part of the city and lead to more opportunities for Dallas to continue growing its economic base.
CBRE Plans Headquarter Move from Los Angeles to North Texas
Commercial property giant 
CBRE
is moving its headquarters from California to North Texas, making DFW one of the country's real estate capitals.
Where the base will be located and how many employees it is expected to house have yet to be announced. Dallas is already home to CBRE's largest U.S.-based workforce with about 3,150 people. The company operates at least four offices in North Texas, including its Uptown location at 2100 McKinney Ave where its CEO Robert Sulentic already splits his time between Los Angeles and Dallas.
The news has garnered major praise from the likes of Gov. Greg Abbott, Dallas Mayor Eric Johnson, and Dallas Regional Chamber President and CEO Dale Petroskey.
"We are thrilled to welcome CBRE's Headquarters to Dallas and we stand ready to continue supporting them as they develop their future growth plans," Petroskey said in a statement. "This move means we have now drawn five Fortune 500 headquarters relocations to North Texas within the past five years, an incredible testament to the strength of our region as one of the best places in America for all people to live, work, and do business."
The Fortune 500 company brings in almost $24 billion a year in revenue.
JLL Lands Major Hire With Top Office Tenant Broker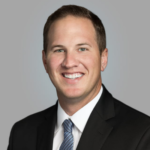 Known as one of the leading office tenant representation brokers in Dallas,
Crib Altman
has left Cushman & Wakefield. The 13-year commercial real estate veteran has joined
JLL
where he will assist clients with addressing their commercial real estate needs utilizing JLL's global platform of services and roster of industry experts.
"Cribb is one of the most respected professionals in our region," said Brooke Armstrong, Office Tenant Representation Lead, JLL. "We are dedicated to achieving our clients' ambitions and we are confident that in his new role, he will strengthen the overall quality of our team and the services we deliver our clients."
A former Grubb & Ellis alum, Cribb joined Cushman & Wakefield in 2012 to focus on local and multimarket site selection, financial analysis, disposition, and acquisition, and lease negotiations.
JLL also recently announced that Christy Thelen Rhea has joined the firm as a senior associate for its office tenant representative team. Rhea specializes in agency leasing, conducting in-depth market research, completing detailed client-specific pitches, and managing transactions. She earned a bachelor's degree from The University of Oklahoma.
JLL also announced it had promoted Brad Carbo as the new lead for JLL's South Central Region Project and Development Services team. In his new role, he will be responsible for leading teams in several states and markets, including Houston, Dallas, Fort Worth, San Antonio, and Kansas City.
As Managing Director and Austin PDS team lead, Carbo successfully tripled the market business's size, leading a team of project managers and coordinators to ensure clients' interests were represented throughout the project delivery process. He has over 15 years of commercial real estate and project development experience, including eight years with JLL. Vice President Sara Lounsberry will take over as the Austin PDS lead.
VanTrust Breaks Ground on More Than 1.2 Million Square Feet of Spec Industrial Space in South Fort Worth
VanTrust Real Estate
recently broke ground on a 75-acre Fort Worth Logistics Hub in south Fort Worth, totaling more than 1.2 million square feet. The project will be completed in two phases. Phase One is a 670,941-square-foot speculative logistics project which will be delivered in July 2021. Phase Two will follow closely behind with is a 606,480 square foot building.
"South Fort Worth offers an abundance of resources, making the market highly competitive in North Texas," said Bill Baumgardner, executive vice president at VanTrust and head of the company's Texas office. "With its great connectivity to major interstates and access to an unmatched labor force, south Fort Worth is one of the area's most prominent logistic locations."
So far in 2020, nearly 15 million square feet of industrial space was absorbed throughout the region. The south Fort Worth submarket continues to grow with over 74 million square feet comprising 9 percent of the total market. The submarket vacancy rate of 5.2 percent continues to be one of the lowest in Dallas-Fort Worth, according to CBRE.
"The Fort Worth Logistics Hub fits the VanTrust strategy of serving the increasing demand for e-commerce, logistics, and manufacturing spaces in North Texas," said Josh Meredith, director of development at VanTrust. "South Fort Worth will continue to be an area we target for additional developments based upon the great fundamentals."
Nathan Lawrence, J. Scott Moore, and Krista Raymond of CBRE will be leasing the project. The general contractor is Bob Moore Construction, the architect is Alliance Architects and the civil engineer is Pacheco Koch.
Uptown Office Goes Up For Sale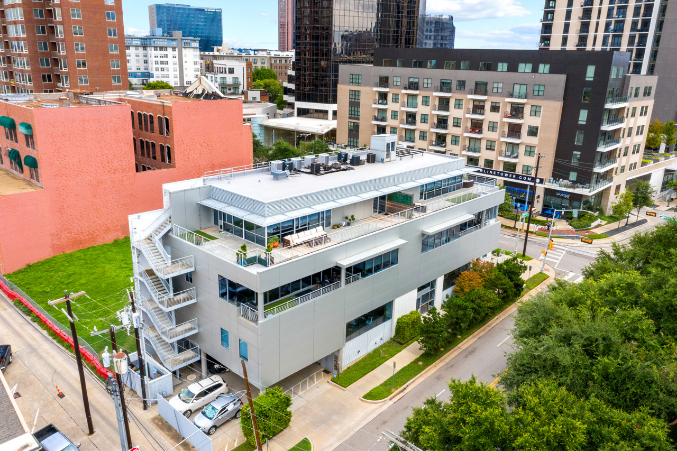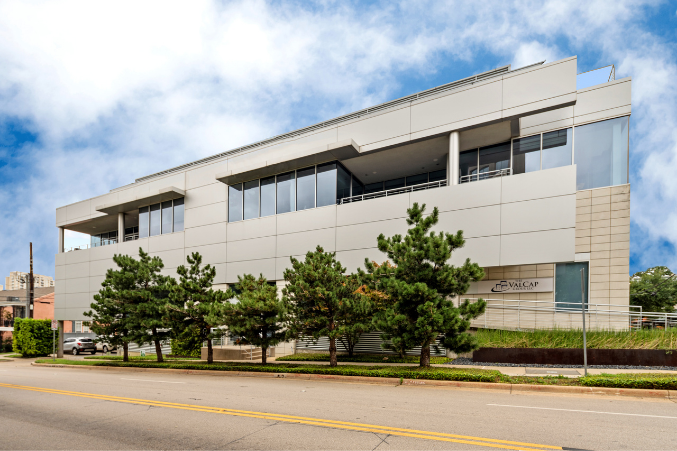 The three-story building includes 16 parking spots on .2 acres at the intersection of McKinney Avenue and Bowen Street.
That latest boutique property to hit the sales market is
3203 McKinney Avenue
in Uptown Dallas.
The 13,265-square-foot building offers contemporary office space and luxury residential units on the upper floors. The property is offered exclusively by Younger Partners' Scot Farber and Tom Strohbehn. Built in 2005, the building offers roughly 5,800 square feet of office space in complement to nearly 7,400-square-feet of penthouse residential space that is fully leased.
"With limited developable land available, a McKinney Avenue address is a strategic long-term investment in the future of Dallas," Strohbehn said. "With the surrounding Class-A office market, the property owner should enjoy the benefit of existing residential space or the added income of continued leasing.
Cushman & Wakefield to Market Transit-Oriented Addison Development
Cushman & Wakefield
has been selected by the Town of Addison to market an 18-acre mixed-use transit-oriented development opportunity. Cushman & Wakefield's engagement is the next step in the Town's efforts to maximize the benefits of the Dallas Area Rapid Transit (DART) Silver Line/Cotton Belt Corridor by creating a walkable, transit-oriented, mixed-use development adjacent to the future rail station in Addison, which could rival the development value of North Texas' premier regional destinations.
Chris Harden, Maureen Kelly Cooper, Ryan Duffie, and Michael Thomas of Cushman & Wakefield's Dallas office will lead marketing efforts and provide brokerage and advisory services on behalf of the Town of Addison. The team was chosen based on their notable experience representing public agencies locally and throughout Texas, including recently representing DART on the 11-acre Mockingbird Station East mixed-use, transit-oriented development, and CapMetro in Austin on the Plaza Saltillo mixed-use, transit-oriented development. Both projects are currently underway and represent nearly a billion dollars of development value around the rail stations.
"We're pleased to have been selected by Addison to find a highly-qualified, forward-thinking mixed-use master developer who can build out the site to its full potential," said Harden. "The unparalleled central location, access to transit, major employment, and proximity to high-traffic areas like Belt Line Road, a nationally-known hotspot for restaurants, and the exceptional quality of life the Town of Addison affords make this a prime investment opportunity."
Thompson Hotels Opens in The National
Dallas-based 
Todd Interests
plans to open the first Thompson Hotels property in Texas at the recently restored downtown building, The National.
Thompson Dallas has 219 rooms, including 52 suites, two penthouse suites, and two culinary destinations. With the interior design team of Cindy Zelazny (Interiors Limited) and Caroline Todd, owner of Todd Interiors, architecture and design by Merriman Anderson Architects, landscape design by SWA Group and developed by award-winning firm Todd Interests, Thompson Dallas is part of the largest adaptive reuse project in the history of Texas. The restoration and reusing of materials salvaged during The National's $460 million preservation combined with Thompson Hotels' world-class culinary offerings, art and entertainment, and groundbreaking design bridges the rich Dallas legacy of The National with Thompson Hotels' take on modern luxury.
"Our Dallas property is one of the most exciting projects I've had the opportunity to work on in my 23 years in the hospitality industry," says Steve Shern, Managing Director of Thompson Dallas. "We can't wait to join the Dallas community and serve both those traveling and the people of the city." "Thompson brings a sophisticated, luxurious, and energetic brand to The National," says Philip Todd, Todd Interests Partner. "It's what you might see in the best neighborhoods in Manhattan or in Mayfair, London, while remaining authentic and true to Dallas."
Other Thompson Dallas amenities include Tondeo Hair Lounge, a three-chair barbershop helmed by Derek Ortiz, as well as a floral design studio and workshop, The Botanical Mix, both located in the hotel's lobby. More than $2 million of art and one-of-a-kind furnishings from Frieze London, PAD London, and internationally recognized galleries were personally selected by interior designer Caroline Todd and are spread throughout the property. These include David Yarrow photography, paintings by Dallas artists David Bates and JD Miller, sculpture by Raul Maura, and furniture designed by Barlas Baylar, Hervé Langlais, and Ad Hoc.
Thompson Dallas will exist alongside The National Residences, 324 luxury high-rise apartments which will include amenities such as room service and housekeeping.
Get the D CEO Real Estate Newsletter
Get weekly updates on breaking commercial real estate news and relevant industry reports.