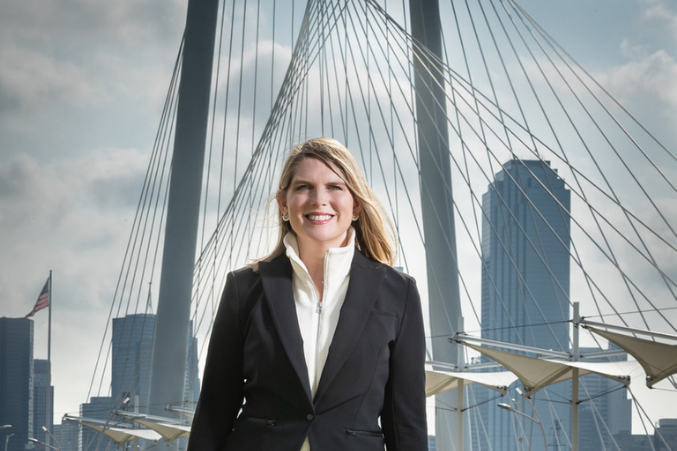 CRE Briefs: Top Dallas Leasing Agent Sara Terry Changes Firms
Plus one of Dallas' largest office buildings is up for sale, Dallas North Tollway property refinanced for $190 million, NOVEL Deep Ellum lands new retail tenants, and more.
Top producer Sara Terry is leaving her role as senior vice president at Stream Realty Partners to lead the Dallas-Fort Worth leasing group for Colliers International. Throughout her career, Terry has made some of downtown Dallas' biggest building leases—with clients such as Trammel Crow Center and St. Paul Place in her portfolio.
"This is such a great opportunity to step into a leadership role for a major platform in Dallas and take it to the next level," said Terry. "I'm ready to get started building a team and finalizing the strategy to map our growth. I couldn't be more excited about leveraging the strength of Colliers' global brand and reputation, which will allow us to capitalize on our long-term relationships in the institutional world."
Terry moved to Dallas from Atlanta in 2014 when she joined Stream Realty. In the past two years, she has handled more than 1 million square feet of office leases, recently assisting the Credit Union of Texas with its Allen relocation.
"We are so thrilled to have Sara on board to lead this new division in our Investor Services group," said Steve Everbach, President of Colliers International's Central Region | U.S. Brokerage. "Her addition rounds out our suite of services and will be highly complementary to our recent growth in Investment Sales. This suite of services is a major focus of growth for Colliers going forward, and we expect to gain significant market share in the coming years."
Since joining the firm about five years ago, Everbach has doubled the size with several strategic hires. Just recently, Colliers added industry veterans Jorg Mast, Chris Paul, and Danny Miller to its Investment Sales and Capital Markets Services for clients who own or develop investment-grade multifamily and mixed-use properties in Texas and the surrounding region. The firm also announced that Will Haynes, a professional in the occupier services group since 2017, will assume expanded responsibilities after being promoted to managing director, office occupier services for Colliers' North Texas.
The iconic downtown Dallas Renaissance Tower is up for sale. With 1.73 million square feet, the building is the second largest office building in Dallas. Newmark Knight Frank is marketing the building, which since 2006 has been owned by New York-based Moinian Group and SMA Equities. The building was refinanced in 2017 for $118 million. It was recently announced that Younger Partners Property Services would take over management of the tower, which is 72 percent leased. This new 1.7 million-plus square foot assignment brings local property managed by Younger Partners Property Services to more than 5 million square feet. The on-site property management team will be led by property management veteran Kay Crawford, who comes to Younger Partners to lead the Renaissance Tower from CBRE.
"The decision to change to Younger Partners was partially based to better position the property for a potential sale," says Younger Partners Property Services President Greg Grainger." YPPS took over the management of the tower on Sept. 1.
NOVEL Deep Ellum has landed two retail tenants at its Canton Street multifamily community. Fitness franchise F45 Training is bringing its HIIT-inspired workout to the neighborhood, leased 2,350 square feet, and plans to open Sept. 26. The studio will be operated by F45 Training Owner Terry Yeung as well as Manager and Head Trainer Brian Schroeder. In response to the COVID-19 pandemic, Yeung and Schroeder will be optimizing the use of the large space for workouts, ensuring members can properly social distance and remain safe while in the studio. Land of a Thousand Hills Coffee is opening its tenth outpost and first foray into the Dallas market with a 1,580 square foot lease. Founded in 2008, Land of a Thousand Hills Coffee specifically sources beans grown in Rwanda and prioritizes giving back to local Rwandan coffee farmers through a variety of programs, including its "Do Good Initiative." Crescent Communities' retail leasing partner at NOVEL Deep Ellum is Venture Commercial, with leasing led by Amy Pjetrovic, Gabi Shaff, and Austin MacDougall.
Clarion Partners, a New York-based company with offices in Dallas, Los Angeles, Washington D.C., and Boston, has selected Weitzman to handle property management for  The Shops at MacArthur Hills, a 79,025 square-foot retail center in Las Colinas. The center, located at MacArthur Boulevard and President George Bush Turnpike, is anchored by Whole Foods. Debra Hays, a senior property manager with Weitzman, will direct the day-to-day management of the high-profile center.
Tacoma Capital Advisors has refinanced International Plaza I & II in Farmers Branch, looking to Cushman & Wakefield to serve as the exclusive advisor for the $190 million deal. Located at 14201 and 14221 N. Dallas Parkway, the properties total more than 780,000 square feet of office space and are one of the largest developments along the Dallas North Tollway. After purchasing the asset in 2018, Taconic invested significant capital into renovations, including 46,000 square feet of amenities and a 150-person conference center.
A Cushman & Wakefield Equity, Debt & Structured Finance team of Rob Rubano, Greg Napper, and Brian Share represented the borrower. "Taconic has done a great job of positioning the asset over the last two years, as evidenced by continued strong tenant demand for the building. The execution of their business plan has truly elevated International Plaza I & II as two of the more desirable buildings in Dallas," said Rubano. "The ability for CIM to underwrite a whole loan financing of this size in the current market environment speaks to the quality of the asset and the strength of Taconic as a borrower."
Omni Las Colinas has completed a $13 million renovation to various common space amenities, including The Lakehouse Waterfront Lounge. Updates also included three new dining concepts, LRH Restaurant & Bar, Flossie's, and Over the Counter. The goal of the renovation was to elevate the hotel as a destination within the Dallas-Fort Worth area. Design updates include brass accents and neutral tones that represent the strong Texan culture. "During the renovation process, it was important for us to celebrate our natural surroundings and incorporate elements of leisure to reflect the spirit of Las Colinas," said Nydia Hoskins, general manager of Omni Las Colinas Hotel.