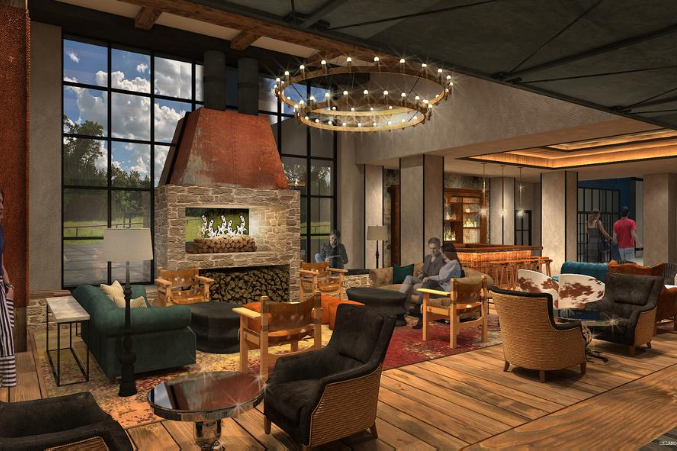 First Look: Hotel Drover to Open in Fort Worth Stockyards
Set to open early next year, the Marriott Autograph Collection Hotel anchors the $175 million redevelopment of Mule Alley
In the late 1800s, on their long journeys moving cattle to market along the Chisholm Trail, Fort Worth was one of many stops for the drovers and their teams. With business booming in the early 1900s and railroads making their way west, the Fort Worth Stockyards and the Swift and Armour meatpacking plants became known as the Wall Street of the West. Located in the newly renovated Mule Alley at the Fort Worth Stockyards, a new hotel plans to celebrate this rich history and lore.
Set to open early next year, Hotel Drover, a Marriott Autograph Collection Hotel, blends a rustic-luxe design with modern hacienda decor.
The hotel anchors the $175 million redevelopment of the Mule Alley, a public/private partnership project with the City of Fort Worth, Tarrant County, Majestic Realty Co., and The Hickman Companies.
Mule Alley is the first phase in preserving the National Historic District legacy of the Stockyards, and broke ground in the fall of 2018. In addition to Hotel Drover, it includes the renovation of the destination's historic,100-year-old horse and mule barns into a street of curated shops, restaurants, retail, and office spaces.
"The Stockyards present a unique challenge, but also a rare opportunity," Craig Cavileer, executive vice president of Majestic Realty Co./Stockyards Heritage Development Co., said in a news release. "We knew from the moment we first visited the district over 20 years ago that this was a rare gem—a place people from all over the world visit for a taste of Texas and the West."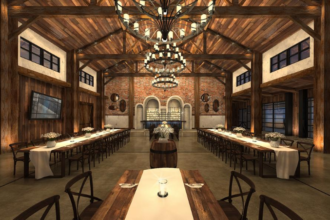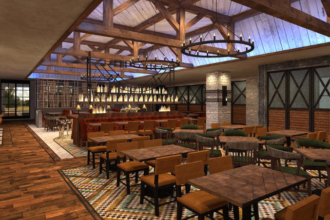 Its 200 rooms include a variety of experiences from fireplace suites to modern bunkhouse rooms and vintage-inspired retreats. Fronting Marine Creek, the resort enjoys more than two acres of outdoor living space, including a pool, flagstone courtyards, multiple water features, fire pits, music stage, and outdoor games.
In addition to more than 12,000 square feet of meeting space and eatery 97 West Kitchen and Bar, the property will boast two "one-of-a-kind retail shops. A bespoke experience store, the Lucchese Custom Collection at Hotel Drover will offer custom and made-to-fit boots and accessories available only at this location. Little White Lies is a hand-curated artisan shop with a decidedly feminine yet rustic flare. This charming boutique features a specially selected collection of limited-edition and carefully curated apparel, jewelry, bags, travel accessories, and distinctive gifts.
"Our goal is simple—Hotel Drover pays homage to the Stockyards' National Historic District in Fort Worth and harnesses the true spirit of the drover to create a new legacy for the Stockyards," said General Manager Kristin Assad. "We are building a place where simple pleasures and one-of-a-kind experiences blend effortlessly to become special memories. From sunset strolls on horseback to whiskey tastings and s' mores kits, we have special touches for everyone during their stay."