When the current owners of CF Ranch were looking to buy land to raise cattle, a powerful underground irrigation system sealed the deal on a northeast Texas ranch with great bones but in need of work. During the past three years, Parker Flannery has used a heavy rotational grazing technique he picked up ranching for nearly a decade in Australia to transform an estimated 1,600 to 1,700 grazing acres into lush terrain that's not only beneficial to cows but also sustainability.
Icon Global just listed his property for a cool $6.495 million.
About half an hour from charming Paris, Texas, the 2,105-acre CF Ranch offers miles of pristine Red River frontage with sandy beaches. The self-sustaining ranch is ideal for both beginners and professional ranchers—and with two homes, a turnkey opportunity for a city dweller looking for a family getaway within 1.5 hours of Dallas.
Amenities include three spring-fed private lakes, each which are set within descending elevations, ensuring free flow and year-round enjoyment of bass fishing. Duck, hogs, and deer roam the ranch for prime hunting. And ranch facilities include pens, laneways, fencing, barns, a roping arena, shops, and hay barns.
"This is an incredible place for a sort of someone newer to cattle or someone more on the recreational side to have the cattle because the management system is so simple here," Flannery told
D CEO
. "A very, very rookie rancher could have this place under control. There's incredible hunting, there's incredible fishing. There's really a bit of everything."
Conventionally, 2,000-acre ranches have four pastures. At CF Ranch, more than 800 cows rotate through 15 different Bermuda-grass pastures, which the animals love because it means better food.
"Once you rotate them enough, they're broke and easy to manage," Flannery says. "By putting them in a small area, we can kind of force them to that and not just the really good stuff, but they have to eat some of the junk too. … And that way over time, by eating everything, it controls the junk and the good stuff. And the good stuff naturally will take over."
Rotational grazing is designed to improve soil health, grass quality, nutrient availability, and water-holding capacity. Additionally, it has eliminated the use of herbicide on the property, says Flannery, who also breeds polo-prospect horses at the ranch.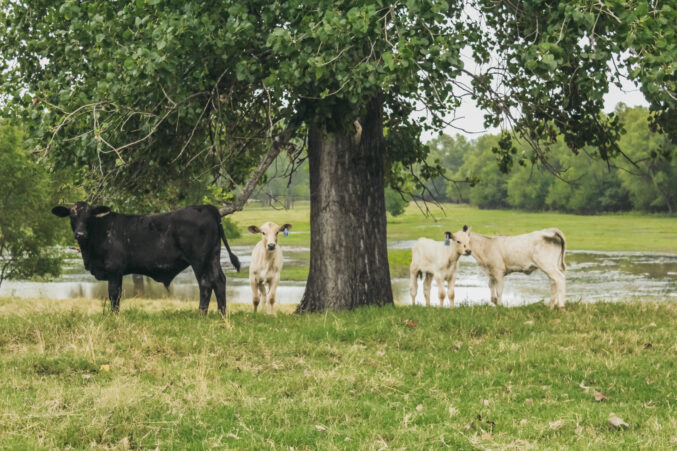 The ranch is crowned with woods—the primary purpose for them is for fighting erosion, but the cows benefit from it too. Many ranchers free their cows in open pastures, but the key, Flannery says, is to provide shaded areas in each field. "It makes the cows feel better, which makes the production better, and it's more profitable for the farm."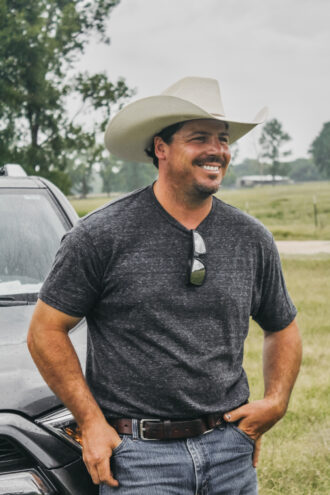 A highlight of the property is 10 miles of underground pipe that flows on-demand to pivots and stock water troughs throughout, complementing a series of wells and other natural creeks ponds and water throughout the ranch—insulating it from drought. "In Texas, they're really rare," Flannery says. "Floods come and go in three days … but droughts can last years."
The soil and the water, he adds, is what makes the land rare. "You won't get that anywhere else. It's just unreal."
There's a huge disconnect between the city and the land, and there's not really a reason for it," Flannery says. "People just seem sort of intimidated about getting into agriculture, but we need fresh blood, and it's gotta happen."
Texas Ranches is a new editorial series from D CEO that features noteworthy ranch properties in the region. To submit ideas for consideration, email Online Managing Editor Bianca R. Montes.
Get the D CEO Real Estate Newsletter
Get weekly updates on breaking commercial real estate news and relevant industry reports.