When it came to designing the interiors of
The Hamilton
, Deep Ellum's latest multifamily tower, 
StreetLight Residential's
vice president of design, Geoffrey Woodrum, says his goal was to emphasize the neighborhood's longstanding art and music culture. The idea, he tells 
D CEO
was to celebrate the energy of the downtown neighborhood in a very sophisticated way.
Developed by
Westdale Real Estate Investment
and StreetLights Residential, The Hamilton is the residential portion of The Epic, an 8-acre mixed-use development. LRK was the architect for the project.
From understated touches, like the ceiling in a private dining room draped in melted old records, to more vibrant showings, like the work of eight local artists highlighted throughout the 26-story residential tower, Woodrum, who started the project while at Ink + Oro, says he accomplished the design by using such highlights to invoke the feeling of walking through Deep Ellum itself.
"Imagine walking through Deep Ellum, and you pass a mural, and then you look down an alley and catch a glimpse of something else," Woodrum says.
The building's unexpected layout and moments of exposed brick, wood, steel, and loud pops of colors all lend to the metaphor.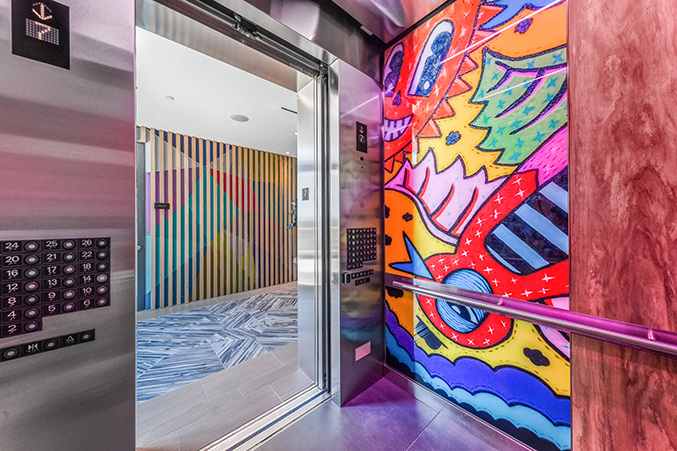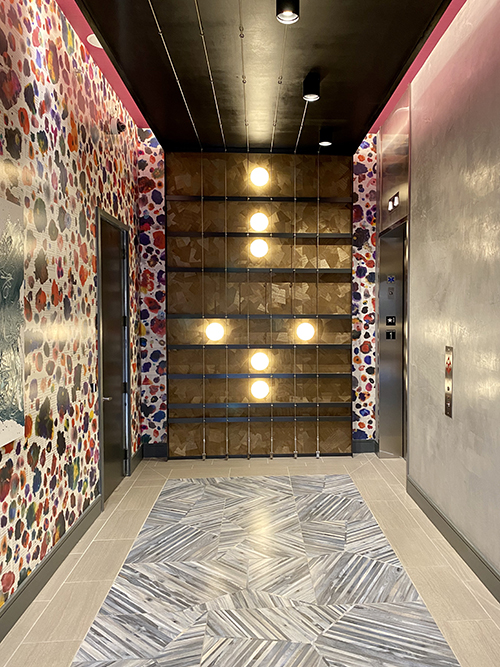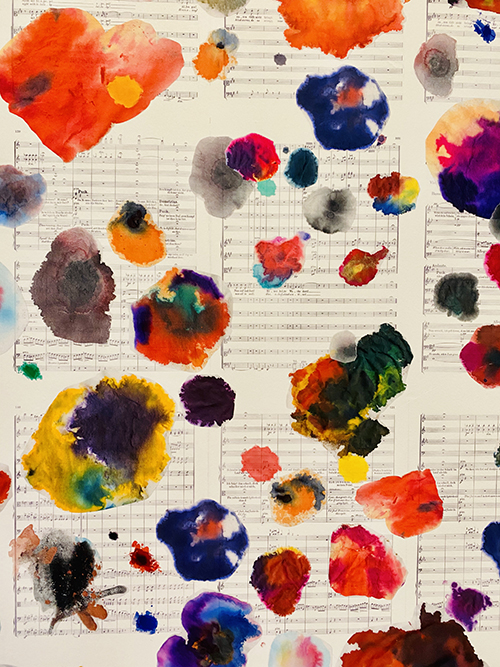 A guitar art installment and music note wallpaper are some of the elements one might find walking around The Hamilton.
Other standout design elements range from three Mitsubishi electric elevators all styled differently by local artists—where even lighting is used to set individual moods—mechanical and bathroom doors hidden by pop-out installations, music note wallpaper, an unexpected guitar installment that stretches across the wall and onto the ceiling, and vignettes that highlight the neighborhood's past such as photo collections, and a mural in the parking lot of William Sidney Pittman, a trailblazing African-American figure, Henry Ford, who selected Deep Ellum as the site for one of his earliest automobile plants, and musician Bessie Smith.
"This is truly a one-of-a-kind, elevated living experience," says Joe Beard, President, and CEO of Westdale Real Estate Investment. "The Hamilton sets a new creative standard in Deep Ellum and Downtown Dallas with an amenity-rich environment and great connectivity to the neighborhood."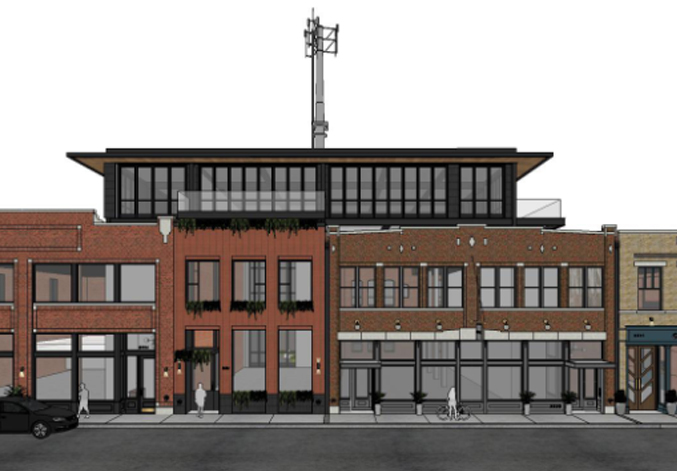 The tower is adjacent to the newly renovated
Pittman Hotel
and across the street from Westdale's planned Good E Block project—a redevelopment of six buildings at the quadrant of North Good Latimer and Main and Elm streets. The buildings will offer ground-floor restaurant and flexible retail space, while the second level is planned for office space.
The Hamilton, as well, brings 23,000 square feet of retail to the block.
Milkshake Concepts
' (the group behind Serious Pizza) has signed on to bring its newest dining and drinking destination, Harpers, to the space.
"As the population in this historic area continues to grow, along with the expansion of Uber's headquarters, our new community caters to the growing employee base along with other residents who want an active urban lifestyle adjacent to the heart of downtown. We are thrilled to open our doors for leasing," says StreetLights CEO, Doug Chesnut.
The hi-rise, which welcomed its first tenant late February, is now 23 percent leased. Floors 19 through 26 are still under construction with the last floor expected to be delivered by November.
The Hamilton has a total of 310 units, ranging from a 498 square-foot studio for $1,650 to a 1,732 square-foot unit with three bedrooms and bathrooms for $6,040.
Inside the units, artful touches include details such as custom cabinetry—20 to 30 percent larger than the average apartment—urban mudrooms, floor to ceiling windows, built-in desks, custom decorative lighting, crafted ceilings with lit coves, Sonos speakers, and more.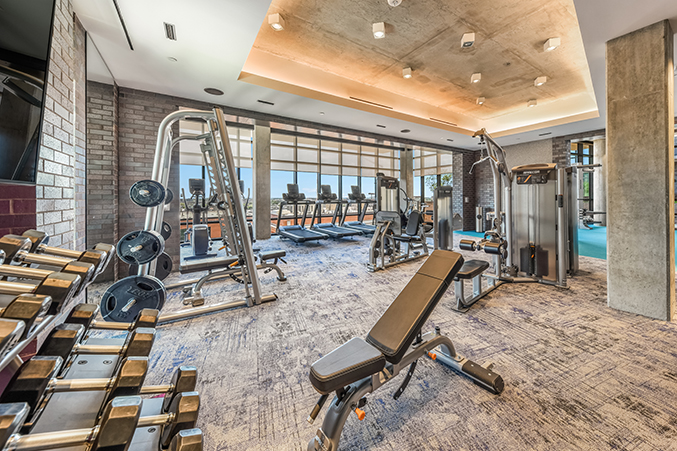 More than 11,000 square feet of shared amenities include a resident bar, pool deck with cabanas overlooking downtown Dallas, grilling stations, entertaining space with firepits, a media tunnel featuring private reading nooks and a makers space with collaborative creative lab, and a gym that is complete with the latest in technology like Wellbeats virtual training and a Mirror-like system.
Get the D CEO Real Estate Newsletter
Get weekly updates on breaking commercial real estate news and relevant industry reports.