PERMITS
Consolidated Electrical Distributors has filed a permit to renovate its 28,787 square foot facility at 1920 Westridge Drive in Irving. The scope of work is valued at $55.6 million. Benson Hlavaty Architects is the listed design firm.
Vistra has filed a renovation permit to fit out a five-story, 436,258 square foot office at 1925 West John Carpenter Freeway. According to the permit, the value of the renovations is $21 million. SLAM Collaborative is handling the design. Back in June, The City of Irving had approved economic incentives for an undisclosed Fortune 500 company to renovate the building. Vistra will now occupy two headquarters in Irving—the other is located at 6555 Sierra Drive. The location on West John Carpenter Freeway will house its call center operations and other business and customer services. The company has not yet signed a lease, but if everything comes together, it will relocate those employees to the second location.
MUFG Union Bank—a unit of Japan-based Mitsubishi UFJ Financial Group—is leasing 35,000 square feet of offices in the former Zale Corp headquarters (now VarisSpace) at 901 West Walnut Hill in Irving. Corgan is designing the new space.
FOR SALE/LEASE
Uptown's The Crescent complex is for sale, according to the Dallas Morning News. Designed by famed architect Philip Johnson, the three-building office complex at McKinney Avenue and Pearl Street recently underwent a more than $30 million renovation and has more than 1 million square feet of space. Fort Worth-based Crescent Real Estate operates the buildings. The sale does not include the Crescent Court Hotel. Retail anchor Stanley Korshak just renewed its 51,191 square foot lease at the complex. Steve Lieberman of The Retail Connection represented the tenant while Crescent Real Estate's Tony Click and Marissa Parkin represented the landlord.
Liberty Mutual Insurance is looking to rent out nearly a quarter of its 1 million square foot office campus on the Dallas North Tollway. The two-tower high-rises are part of the Legacy West development. The office space will be available in October and is offered at more than $44 per square foot.
INDUSTRIAL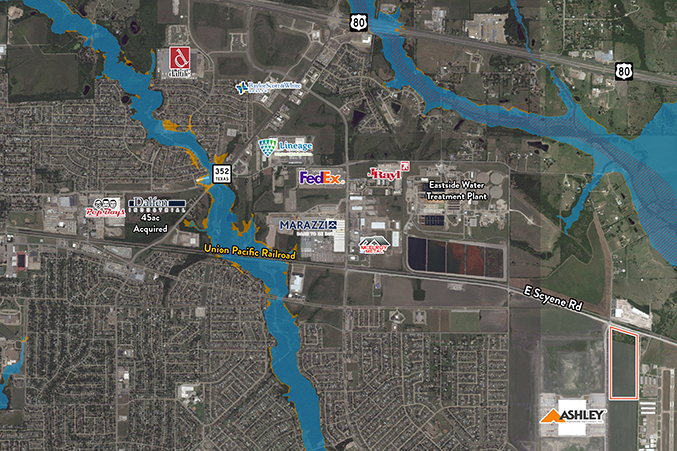 Haverwood Investments has purchased two adjacent land tracts totaling almost 40 acres in Mesquite. Younger Partners' John St. Clair and Jack Gail represented Haverwood. The first of the two undeveloped land tracts includes 22.64 acres at 1262 E Scyene Rd. The undisclosed seller was represented by Cushman & Wakefield's Stuart Smith. The second parcel is 17.03 acres located at 4180 E Scyene Rd. The undisclosed seller was represented by Coldwell Banker Residential's Claire Hill.
Communication Test Design leased 185,344 square feet at 1001 Lakeside Parkway in Flower Mound. Associates with Lee & Associates, Jackson Cross, and JLL negotiated the lease.
MEDICAL
The University of Texas Southwestern Medical Center renewed its 48,770 square foot lease at 3000-3030 Waterview Parkway in Richardson. Matt Wieser and Ramsey March with Stream Realty Partners represented the landlord, GI Partners.
Renaissance Pathology has leased 4,780 square feet at Creekwalk Village, 609 W. 15th St. in Plano to launch Aperture Next-Gen Laboratory Enterprises, a coronavirus diagnostic, research, and development facility. Creekwalk Village's new tenant will be performing COVID-19 testing while researching and developing new methods aimed at hastening the process. Initially, the lab will process molecular diagnostic specimens from physicians. Janet Scholl of Wingert Real Estate represented the tenant. Leigh Richter and Paul Richter of Bradford Commercial Real Estate represented the landlord, Suriya Legacy.
MULTIFAMILY
The Bowery at Southside, a transit-oriented, 303-unit multifamily property in the South Main Village development in Fort Worth, has sold. Institutional Property Advisors, a division of Marcus & Millichap, announced the sale. IPA's Drew Kile, Joey Tumminello, and Will Balthrope represented the seller, StoneHawk Capital Partners, and procured the buyer, Weinstein Properties.
Ray Hubbard Ranch I & II, a 146-unit apartment property located in Garland, has sold. Nick Fluellen and Bard Hoover of Marcus & Millichap represented both the buyer and the seller.
OFFICE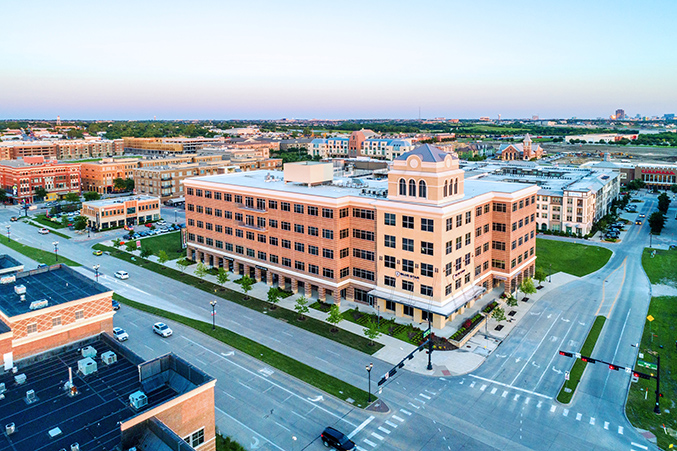 The Tower at Frisco Square has sold. Colliers International's Capital Markets team of Creighton Stark and Chris Boyd facilitated the sale of the 174,147 square foot building located on 3.2 acres at 5757 Main St. in Frisco. The multi-tenant, five-story building was sold by Encore Enterprises based in Dallas, to Maxus Realty Trust, Inc. for an undisclosed amount.
RETAIL
Five Below leased 9,500 square feet at Denton Crossing, 1400-1800 South Loop 288 in Denton. David Levinson and Jack Weir of The Retail Connection represented the landlord, Inland Western Denton Crossing. Gregg Bracchi and Tyler Grisham of EDGE Realty represented the tenant.
NobiliTea has leased 1,587 square feet at Sherwood Way Development, 2926 Sherwood Way in San Angelo). Gavin Fite of RESOLUT RE represented the tenant. Brice Kelly of CMS Properties represented the landlord.
Lateral Limits has leased 1,300 square feet at Little Broadway, 5219 Broadway Blvd in Garland. Jeffrey Lewin and Brian Sladek of RESOLUT RE represented the landlord.
Get the D CEO Real Estate Newsletter
Get weekly updates on breaking commercial real estate news and relevant industry reports.