Share your top deals by emailing Real Estate Editor Bianca R. Montes at 

[email protected]

.
PERMITS
Freeman Mazda
will begin extensive renovations at its 1840 E. Airport Freeway location in Irving. Two construction permits have been filed with the state, the first a $100 million project to the interior remodel of the existing car dealership. The existing storefront is being replaced with new energy-efficient glazing, and a new entrance portal is being constructed and new ACM panels & signage on the exterior at the 7,500 square foot property. Construction is expected to begin in October and end before May 2021. Additionally, a permit was filed to remodel the serviced building at the same location with new finishes, signage, and ACM panels on the exterior of the 3,029 square foot building. No architecture firm is listed.
Hilltop Securities
is renovating a 118,000 square foot space at 717 N. Harwood tower. The company is relocating its headquarters at downtown's Renaissance Tower to the new office, where they are redoing more than four floors (a total of 118,000 square feet). The project is expected to begin at the end of July, and renovations should be completed by March 2021. The improvement is valued at more than $13 million. Hoefer Wysocki is the listed design firm.
Two distribution buildings totaling 231,192 square feet will be built at
McKinney Airport Center
, 2182 Airport Drive. The $11.2 million project will start this July and is anticipated to complete April 2021. Callaway Architecture is the lead design firm.
A 40,000 square foot multi-tenant facility is slated to be built at a sports complex at
W. FM 545
in Melissa. Construction on the $6.3 million project is anticipated to start in August and complete August 2021. Wright Group Architects is the design firm on file.
A permit has been filed for the land development of 102 residential lots at
Anna Town Square
at Powell Parkway and Finley Road in Anna. Bannister Engineering will design the nearly $2.8 million project. Construction was slated to start in July and end by April 2021.
Vickery Meadow Youth Development Foundation
has filed a permit to build a new community center building at 7110 Holly Hill Drive in Dallas. Named the Holly Hill Success Center, the $2 million project is anticipated to begin in October, and construction should take about a year to complete. Waal Architecture is the listed design firm.
INDUSTRIAL
Pratt Corrugated Holdings
renewed its 294,952 square foot lease at Southfield Park 35, 9209 Old Hickory Trl., in Desoto. Matt Dornak and Drew Feagin with Stream Realty Partners represented the landlord, Cabot Properties. Jones Lang LaSalle Brokerage, Inc. represented the tenant.
A two-property 215,729 square-foot corporate headquarters site leased by
Elbit Systems
has sold. A pension fund advisor purchased the assets from Elbit Systems of America. Adam Abushagur, with Marcus & Millichap, represented the seller and procured the buyer.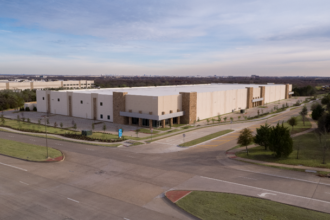 Teltech Group
leased 198,854 square feet at 1901 Lakeside Parkway in Flower Mound. Transwestern Real Estate Services' John Fulton and Brett Owens represented the owner, Black Creek Group.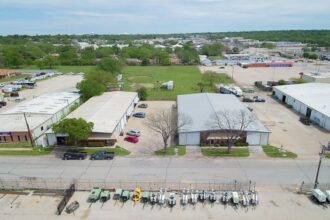 Crowley Business Park,
an 18,400 square foot industrial property located in Arlington, has sold. Adam Abushagur and Cliff Zimmerman with Marcus & Millichap represented the seller and buyer, both private investors.
Monitpora
purchased a 15,260 square foot industrial building at 2505 Farrington Street in Dallas. Hanes Chatham with Stream Realty Partners negotiated the transaction.
Cintas
renewed its 12,132 square-foot lease with Arlington Industrial at 751 109th St. in Arlington. Transwestern's John Brewer and Riley Maxwell represented the landlord. Travis Sapaugh and Reid Leinbaugh, of CBRE, represented Cintas.
OFFICE
One Bethany West
, a 200,000 square-foot office property located at 950 West Bethany Drive in Allen, is set to deliver next month over 40 percent pre-leased.  Over the last three weeks, JLL secured over 45,000 square feet of new office lease agreements. JLL's Blake Shipley and Chris Doggett are leading the marketing and leasing efforts for One Bethany West and One Bethany at Watters Creek on behalf of the property ownership group.
DebtBlue
, a national financial services debt settlement company, has signed a 30,291 square-foot lease for its new headquarters at 1125 E. Campbell, located in Richardson. Stanton Road Capital owns the building. DebtBlue is expanding and relocating its office from Addison to Richardson, growing from a 6,000 square foot space to more than 30,000 square feet. The company expects to more than double in size within the next three years. Ryan Hoopes, of Cushman & Wakefield, represented the tenant in the lease negotiation, and Clint Madison and John Fancher, of Cushman & Wakefield, represented the landlord.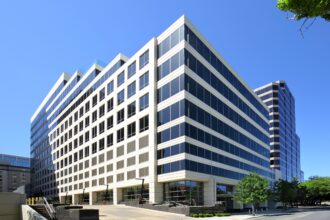 Ameriprise Financial
is relocating one of its Dallas offices to The Terraces at Douglas Center, located at 5960 Berkshire Lane in Dallas. The company has leased 10,844 square feet in the office tower and will occupy the entire penthouse floor. Their new space also will include a 2,000 square foot terrace that overlooks Preston Center. Mike Wyatt and Travis Boothe with Cushman & Wakefield represented the landlord. Jeff Wood and T.D. Briggs with JLL represented the landlord.
BKM Sowan Horan
leased 8,854 square feet at The Colonnade I, 15301 N. Dallas Pky in Addison. J.J. Leonard and Ryan Evanich with Stream Realty Partners represented the landlord, Fortis Property Group. Cushman & Wakefield of Texas represented the tenant.
AMG Technology Investment Group
leased 5,410 square feet at Village at Camp Bowie, 6115 Camp Bowie Blvd., in Fort Worth. Cullen Donohue and Vic Meyer with Stream Realty Partners represented the landlord, Seaboard Capital. Customer First Real Estate represented the tenant.
Spectrum 
leased 4,000 square feet at Denton Crossing West, 1800 S Loop 288. David Levinson and Jack Weir with The Retail Connection represented the landlord, RPAI Southwest Management. Jeremy Halback with Southern Site Selection represented the tenant.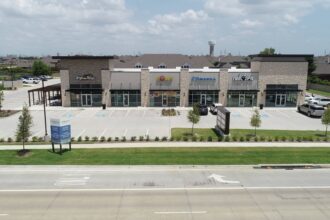 Castle Lake Dental
leased a 2,018-square-foot endcap space at Castle Hills Corner near Old Denton and Parker roads. Britton Lankford and Nick Miller, of Bright Realty, represented the landlord. Evan Reynolds, of Medical Space Advisors, represented the tenant.
RETAIL
Ellen's Restaurant
has signed a 10-year lease of a 5,612 square-foot restaurant space at 601 S. Main Street in Fort Worth. Andy Anderson, of Restaurant Properties Group, represented Ellen's. Sarah LanCarte, of LanCarte Commercial Real Estate, represented the landlord, Greenstar Development Holdings II. Ellen's was founded in 2012 at 1790 North Record Street in Dallas, and also has locations in Allen and Frisco. The new restaurant in Fort Worth is slated to open Mid-2021.
Enchiladas Ole
has leased space in Fort Worth for its second
taqueria.
The Fort Worth-based Mexican eatery will be opening a new location at 9005 North Tarrant Parkway, a standalone pad of an active shopping center near the corner of North Tarrant Parkway and Davis Boulevard. JLL's Austin Speni negotiated the retail lease on behalf of the tenant.
Auto Liquidators
purchased a 10,000 square-foot building on 1.45 acres at 12180 Garland Road. Bill Bledsoe, with Henry S. Miller Brokerage, represented both the seller, Verde Investments, and buyer. Auto Liquidators will use the building for auto sales.
Kayi Realty
(ADL Auto Sales) purchased an 8,435 square-foot auto showroom and service center on 1.78 acres at 8312 Camp Bowie West. Bill Bledsoe, with Henry S. Miller Brokerage, represented the seller, Allen Samuels Realty, and the buyer. The property will be an expansion into Fort Worth for ADL Auto Sales.
OsteoStrong
has leased 2,692 square feet at Preston Valley North,12835 Preston Road. Jeffrey Lewin, of RESOLUT RE, represented the tenant. Daniel Frid, of Shop Cos, represented the landlord.
Philly Pretzel Factory
has leased 1,050 square feet at Marketplace at Flower Mound, 2311 Cross Timbers Road in Flower Mound. Mai Nguyen, of RESOLUT RE, represented the tenant.
Belenty's Love Mexican Vegan
has leased 2,360 square feet at Bluebonnet Shopping Center, 3516 Bluebonnet Circle in Fort Worth. Mai Nguyen, of RESOLUT RE, represented the tenant.
Get the D CEO Real Estate Newsletter
Get weekly updates on breaking commercial real estate news and relevant industry reports.