Huffines Communities
is set to build more than 400 new homes at its signature master-planned community,
Waterscape
. The Dallas-based developer purchased an additional 120 acres at the Royse City project.
The development has all necessary master-planned community zoning and entitlements in place, enabling the release of land to builders in late 2022. Upon completion, Waterscape is expected to have a tax value of more than $420 million. "Housing demand in this area is on fire," said Donald Huffines, co-owner at Huffines Communities. "Rockwall County, and Royse City, in particular, continue to see explosive growth, and Waterscape is meeting this demand by offering residents quality homes with the quiet comfort of small-town living and community-centered amenities at affordable prices."
Amenities include s a well-stocked catch-and-release fishing pond, walking, biking, and hiking trails, and a $3.5 million amenity center, which consists of a 1,500-square-foot event center, resort-style swimming pools, hammock park, water volleyball court, dog park, and children's pool. The amenity center is scheduled for completion later this fall.
Huffines Communities has four active communities under development in the North Texas region, and most of the homes in these communities start in the $200,000s-$800,000s.
Younger Partners Adds Retail Investment Division
Younger Partners created a new platform to acquire retail properties: Younger Partners Investments. It will target retail properties from lifestyle to neighborhood centers in the Dallas-Fort Worth Metroplex. Along with this new division comes the hire of Micah Ashford to lead the charge.
"We feel like retail is one of the most disrupted sectors of commercial real estate," says Younger Partners Co-Founder Moody Younger. "While we can relate to the tough times COVID-19 has created for many, we are confident in the resilience of Texas, and we are excited to make this investment in the future of retail and our region. The opportunity to add a talent like Micah decided to launch this new platform an easy one for us."
Ashford is coming off a two-year hiatus from a 20-year career as a partner at Dunhill Partners, a leading commercial real estate firm in the Southwest that focuses on retail shopping centers.
Younger Partners Co-Founder Kathy Permenter says the new division has been part of the partners' long-term strategy. "With the market going through dramatic changes as the result of the COVID-19 pandemic, this is a good time to do it. I started my career in retail, and it continues to interest me. I look forward to investing in this sector," she says.
VanTrust Launches Second Speculative Office Building in McKinney's Craig Ranch
VanTrust Real Estate has launched a speculative office building within the 2,200-acre Craig Ranch community in McKinney. McKinney Corporate Center II is a four-story, 115,000 square-foot building off Sam Rayburn Tollway (SH-121). The building is adjacent to the 120,000 square-foot McKinney Corporate Center I, adding 235,000 square feet of office space within the office complex.
The leasing team for the building is John Dickenson and Holden Lunsford from Holt Lunsford Commercial. VanTrust's first building at Craig Ranch, McKinney Corporate Center I, is 100 percent leased.
KRS Realty Advisors Complete Renovation of Properties in Historic Fort Worth Stockyards
KRS Realty Advisors has completed a two-building renovation project that brings 12,000 square feet of fully-modernized office and retail space to the historic Fort Worth Stockyards. Stream Realty Partners has announced the first tenant as Austin-based western brand Tecovas, which leased 3,474 square feet. This will be the flagship location for Tecovas in Fort Worth.
Located at 2341 N. Main Street, the first property features 7,220 square feet of divisible space and will serve as a flagship location for Austin-based western brand Tecovas, which has leased 3,474 square feet. The remaining 3,746 square feet are available for lease and ideal for a restaurant, café, bar, or showroom, given the exceptional proximity to Tecovas. Improvements to the property include a renovated building exterior and facade, a new patio area, which will span the full length of the building along Main Street, additional lighting along the exterior, and updated landscaping.
The second property at 111 NW 24th Street, situated next to the 2341 N. Main Street building, is a historic single-tenant renovation that offers 5,520 square feet complete with mezzanine space, ample parking, and convenient access to numerous retail shops and restaurants. Initially built in 1930 and formerly used as the Stockyards Post Office, the renovations to the building showcase a revitalized building exterior and interior, new perimeter windows, and updated storefronts along 24th Street.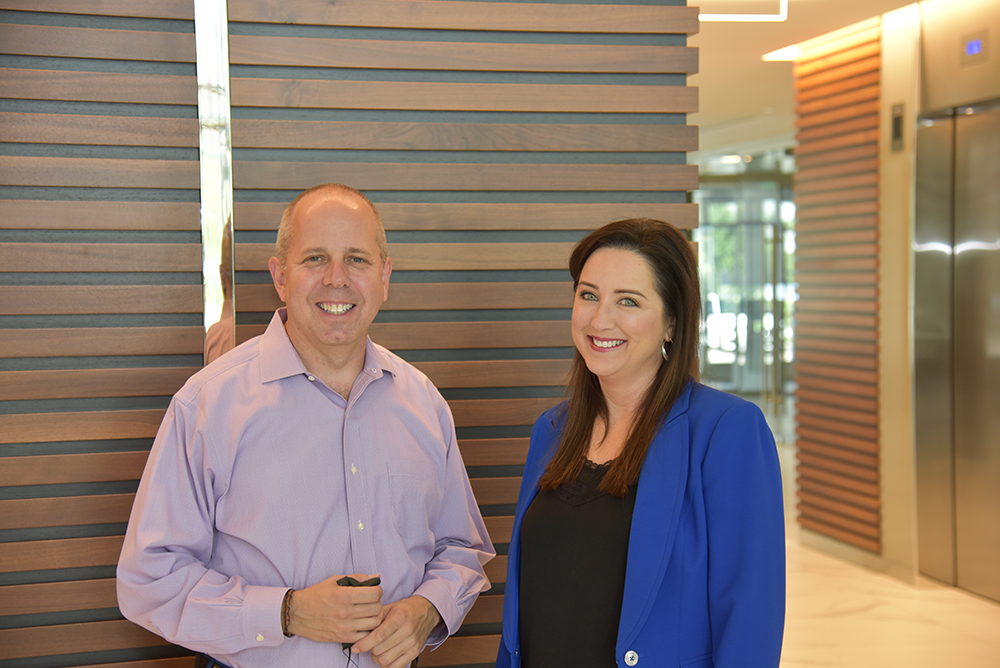 Local Experts Form Boutique Capital Markets Firm
Three very senior capital market experts have formed a new boutique commercial real estate firm with offices in both Dallas and Houston. Goodwin Advisors will provide bespoke capital markets solutions, and not one size fits all recommendations. The team, which includes Evan Stone, Art Buser, and Stacy Stack, will initially concentrate on the office and lodging sectors. The firm will primarily focus on investment sales, recapitalization, and credit advisory.
Stone is an institutional investment sales broker with 25-years of intermediary experience, focused on the office and hotel sectors primarily in the Southwest. Buser is a 40-year lodging veteran with expertise in operations and leadership, with the latter half of his career in the investment and sales arena from coast to coast. Stack brings the team a 20-year history in lending, underwriting, and credit surveillance and has deep experience in creating and unwinding complex credit structures. Stack also is an expert across a wide range of property types from coast to coast.
Ash Goldfarb joins the team assisting in marketing, underwriting, and market research.
North Texas Area Community Health Centers Dedicates The Morris Foundation Building 
North Texas Area Community Health Centers (NTACHC) officially dedicated the Northside Community Health Center and renamed it The Morris Foundation Building, thanks to a $1 million cornerstone grant.
This gift was part of a $15.3 million capital campaign, led by U.S. Representative Kay Granger, to build a new 34,000-square-foot Northside Community Health Center to serve the medically underserved area better.
Primary care services include adult care, pediatric care, women's health, and behavioral health, along with pharmacy, labs, diabetes management, health education, and wellness. In 2018, the Northside Community Health Center opened. The new Center was welcomed by the Northside community, Fort Worth and Tarrant County, as it offered an environment that is family-friendly, hospitality-focused, and promotes patient wellness.  NTACHC currently sees approximately 13,000 individuals per year with the capacity to see an additional 7,000 in its new facilities.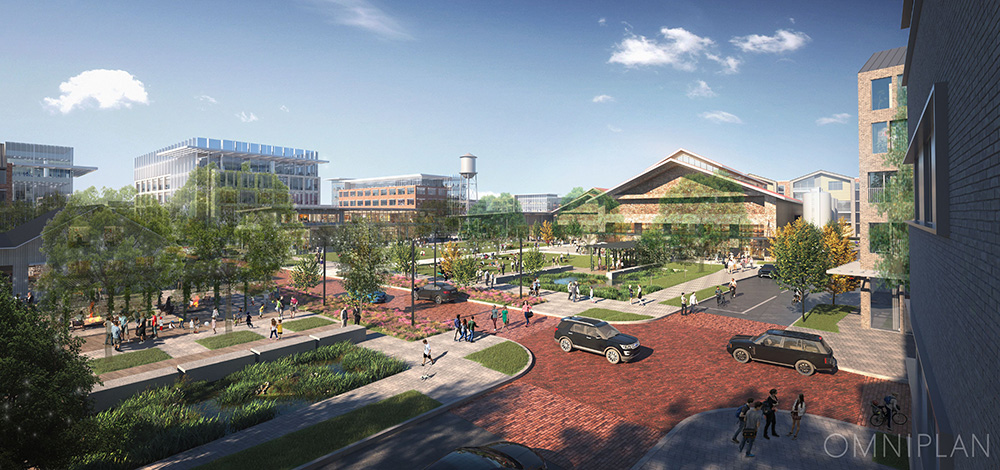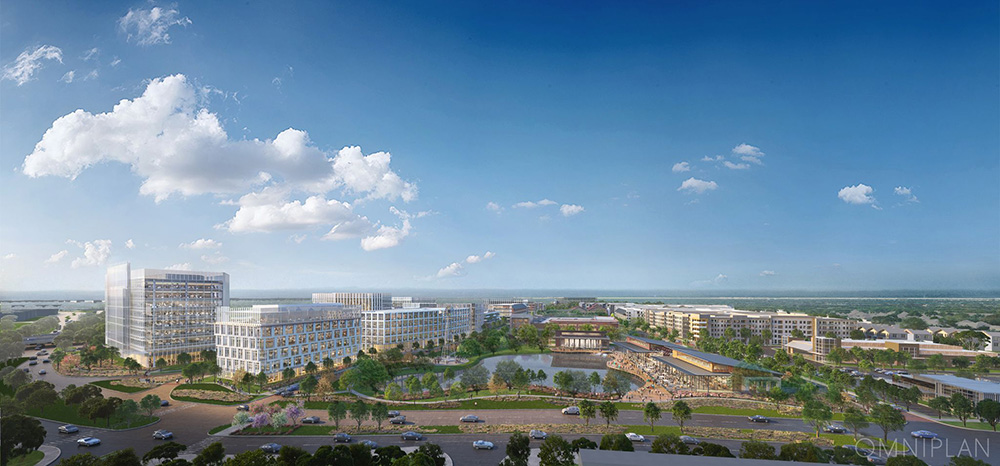 Located at the southeast corner of Sam Rayburn Tollway and Alma Drive, The Farm in Allen will be developed into a 135-acre mixed-use development that will include over 1.6 million square feet of office, 142,000 square feet of retail, a 150-key hotel, 60,000 square feet of restaurants, townhomes and 2,400 urban residential units, along with several outdoor amenities, such a 2 ½ acre lake and two miles of hiking and biking trails.
New Mixed-use Development Headed to Allen
JaRyCo, an Allen-based developer, has partnered with the Johnson family to develop a new mixed-use property, called The Farm in Allen, on their family farmland. The Allen City Council approved the development on July 14. The property, which was previously planned to be the Strand development, has been in the Johnson family since 1964 and will be transformed into The Farm in Allen, a 135-acre mixed-use development. The Farm in Allen will include over 1.6 million square feet of office, 142,000 square feet of retail, a 150-key hotel, 60,000 square feet of restaurants, townhomes, and 2,400 urban residential units. The infrastructure construction is planned to begin in late 2020.
Omniplan Architects, civil engineer Dynamic Engineering, and landscape architect TBG have all been engaged in the project.
Features of The Farm in Allen will include a 2 ½ acre lake with boardwalk restaurants, over two miles of hike and bike trails, a 16-acre greenbelt along Watters Creek, and four additional park areas. The development will tie into the City of Allen hike and bike trail system and will also include several energy-efficient and sustainable design features.
SkyWalker Property Partners' Expansion Plan Sparks Headquarters Relocation
SkyWalker Property Partners has relocated and expanded its headquarters office in a move that benefits two of its assets in Dallas-Fort Worth.
The investment firm is settling in on the sixth floor of Brookhollow Riverside at 2505 N. TX 360 in Grand Prairie. The headquarters relocation frees up much-needed space in SkyWalker Property's fully leased office and retail project in downtown Arlington, its home for the past 12 years.
Get the D CEO Real Estate Newsletter
Get weekly updates on breaking commercial real estate news and relevant industry reports.