A recent report from commercial real estate services firm Cushman & Wakefield suggests that remote work will become a permanent part of the future—but working at the office won't become a thing of the past.
Using a tool that tracks workplace and real estate metrics, researchers compared responses from workers across the globe prior to COVID-19 with more than 40,000  responses gathered afterward. Data indicate that the future of the workplace will be divided between several locales, including both company and home offices. The bottom line: 73 percent of respondents believe companies should embrace flexible working policies.
"It's imperative to recognize that the workplace will no longer be a single location, but an ecosystem of a variety of locations and experiences to support convenience, functionality and employee wellbeing," said Brett White, executive chairman & CEO of Cushman & Wakefield.
A return to the office is not expected to impact productivity; findings suggest that workers feel they have never strayed. Seventy-four percent of respondents believe they can focus while working from home, compared to 73 percent of those surveyed in pre-COVID working conditions.
Ran Holman, who leads Cushman & Wakefield's Dallas office, plans to work from home more often as we transition to this new normal, especially when he needs to minimize distractions. He added that new workplace strategies will reflect each market's local culture. "As these ecosystems develop," he said, "they will develop with the character of the marketplace."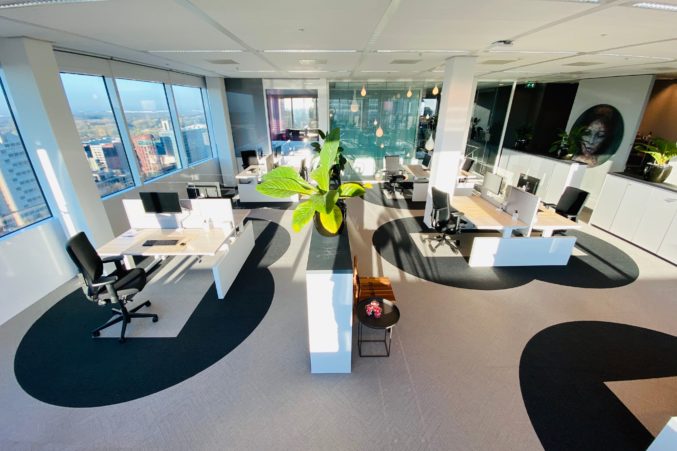 Collaboration and Connectivity Are Key
In somewhat of a surprise, the study found that collaboration may be made easier with remote-work tools; 75 percent of respondents agree or strongly agree that they are collaborating effectively with coworkers from their current working environment, an increase of 10 percent from pre-COVID respondents. This collaboration, however, appears to be task-oriented and does not present opportunities for mentorship or informal learning opportunities.
Holman said forming new professional connections on a remote basis is more of a challenge. "Where relationships exist, they can be maintained [through technology]," he said. "It is more difficult to get a sense for somebody you don't know when you're not face to face."
Mind the Generational Gaps
The data also highlights differences across generations of professionals. But it's not what you might think; Gen Z and Millennials are more likely to cite other obstacles in working from home than Baby Boomers.
The most common complaint for Gen Z seems to be inadequate workspaces, which the report argues may be due to living in shared accommodations with parents or roommates. Millennials face similar struggles, reporting scores 10 percent lower than older generations for "space for focused work" and "minimal distraction" indicators.
Some of the challenges faced by younger generations may also come from being unable to learn from watching more experienced coworkers, Holman said: "A lot of learning is modeling. Some of that mentorship is not just a phone call; it's time together. It's wisdom."
Moving forward, remote working can help offset the need for larger spaces required for social distancing, according to White.
"We expect current real estate footprint sizes to remain steady," he said. "Flexible working practices may result in fewer people in the office at any one time, but that space-saving is offset by the need to accommodate social distancing in the office."
Holman is looking forward to new possibilities. "The workplace is going to foster that balance, and foster those interactions, and foster those cultural aspects that we just can't get through technology," he said. "It's going to be fun. We are into a new world, and I think the designs of the future will be really exciting."
D CEO Real Estate Newsletter
Get weekly updates on breaking commercial real estate news and relevant industry reports.