This summer, Deep Ellum will get its first luxury hotel.
After having sat vacant for decades, one of the city's most storied and significant landmarks, the Knights of Pythias Temple, will transform into the Kimpton Pittman Hotel—named after the designer of the 1916 structure, William Sidney Pittman, a trailblazing African-American figure.
The temple was one of Dallas' first commercial buildings built by and for African Americans. General Manager Jack Murray—formerly with The Joule hotel downtown—says the historical significance of the building has played a large part in the renovation.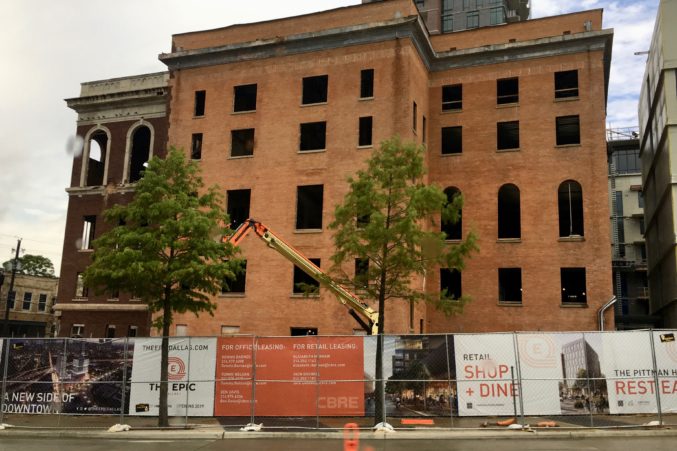 Pittman, the son-in-law of Booker T. Washington, brought the Beaux-Arts style building to life, with storefronts filled by a barbershop and drug store and the inside serving as offices for African American professionals. But, in harder times following the Great Depression sold it. It went on to become a bank—recognized as the Union Bankers Building—and at one point, the red bricks were spray painted white. It has been vacant since the 1990s.
"It has gone through so many different changes since 1916—as you look at it from a hotel's perspective [the question is] how do we capture that and what do we do when it comes to bringing that back to life and exposing it."
Dallas-based Perkins and Will is overseeing the restoration and renovation of the building, which includes erecting a contemporary tower adjacent to the historical portion. The seven-story, 165-room hotel is part of The Epic's mixed-use development near Elm Street and Good-Latimer Expressway.
The Deep Ellum hotel will be Kimpton's third property in Texas. Kimpton operates a hotel in Austin and is renovating a century-old office tower in Fort Worth.
At the Deep Ellum hotel, Murray says one of the prime ways designers have honored the building's past is in its two-story ballroom where blues artists such as "Blind Lemon" Jefferson, Robert Johnson, and "Lead Belly" Ledbetter once played.
The energy of the building captures the creative spirit of the area incorporating works from local artists and a vinyl collection highlighting its musical heritage.
With three walls of soaring windows, Murray calls the redesigned space a juxtaposition of old and new—complete with LED chandeliers. When guests leave the ballroom, they can exit on the old staircase into Elm + Good, a restaurant led by former Statler chef Graham Dodds.
The eatery will be "vegetable-forward," Murray says.
"The vibe is going to be exactly what you might expect from farm-fresh ingredients," Murray said, adding that it will be set in an open concept where patrons can see into the kitchen and watch food cooked on a wood-fired grill.
Outside, Murray says little has been done to the exterior, and the new tower blends well with the old design.
"That was a key design element to make them look like they have always been there, but modernized," Murray says.
Inside, Murray points to his favorite feature: hardwood floors in all of the hotel rooms.
"It's a very clean, open, airy look—high ceilings, as well," he said, pointing to accents like barn doors that separate the bathroom. The hotel, he adds is perfect for an "experienced traveler who likes something off the beaten path."
Each guest room is comprised of soft, modern white walls adorned with local artwork and unexpected pops of dark green, orange, and gray. Beds are outfitted with leather stitched headboards, custom mattresses, and signature Frette linens. Bathrooms range from soaking tubs to stand-up showers, accompanied by Kimpton's exclusive line of Atelier Bloem bath amenities and soft, microfiber bathrobes.
Other hotel amenities include a deck pool, 24-hour fitness studios (with Peloton bikes), an on-site lounge, and loaner bikes.
According to the hotel's website, single rooms are about $300 a night to more than $400 for its King Spa Studio.
The hotel is expected to open in late July.
Get the D CEO Real Estate Newsletter
Get weekly updates on breaking commercial real estate news and relevant industry reports.