Despite a temporary moving delay due to the COVID-19 pandemic, Reed Smith's Dallas sector has settled into its new office space at Harwood No. 10.
The law firm, with 29 global locations, opened its offices in Dallas in May of 2019 in temporary quarters in the Harwood District. Now, the firm holds over 50,000 square feet in the district's newest building.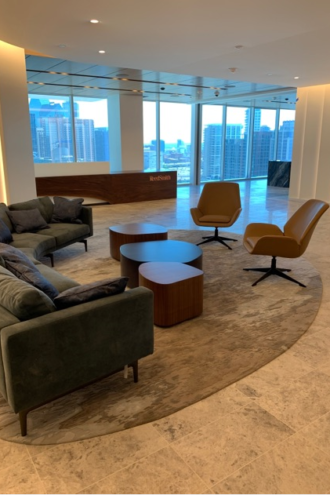 Reed Smith can accommodate for 83 permanent and visiting lawyers in exterior windowed offices, and 45 offices for legal support staff.
"Over the coming months and years, we look forward to increasing our presence in Dallas with the health and safety of our people and our clients as our paramount concern," said Brian Mitchell, co-managing partner of the Dallas office. "We continue to thoughtfully consider cautious, creative, and flexible solutions for working both at home and in the office, and developing new best practices as we gradually return to the office."
Reed Smith opened its Dallas location a year ago with 16 lawyers and has since doubled in attorney headcount. The law firm offers the Dallas area with five sectors of expertise: energy and natural resources, life sciences/healthcare, transportation, entertainment and media, and financial services.
After opening firms in Houston in 2013 and Austin in 2018, Sandy Thomas, the global managing partner, said the firm's focus turned toward bringing their services to Dallas.
"We have long had our eye on the Dallas market, given how many of our clients have a presence in the Dallas-Fort Worth area," Thomas said. "We can provide considerable service to clients in the region as well as to our international clients needing services in this global business hub."
Amenities in the new office include nine state-of-the-art conference rooms, a lounge conference room space, a multipurpose room to host 85 seated guests, additional shared space for hosting large gatherings, and a café for internal events, which includes a micro-market with several types of seating that offers a restaurant-like atmosphere.
The private exterior and interior offices are surrounded by floor-to-ceiling glass walls as well as sit-stand desks provided by Knoll. The firm's new workspace is designed to accommodate for collaboration efforts while following social distancing guidelines.
Its essential workers will be the first to use the space, which spans the entire 14th and 15th floor—and part of the 12th floor in the 22-floor building.
Philip Leibow, Brooke Armstrong and Scott Hage of JLL negotiated the Reed Smith lease with Kelly Whaley and Hannah Waidmann of Harwood International.
"We are pleased to welcome a firm with the international prestige of Reed Smith to the Harwood District," Whaley previously said. "Reed Smith will be the sixth Am Law 100 member within Harwood–a testament to our reputation for delivering state-of-the-art operating efficiencies and strategic business advantages in a sophisticated corporate setting."
Get the D CEO Real Estate Newsletter
Get weekly updates on breaking commercial real estate news and relevant industry reports.