Share your top deals by emailing Real Estate Editor Bianca R. Montes at [email protected].
INDUSTRIAL
CIM Group has purchased Junction 20/35, a 1.1-million-square-foot cold-and dry-storage facility in Fort Worth. The acquisition also included an adjacent 14.42-acre land parcel.
Amazon has leased 250,000 square feet at Jerry Jones' Star Business Park off Preston Road in Frisco. The space will be used for a fulfillment center.
Hart & Cooley renewed its 152,274 square foot lease at 200 Northpoint Drive in Coppell. Blake Kendrick, Jeremy Kelly, and Sarah Ozanne with Stream Realty Partners represented the landlord, Clarion Partners. CBRE represented the Tenant.
Kennington Commercial, a Dallas-based commercial real estate firm, has purchased Skyway Circle North, a 62,000 square foot industrial property located in Las Colinas. Skyway Circle North is the first investment made by Kennington Commercial in Las Colinas. Brian Pafford, with Bradford Commercial Real Estate Services in Dallas, is engaged as the leasing agent for the property submarket. Randy Baird, Jonathan Bryan, Ryan Thornton, and Eliza Bachhuber with CBRE National Partners represented the seller, Nuveen Real Estate.
Just over 36,500 square feet at Northwest Crossing was inked through seven long-term leases, and two more, totaling 3,060 square feet, are awaiting signatures. Northwest Crossing's largest Tenant, Corvette Warehouse, has renewed a 19,639 square foot sales center, which is a prominent marker for Loop 12 traffic. The high-end vehicle dealer is nearing its 20th year at 2158 W. Northwest Highway.
Apkudo leased 30,747 square feet at Coppell Trade Center, 800 W. Sandy Lake Rd., in Coppell. Holt Lunsford Commercial represented the landlord, LaSalle Investment Management. Jeremy Kelly and Mac Hall with Stream Realty Partners represented the Tenant.
Two of the seven newly inked deals are newcomers to the development. CES Continuing Education Services has leased 3,130 square feet, and WBM Commercial Services has taken 1,384 square feet, both snapping up space in 2154 W. Northwest Highway, where three tenants also have renewed.
Signing renewals at 2154 W. Northwest Highway were NAPI Inc. for 2,518 square feet and Courtesy Building Services for 2,084 square feet. Their tenant representative was William Henry Wilson, of L.W. Commercial. Also, David Tran Export has re-upped 1,560 square feet in a direct deal with the Bradford team.
Also negotiating a direct renewal was Emanuel Distributors, which occupies 6,258 square feet at 2158 W. Northwest Highway.
The Goodness Outreach Depot expanded by 25,000 square feet at 2550 McMillian Pkwy in Fort Worth. Forrest Cook with Stream Realty Partners negotiated the transaction.
TAF Pinnacle Park purchased 5.48 acres at 4252 IH-30 in Dallas. Jason Moser and Drew Feagin with Stream Realty Partners negotiated the transaction.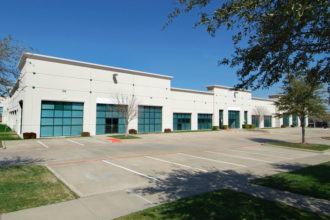 RPMxConstruction signed a 12,873 square-foot extension at 5208 Tennyson at Tollway North Office Park in Plano. Transwestern Principal's Justin Miller and Kim Brooks represented the building in the transaction. David Balogun, with Morrow Hill, represented RPMxConstruction.
GBOD Hospitality Group has leased 6,574 square feet at
2800 Bledsoe St. in Fort Worth. Jon McDaniel and Bobby Montgomery represented the landowner, Fifth Corner. Alex Flores and Bailey Floyd, with TIG Real Estate Services, represented the Tenant.
MULTIFAMILY
Market Space Capital, a M/F Developer, has acquired an approximate 6.103-acre tract that was a part of the Dallas Medical Hospital Campus on the north side of LBJ Freeway at Webb Chapel in Farmers Branch. It will be used for the development of an "Age Restricted" M/F apartment development known as "The Spot at Myra Lane." Transwestern Principal Tom Clarke represented Market Space Capital in the acquisition of the property.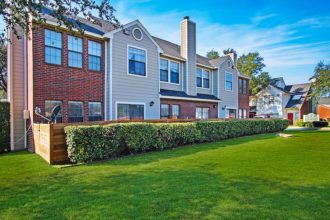 Elwood Oaks, a 54-unit apartment property located at 721 North Nursery Road in Irving, has sold. Nick Fluellen, Bard Hoover, and Matt Aslan, investment specialists in Marcus & Millichap's Dallas office, represented the buyer and seller.
Flat Rock Road RV Park, a 101-site RV Park located in Azle, has sold. Robert Denninger, an investment specialist in Marcus & Millichap's Dallas office, represented the buyer and seller, both private investors.
OFFICE
JLL Capital Market has arranged construction financing for District 114, a four-story, mixed-use office building with ground-floor retail totaling 94,990 square feet in Southlake. Senior Director De' On Collins and Managing Director Steve Heldenfels represented the borrower, Medici Development Partners.
Screen Actors Guild – American Federation of Television and Radio Artists leased 8,344 square feet at 5000 Quorum Drive in Dallas. Ryan Evanich, Chase Lopez, and Brandon Terrell with Stream Realty Partners represented the landlord, G&I VIII 5000 Quorum L.P. CBRE, Inc. represented the Tenant.
Texas Golf Association has leased 7,500 square feet at 16200 Addison Road in Addison.  Jarrett Dunaway, SIOR, and Amber Linville Gibson, of esrp, represented the Tenant. Melanie Hughes, of Bradford Commercial, was the landlord broker.
Grace Church has leased 3,885 square feet at One Elm Place, 1000 East Eldorado Pkwy in Little Elm. Stephanie Jacobs and Chris Flesner, of RESOLUT RE, represented the landlord. Brad Anderson, of RE/Max, represented the Tenant.
CommunityMed Urgent Care has leased 3,150 square feet of medical office space in Lantana Town Center, 3400 FM407 in Bartonville, from NewQuest Properties. Josh Friedlander and Kevin Sims, of NewQuest Properties, represented the landlord. Bruce Waxler, of Edge Realty Group, represented the Tenant.
NEW CONSTRUCTION
Greystar Development Central has filed a permit to begin construction for a 197-unit luxury senior living complex called Overture in Fort Worth's River District. According to the permit, the project is estimated to cost $27.5 million, and the multifamily development will consist of a four-story building with an integral clubhouse and eight stand-alone duplex building. It will take up 7.28 acres of property along Scott Road. Houston's Meeks + Partners is the listed design firm.
A construction permit has been filed for a PNC Bank at 3630 W. University Dr. in McKinney. According to state records, the 4,000 square-foot building will cost an estimated $1 million. Fort Worth-based Franz Architects is the listed design firm.
FOR SALE
The historic Longhorn Ballroom has just hit the market, according to the Dallas Morning News. The 70-year-old performance hall is being sold out of bankruptcy after the previous owners defaulted on loans on the property. It's a little over 5.5 acres with entertainment zoning.
D CEO Real Estate Newsletter
Get weekly updates on breaking commercial real estate news and relevant industry reports.