RED Development's mixed-use retail and residential concept The Union continues to draw developers and retailers alike to the borders of Uptown and downtown. Arguably the most innovative newcomer to the area thus far, the latest development slated for the intersection of McKinney Avenue and Akard Street will feature the largest living wall in North America.
The green structure is part of Austin-based developer and founder and CEO of Rastegar Property Company, Ari Rastegar's plans for a 26-story condominium tower that aims to change both the look and the air quality of Dallas skyline. The 1899 McKinney development is located across the street from the Union mixed-use complex that sold for a record-breaking $370 million in February 2020. The soon to be demolished structure on site was previously occupied by a building that housed an office furniture showroom and a nightclub.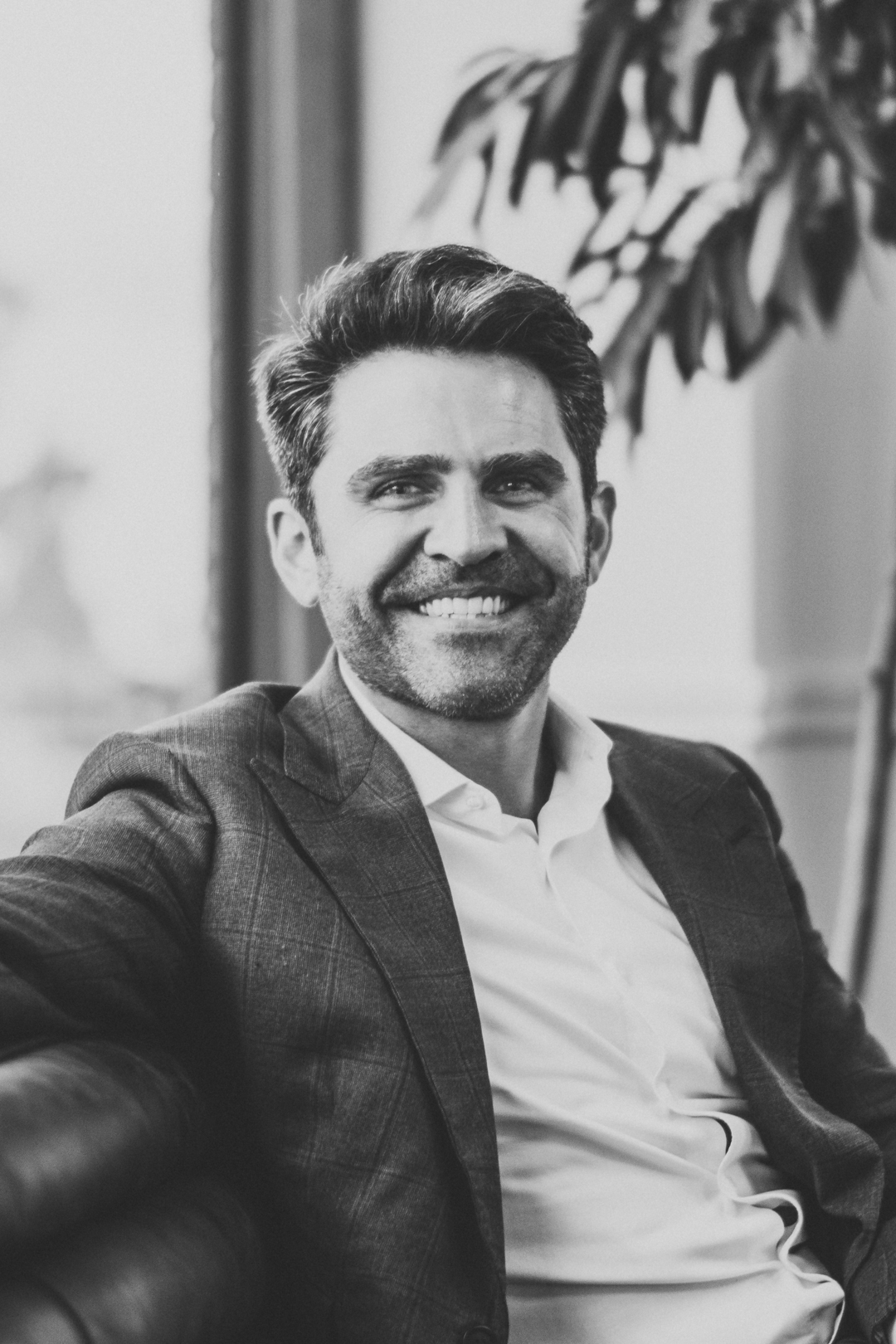 "What was most important to [my wife], Kellie, and I when visualizing this project was community enhancement, walkability, and on a small site, to do something artistic, beautiful," Rastegar told D CEO. "This kind of green wall, living wall came up in a visualization brainstorming exercise with SCB (Soloman Cordwell Buenz), which is our architecture firm out of Chicago.
"We thought about how living walls can positively influence the city of Dallas. We wanted to help champion the sustainability goals of the city and create an example that other forward-thinking cities can follow. Rastegar is offering a fresh perspective on how developers can grapple with some of the most urgent environmental issues, including air quality and carbon emissions."
SCB and Rastegar designed the exterior of the condominium tower to resemble a tree trunk, with its curvature and metal spokes reminiscent of branches. A living wall, which they had seen in projects in Europe and Asia, seemed the perfect complement.
The wall will run vertically up the building's exterior and include more than 40,000 plants, mostly evergreen species. "Evergreens will be a core characteristic of the wall," says CEO of living wall design company Zauben, Zach Smith. "They perform so well in diverse climates, but also offer a lush, green design."
But the living structure will do more than add visual value to the tower: it will help improve the surrounding air quality. Smith's team's wall is estimated to add approximately 1,200 pounds of oxygen to the environment annually and absorb roughly 1,600 pounds of carbon dioxide with minimal upkeep.
Following reports last year that DFW has more than doubled our carbon emissions since 1990, this is undoubtedly a welcomed environmental effort.
Zauben's living walls use sensor technology to monitor plants' needs, primarily moisture and lighting.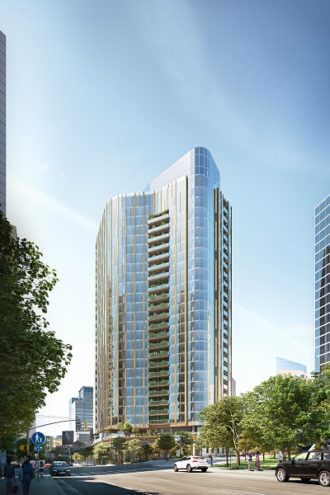 "We wanted to be able to prevent plant failure before it happens because that is one of the most costly things," Smith said.
The sensors post data to an app, delivering real-time plant wellness data to landscape employees. A central irrigation system will run through the building to hydrate the vertical structure, and an alternative to the soil will optimize water use and provide additional building insulation.
"We use mineral wool," said Smith.
Mineral wool, which has been prevalent in the agricultural community for some years, is a recyclable material made from volcanic rock that absorbs moisture, insulates, and deters pests.
"[Mineral wool] takes about one cup of water to essentially feed up to 20 plants," Smith said.
The material facilitates ten to fifteen percent more water absorbance than soil and less than three percent plant loss, according to Smith.
Many of the 270 condominium units that make up the tower will feature balconies nearly arms-length of the wall itself and a short walk away from the tower's three thousand square-foot pocket park. Well-positioned between Klyde Warren and the Katy Trail, the new park is sure to garner a high amount of foot traffic.
"If you're walking down McKinney Avenue, you will have a place where there can be some trees, you can sit, have a break," said Rastegar.
The base of the tower will feature a retail space that Rastegar is still conceptualizing, but he hopes it will have a community feel.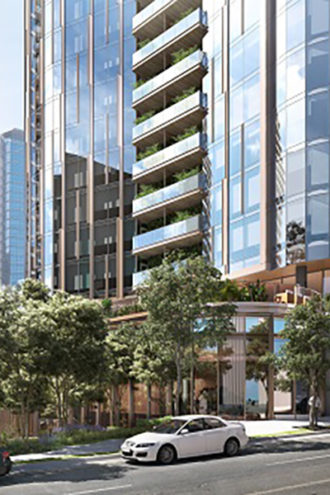 "[A] beautiful coffee shop slash deli would be nice," he says.
In a carefully calculated risk-reduction play, Rastegar signed a ten-year master lease with San-Francisco-based, short-term rental company, Sonder: Texas' statute of repose allows condominium owners to sue developers, architects, and homeowners' associations for up to ten years after completion.
An attorney by trade, Rastegar jumped at an opportunity to maneuver around this liability.
"For 10 years, [Sonder] could be our tenant in the building, and then after ten years, we can take the building back, and then do the for-sale condos," he said.
Rastegar hopes to break ground on the project in August or September 2020 and anticipates construction will take two to three years.
Born in Austin, but raised in Dallas, he is excited about the development's phases to come.
"Being a part of what we call Dallas 2.0 iterates and the urbanization of Dallas, the urbanization of that corridor of Uptown, Uptown [and] downtown expansion, the expansion of Klyde Warren Park, it's all just such an exciting time," he said.
Get the D CEO Real Estate Newsletter
Get weekly updates on breaking commercial real estate news and relevant industry reports.