When the market starts to change, people begin to talk. One of the hottest topics (outside of jokes about video conferencing or binge-watching the craziness of Tiger King) is the topic of rent reductions, which every real estate professional I've spoken with is being asked about.
The different properties are each experiencing different pressures based on the industries that they serve, with retail properties being hardest hit while industrial demand for logistics and related industries has seen the least negative impacts to date. The office industry is somewhere in between these two and is the focal point of this article.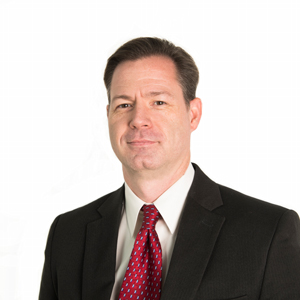 To understand where rents might go, it's important first to look at where rates have been this previous cycle (high and low) and where they are now.
In the previous cycle in DFW, overall asking rates peaked in the third quarter of 2008 at $22.91 per square feet (FSG) and the previous low was reached in the second quarter of 2010 for most submarkets, where the overall average asking rate was $20.54 (a roughly 10 percent reduction from the peak).  Now the market is at all-time highs (as of the first quarter of 2020), average asking rates are $26.85 per square feet (17 percent above the previous peak).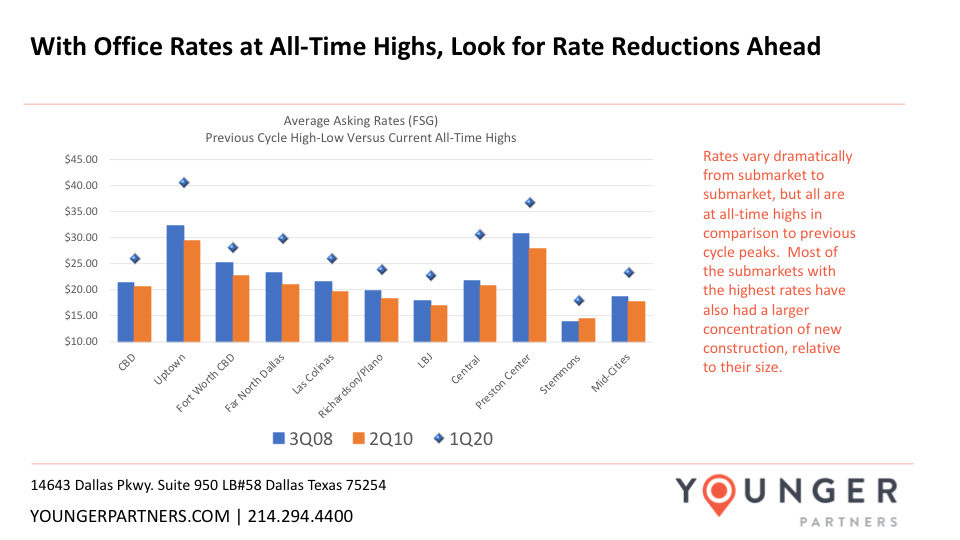 In the chart above, you can see the rates for all of the major submarkets for those same time periods.
All of the major submarkets are at all-time highs, in most cases, far above their previous peaks. The submarkets that have seen the most rental rate growth, generally speaking, are the submarkets that have seen the highest concentration of new construction. It is not a coincidence that the submarkets like LBJ and Stemmons that have lower rates also have had little to no new construction and have some of the oldest inventory of properties in comparison to the other major office submarkets.
Looking ahead, previous cycles show that submarkets with older inventories or emerging submarkets (the East Dallas submarket, which includes the Deep Ellum area, come to mind with a high level of construction underway) are most at risk for large swings in rental rates.
Steve Triolet is the research director at Younger Partners.
Get the D CEO Real Estate Newsletter
Get weekly updates on breaking commercial real estate news and relevant industry reports.