There was something about the long storyline of Weir's furniture store and the beloved Highland Park Soda Fountain that inspired developer Justin Schoellkopf to film a documentary about his latest project. It was just last summer when we all learned about the redevelopment that would change the feel of the old-timey commercial street in Knox-Henderson between East Dallas and the Park Cities.
Schoellkopf and the Four Rivers Capital team released to D CEO the first in a four-part series about the project. The documentary starts with the background on how Weir's furniture store came to a neighborhood that was once considered the Appliance Captial of the World–spoiler alert: it took several pushes for a hesitant J. Ray Weir to open the store.
Partnering with the Weir's family, Four Rivers Capital is redeveloping the site the family has owned for the past 70 years and transforming it into a 12-story mixed-use commercial building that will include stores, restaurants, outdoor areas and a resort-style fitness center for tenants. While Weir's furniture will return to the site, Highland Park Soda Fountain will not. Preserving its legacy has been a bonding point for both the developers and the Weir Family.
"That's one of the reasons why we wanted to document what we're doing here," Schoellkopf said. "You know, some people don't understand it. Some people are frustrated that we're doing anything. But what people don't know is that the Weir's furniture building was in need of repair  … every time it rained, they had to bring buckets out."
Not being historically designated, Schoellkopf said a lot of discussions went into how they would preserve the soda fountain's long-standing impact.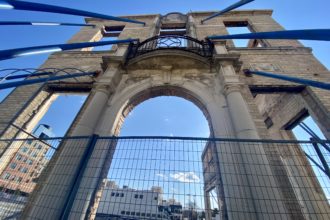 "Obviously, one of the biggest things we were focused on was preserving this building, treating it like it has some historical significance–because it does," Schoellkopf told us during a tour of the building site. There, we saw the shell of the soda fountain that will serve as the front door to the 300,000 square foot project. Brick from the old eatery will be weaved into the redevelopment's design, and memorabilia from the restaurant (like the old cash register) will be incorporated into a yet-to-be-announced restaurant.
"Whoever is the restaurant that comes in here, they're going to utilize all of those things and weave it back into their interior decorating," Schoellkopf said. "We want to sync up with somebody who is here locally, and that understands what the soda fountain building meant to the community."
Kirkland & Ellis, the largest law firm in the U.S. by gross revenue, will occupy the top three floors. WeWork committed to 71,598-square-feet across three of the building's floors.
The project is anticipated to open in November 2021.
Get the D CEO Real Estate Newsletter
Get weekly updates on breaking commercial real estate news and relevant industry reports.