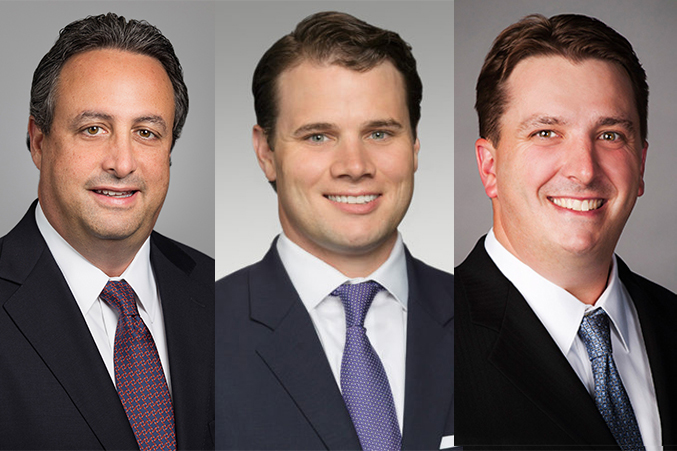 Stream Realty's Big Score: Randy Cooper, Craig Wilson, Kate Sudol, and Wills Bauer
Powerhouse tenant rep group departs Cushman & Wakefield to join former colleague Dan Harris at Stream.
The band is back together. Stream Realty Partners has announced that Randy Cooper, Craig Wilson, Kate Sudol, and Wills Bauer have joined the firm, reuniting with former Cushman & Wakefield teammate Dan Harris. The four join Harris in Stream's Dallas-Fort Worth office tenant rep division, which Harris launched last November.
The former C&W brokers have been involved with some of the biggest office leases and projects in North Texas, brokering deals totaling more than $15 billion for high-profile companies like State Farm, Fannie Mae, and Energy Transfer. They were attracted to Stream's entrepreneurial platform, said Cooper, managing director. "Stream's unique platform allows us to be more creative, nimble, and empowered," he said. "Its entrepreneurial approach will enable us to explore new opportunities and solutions for the benefit of our clients."
Also a key factor: the opportunity to help build the tenant rep division, said Wilson, executive vice president: "Being part of expanding a key service line for a well-respected, Dallas based firm like Stream is a very special opportunity. We couldn't be more excited about this new endeavor."    
First on the priority list: promoting Stream's office tenant rep capabilities to local businesses and continuing to build the group with other proven professionals.
Blake Kendrick, managing partner of Stream's Dallas office, called Cooper, Wilson, Sudol, and Bauer "perfect additions" to the firm. "We couldn't be more excited," he said. "Their unrivaled experience and expertise allow them to constantly exceed client expectations, making them a perfect fit for Stream's culture and our overall growth strategy."