One of the largest adaptive reuse projects in the state is gaining momentum in the core of downtown Dallas, where Todd Interest is reviving the former First National Bank Tower into a vertical mixed-use developed. It's the last major office tower to be revived in the urban core—and the largest.
The 52-story, 1.5 million-square-foot tower occupies an entire city block bounded by Pacific Avenue and Akard, Field, and Elm streets. It will include office, residential, and retail space and be anchored by a 219-room Thompson Hotel, which will open this year. And now, it has a new name—The National—and a new office tenant—Downtown Dallas Inc.
The nonprofit has signed on for 23,000 square feet, allowing it to house its management office, field operations, Downtown Safety Patrol, and Clean Team all in one home base. The move also gives it a chance to have an active storefront on Pacific Avenue, which will serve as a downtown information center, marketing showcase, and field operations dispatch.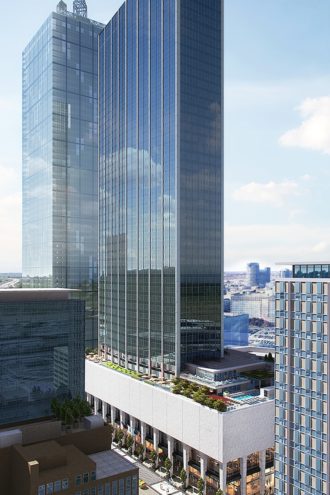 DDI currently occupies space in Bank of American Plaza, where it has enjoyed "spectacular views, a central location, and an outstanding management team," says Kourtny Garrett, the group's president and CEO. AT&T has housed its field operations for nearly two decades, and Parks for Downtown Dallas has also provided interim operations space.
"Now, as we continue to grow the organization, the ability to bring our teams together in the last major historic renovation in downtown is very meaningful," Garrett says. "The location is also important, from access to the DART light rail station for our 100 employees, to the ability to serve all of downtown from a location that is a hinge between many of downtown's districts."
Todd Interests CEO Shawn Todd said no organization has done more for the urban revitalization of Dallas than DDI. "They are at the vanguard of every vital urban decision in Dallas, and their uncompromising commitment to downtown has made our city what it is today," he said.
Todd Interests has a strong track record of revitalization projects in the city's urban core, including the landmark Dallas U.S. Post Office and Courthouse, One Dallas Center, and East Quarter. The former bank building at 1401 Elm Street is the company's most ambitious project yet.
Get the D CEO Real Estate Newsletter
Get weekly updates on breaking commercial real estate news and relevant industry reports.