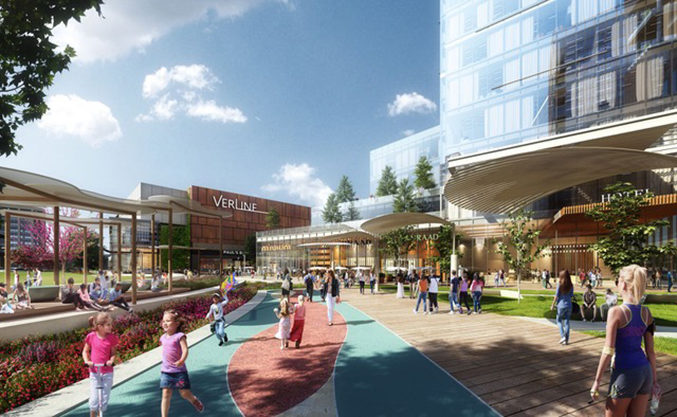 With a Park, LandDesign Says it Will Transform Dallas Mall into a Community
The new three-acre park will create a nexus for the buildings and amenities at Park Heritage. 
LandDesign—a firm currently working on more than a dozen mall reinventions nationally—has announced its role as the landscape architect for a visionary masterplan to reimagine a key 25-acre parcel on the site of the Valley View Mall.
"To realize a unique, alluring urban setting for Seritage and for the Dallas-Fort Worth metroplex, we reduced the footprint of existing travel lanes in a north-south vehicle corridor that divides the three-acre park," says Brent Martin, PLA, a landscape architect and partner at LandDesign. "The site is located just off the LBJ Freeway, a major commuter artery, so we had to be sensitive to Dallas-area transportation needs even as we maximize the green space and devote more room to parks and pathways activating the site and carrying foot traffic toward retailers."
Buildings and landscape surrounding the three-acre park all step up and away, culminating in amenity settings intermingling with a lush landscape and green roofs, including shade structures, varied seating options, pedestrian, and bike paths.
Martin adds that LandDesign's master plan reduced infrastructure costs by removing a number of the streets proposed in an earlier, gridlike version of the development.
"The new three-acre park will create a nexus for the buildings and amenities at Park Heritage, transforming a development into a community," says Heth Kendrick, PLA, another landscape architect and a principal with LandDesign. "Our mission is creating places that matter, where people come together for work, play, and celebration."
Construction on the $1 billion redevelopment began in May 2019. It includes nearly 2 million square feet of offices, apartments, and retail and restaurant space are planned in the Park Heritage complex being built by New York-based Seritage Growth Properties, Dallas developer KDC and Toll Brothers, a Pennsylvania-based home and apartment builder, according to previously reported articles.
LandDesign is collaborating with architect 505Design for owner Seritage Growth Properties.