I don't know how you reacted to seeing Troy Aikman get weepy watching Jimmy Johnson learn of Johnson's selection into the Hall of Fame. Still, I know I darn sure had this thought: I'm not certain I have kids who are going to cry at my funeral, much fewer friends willing to cry at my success.
What a blessing for Aikman and Johnson–professional colleagues–to have such a sincere and appreciative relationship that has lasted over three decades now.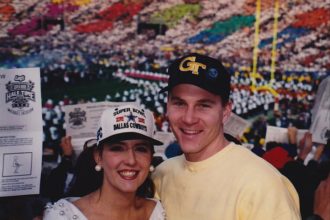 I was in college at Southern Methodist University from 1990 to 1994, and living a small aspect of the stereotypical SMU student life with season tickets to the Cowboys for four seasons starting with the 1992 season. On top of that, I won the Super Bowl lottery for season-ticket holders twice and attended Super Bowls 27 and 28 with my wife while we were dating. It was a great run for the team, and for us, our tickets and trips mainly funded by insurance proceeds on clothing contents, books, and other incidentals damaged in a fraternity house fire.
I watched and studied those Cowboys carefully. Jimmy Johnson even impacted my choice of college degrees–when I was selecting mine, he was the talk of Dallas and the entire NFL, and his use of his psychology degree was often mentioned. I dove headlong into the psychology program at SMU.
All in all, here are some of the things I gleaned while watching Johnson run the Cowboys that apply to a real estate career. Perhaps you can add some others.
Psychology matters.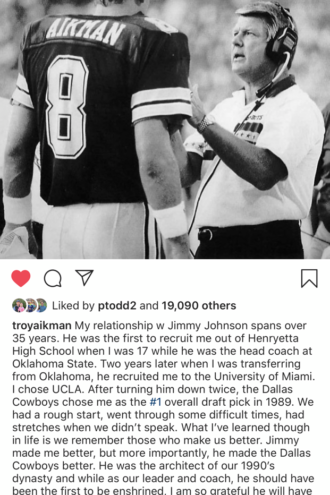 A lot of the games we play end up being against ourselves and in our heads.
Johnson understood this about people and carried himself with a swagger and confidence that was often inspiring to others around him. He knew who needed to be cajoled and who needed to be coddled, and he didn't need to be your friend. Instead, he needed you to be your best as often as possible.
Johnson knew when and how to remove pressure from his team, boldly telling a radio sportscaster before the 1994 NFC Title game against San Francisco, "We will win the ballgame, and you can put it in three-inch headlines."  The newspapers did so the next day, and the Cowboys did so, too, on Sunday.
There are few accommodations
Sure, Michael Irvin might have been handled one way and Charles Haley another, but for the most part, Johnson wasn't that accommodating of a guy. During his first training camp, he famously screamed at one player who cited asthma as the reason he couldn't complete his wind sprints: "Asthma, my —. Get over there on that other field and have some asthma. Get out of here!"
Johnson taught me that, at the highest levels, productivity and high performance were the expectation.
Establish and adhere to brand standards
Cowboys fans will recall Johnson cutting running back Curvin Richards, Emmitt Smith's backup after Richards lost two fumbles in the last game of the season leading up to Johnson's first Super Bowl win. Yes, the next day, Richards was cut and gone, no longer a Dallas Cowboy. That was probably the first time in my life I recognized such strict adherence to a brand standard–in this case, to excellence, and sloppy play would not be permitted, especially when entering the playoffs and even if the team had to enter the postseason down a player.
Be enthusiastic
I have seen repeatedly throughout my real estate career what I observed in Johnson those five years–that those who do the best project a sense of perpetual optimism, they display passion, and they are enthusiastic.
I will always get chills watching Johnson scream in a crowded and victorious visitors locker room at Candlestick Park, "How 'bout them Cowboys?!"
Coach Johnson, thank you for a wonderful five years in Dallas, thank you for the lessons you taught us all through your team and congratulations on a well-deserved honor of selection into the Pro Football Hall of Fame.
Jon Altschuler is the founder of Altschuler+Co.
Get the D CEO Real Estate Newsletter
Get weekly updates on breaking commercial real estate news and relevant industry reports.