It's 2020 and for an ever-growing number of large businesses, the cloud is crucial.
In an era where cost-cutting is prized, the cloud offers enterprise IT significant advantages in terms of affordability and scalability.
To meet the rapidly growing demand for their services, hyperscale users and cloud providers are expanding aggressively. In this blog, we will go into more depth on the role wholesale data center providers play in supporting the growth of hyperscale users and cloud providers.
Here are the trends that will continue to drive demand for wholesale data center leasing through 2020 and beyond.
Speed to Market Is Everything
Over the past several years, Fortune 500 companies have been increasingly investing in cloud services as they look to leverage data-intensive applications involving the Internet of Things (IoT), Artificial Intelligence (AI), and Machine Learning (ML). Consequently, hyperscale users and cloud providers are eager to expand their footprints to accommodate all of this data growth.
To overcome challenges such as insufficient capacity, soaring capital expenditures, lack of internal real estate expertise, and a need for high speed to market, wholesale colocation offers hyperscale users and cloud providers an optimal solution.
As Datacenter Hawk has noted, "a primary reason colocation has become an acceptable solution…is because of the speed at which data center operators are delivering capacity today." In short, wholesale data centers like Stream provides to the hyperscale and cloud markets provide fast deployment times for rapid expansion.
2. Location Near End-Users and Connectivity is More Important Than Ever
With increased automation and the use of new technologies comes a veritable explosion of enterprise data. To handle this surge and ensure speed of service delivery, hyperscale users and cloud providers need data centers with ultra-high-speed connectivity capabilities. The best way to get this is to establish a presence that is physically close to one's end-users.
The ultra-low latency requirements of many of today's cloud-delivered applications will continue to be a significant factor pushing cloud providers to expand into regional markets utilizing wholesale data centers.
As Cisco aptly notes, "as more applications move to the cloud, the traditional approach of backhauling traffic over expensive WAN circuits to… a centralized Internet gateway via a hub-and-spoke architecture is no longer relevant."  Now, the focus is on delivering cloud services locally to end-users.
Hyperscale wholesale data centers can satisfy the location and connectivity requirements of growing cloud companies. By establishing a rapid presence in data centers near their customers, cloud companies can enable the low latency services that enterprises demand.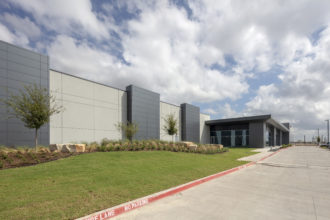 3. Reducing Capital Expenditures Remains Paramount
One of the most popular rationales why hyperscale users and cloud providers choose to build their own data centers is that it gives them a high level of control over their deployments.
The DIY route, however, remains expensive and, as the Uptime Institute notes, "enterprises continue to move from a focus on capital expenditures to operating expenditures."
In this regard, providers of wholesale data center solutions have a lot to offer, especially those with added real estate expertise like Stream.
Building a hyperscale data center involves many expenditures, from land and construction costs to utilities and equipment installation. Going the wholesale route gives cloud companies the resilient and redundant infrastructure they need without the high capital expenditures that would otherwise be necessary. As a result, wholesale leasing will remain an advantageous strategy for many hyperscale users and cloud providers throughout 2020.
The Future is Bright for Wholesale Data Center Providers
As MarketWatch reports, the global wholesale data center segment will grow at a CAGR of 17 percent by 2024.
Hyperscale users and cloud providers will contribute more to this growth as they seek to meet customer demand rapidly and efficiently. The name of the game is to enter new markets quickly to handle exponentially growing volumes of data and transmitting it between edges and cores faster than ever before. To make this happen, wholesale data center providers can be the perfect partner!
Anthony Bolner is executive vice president and partner of Stream Data Centers.
Get the D CEO Real Estate Newsletter
Get weekly updates on breaking commercial real estate news and relevant industry reports.