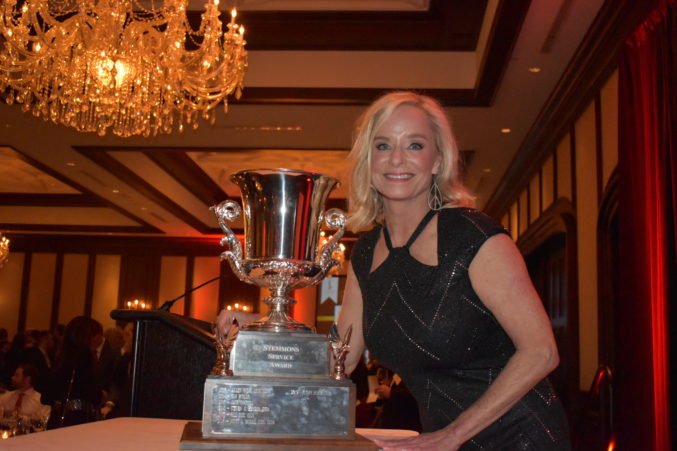 Kathy Permenter Wins Stemmons Service Award
Permenter is also a 2019 D CEO Power 500 honoree.
Younger Partners Co-Managing Partner Kathy Permenter was honored Wednesday night at the Stemmons Service Awards–NTCAR's premier event to honor a member of the brokerage community who best exemplifies the highest standards of a commercial real estate professional.
This prestigious award is conferred on the professional who has earned the respect of his or her peers and is an active and productive broker who successfully resolves the intricacies of bringing two parties together in a real estate transaction.
Permenter, along with the other nominees and an elite audience of brokers and affiliated commercial real estate professionals, gathered at the Dallas Country Club to celebrate the annual event. Other nominees included Mike Geisler, founding principal and managing partner of Venture Commercial; Sharon Friedberg, senior vice president of Fischer & Company; and Lynn Dowdle, president of Dowdle Real Estate.
A 2020 D CEO Dallas 500 honoree and a Bisnow Power Woman, Permenter attributes her real estate success to her CPA background, years of transaction experience, and a passion for exceeding her client's expectations. She has an accounting degree from TCU, an MBA from SMU, and is a past president of NTCAR.
Permenter also is involved in the NTCAR Hall of Fame, CREW, Twelve Ordinary Women, My Possibilities, and the Special Olympics.
The NTCAR Young Citizen Finalist were:
Tim Axilrod, SHOP Companies
John Dickenson, Holt Lunsford Commercial
Elizabeth Herman, CBRE
Max Schwartzsten, Providential Realty Partners (winner)