Driving down Maple Avenue, it's hard to miss Old Parkland with its grand Jeffersonian-style office buildings, lushly landscaped lawns, shady trees, and provocative sculptures, many by French realist Rodin. A 240-foot clock tower may make it near impossible to miss what was once Dallas' first public hospital.
According to city documents, property owner Crow Holdings is looking to build the tower in a small parking lot next to what's known as the Nurses Quarters Building. The team behind the project will meet with the city's Landmark Commission Jan. 6 for a courtesy review of the proposed project, but no vote will take place.
Movement on the project is on hold until Dallas council members approve an amendment to an ordinance that states new construction in Old Parkland cannot exceed the height of the adjacent historic structure. The council is expected to discuss the project at its Feb. 12 meeting.
The purpose of the courtesy review with the Landmark Commission is to garner feedback, city officials said.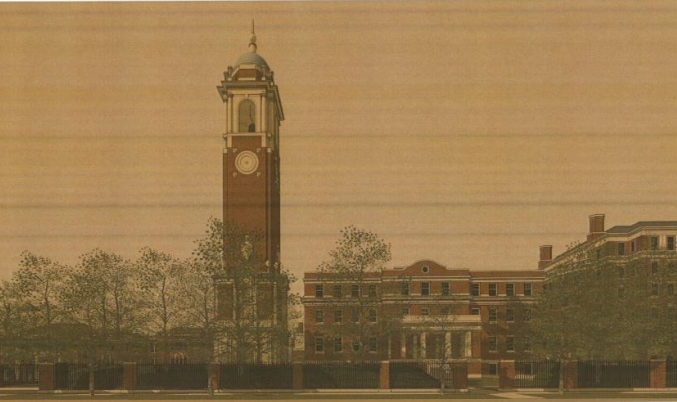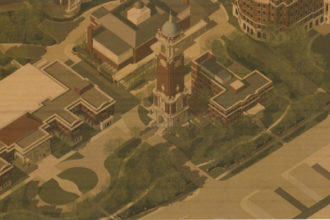 In its application to Landmark Commission, designers described the tower as a "blend of natural stone and brick … designed to complement the surrounding buildings."
Clad in natural stone, the base of the tower will be 40 feet by 40 feet. Above the first story, the facade transitions to a blend brick with natural stone accents. A copper dome is planned to cap the tower along with an architectural spire–like the campus clock towers at Louisiana State University and Stanford University. It will also include a custom cast bell and custom clock face that matches the clock on the Old Red Courthouse in downtown.
City staff have already signed off on the structure, calling it "complementary to the historic structures on campus."
The original Parkland Hospital was built in 1894. By 1913, that wooden structure was replaced with a modern brick building. Two wings were added in 1921, and a nurse's dormitory was built in 1922. In the mid-1950s, Parkland Hospital moved to its existing site on Harry Hines Boulevard.
The older hospital was used to treat psychiatric and tuberculosis patients until the mid-1970s. In 1996, Dallas County acquired the then-vacant complex with plans for redevelopment—but those plans never materialized. Nine years later, the county opened up the opportunity to outside investors. Crow Holdings came in with a winning bid of $16.5 million and closed on the deal in late 2006. You can read more about the campus in this D CEO story from a few years back.
Get the D CEO Real Estate Newsletter
Get weekly updates on breaking commercial real estate news and relevant industry reports.