D CEO Real Estate is proud to announce the return of our Deal Ticker, a recap of notable leases, sales, and new developments across all sectors and submarkets. To have your transactions and projects included, please send details to Real Estate Editor Bianca Montes at [email protected].
OFFICE
HEB Grocery Company LP leased 37,411 square feet in Bluffview Towers at 3890 W. Northwest Hwy. in Dallas. Randy Cooper and Wills Bauer of Cushman & Wakefield represented the tenant. James Esquivel of JLL represented the landlord, BSP Bluffview LP.
Reserve Capital Partners acquired Two Colinas Crossing located at 11511 Luna Road in Farmers Branch. Reserve Capital Management will take over property management and asset management of the building. Two Colinas is home to major corporate tenants such as IBM, S&P Global, BBVA, and Home Point Financial. The debt and sale of the asset were brokered by Clint Coe, Jason Piering, and Jack Crews at JLL. 2GR Equity out of Dallas partnered with Reserve Capital to acquire the asset.
Southwest Transplant Alliance, a non-profit organ recovery organization, has sold the 33,561-square-foot office building that has served as its headquarters for 10 years as it prepares to move to a new headquarters location. The five-story office building, located at 5489 Blair Road, was acquired by Fears Nachawati Law Firm, a Dallas-based plaintiffs law practice. Mike Gosslee, senior director at Cushman & Wakefield, represented Southwest Transplant Alliance in its negotiations.
One Network Enterprises Inc. renewed and expanded its lease by 21,680 square feet, bringing its total square footage to 45,274 square feet in Granite Tower at 4055 Valley View Lane in Farmers Branch. Jihane Boury and Stephen Rury of Colliers represented the tenant. Trey Smith and Rodney Helm of Cushman & Wakefield represented the landlord, Buchanan Street Partners.
BGE Inc. signed an 8,476 square feet lease expansion at 2595 Dallas Pkwy. in Frisco, bringing their total leased space to 44,224 square feet. Robbie Baty and Travis Boothe of Cushman & Wakefield represented the tenant. Brad Gibson of Hall Park represented the landlord, Hall Stonebriar One Associates LLC.
INDUSTRIAL
M2G Ventures releases plans for a 640,000 square foot, four-building Class A industrial development, located at I-35 and Golden Triangle Boulevard at 10705 N. Freeway. Seth Koschak, along with Stream's Forrest Cook, vice president, and Brett Carlton, associate, will lease the project on behalf of M2G Ventures. Stream's development team lead by Albert Jarrell and Cannon Green were tapped to assist with construction.
Atlanta-based Core5 Industrial Partners has broken ground on the 65-acre site for its new Core5 Logistics Center of McKinney, located off North McDonald Street (State Highway 5) between Wilmeth and Bloomdale, in McKinney. The project's initial phase creates 431,710 square feet of industrial space in the first two buildings. Construction of The Core5 Logistics Center's buildings A and B began in November 2019, with completion scheduled for early summer 2020. Dallas-based Citadel Partners, LLC. was contracted in February 2019 to represent Core5 for this project.
Benjamin Moore is expanding its operations in the Dallas-Fort Worth area by opening a 238,000-square-foot regional distribution center in Lewisville. The company has signed a lease in 121 Lakepointe Crossing, located at 2525 E. State Hwy. 121. Mark Collins, managing director at Cushman & Wakefield and colleagues Dean Collins and Bill Brown, represented Benjamin Moore in their property search.
McLane Company signed a 157,500 square feet lease in 4721 Mountain Creek Pkwy. in Dallas. Kurt Griffin, Nathan Orbin, and Ann Jaggars of Cushman & Wakefield represented the landlord, IDI Logistics. Michael Quint of Newmark Knight Frank represented the tenant.
Chicago-based National Container Group LLC has leased the 120,960 square foot Intermodal Business Center in southern Dallas County, making a 10-year commitment for the entire class A project to house its expanding manufacturing operations in Texas. The expansion is expected to be up and running in Q1 at 1704 S. Interstate 45 in Hutchins. Michael T. Grant, senior vice president and managing partner of Dallas-based Bradford Commercial Real Estate Services and Susan Singer, executive vice president, represented the landlord, Intermodal Warehouse Partners. Jean Russo of Cushman & Wakefield of Texas, working with brokers in the firm's Atlanta office, represented National Container.
Avenger Flight Group LLC has leased 116,640 square feet in Valley View at DFW Center for its second flight simulation training center in North Texas. Joe Santaularia, first vice president of Dallas-based Bradford Commercial Real Estate Services and Brock Wilson, senior vice president, and managing partner are Avenger Flight Group's tenant representatives in North Texas.
CDI leased 79,380 square feet in Liberty Park GSW North–Building 2 at 951 Valley View Lane in Irving. Kurt Griffin, Nathan Orbin, and Ann Jaggars of Cushman & Wakefield represented the landlord, Liberty Property Trust. Krista Raymond of CBRE represented the tenant.
The Goodness Project leased 71,400 SF at 2550 McMillian Pkwy in Fort Worth. Stream Realty Partners' Forrest Cook and Seth Koschak represented the landlord, K&L Enterprises.
HSM Solutions renewed a 63,612 square feet lease at 605 109th in Arlington. David Eseke and Chris Hillman of Cushman & Wakefield represented the tenant. John Brewer of Transwestern represented the landlord, Vista Verde Industrial, LLC.
Koening & Bauer, Inc. has subleased 60,000 square feet at Twinrose Regent II, 2555 Regent Blvd. in Irving. Paxton Cooksey and Trace Elrod with Newmark Knight Frank represented the tenant.
Centurion American purchased 60,000 square feet at Braniff Hostess College Redevelopment, 2801 Wycliff Ave. Joe Santelli and Matthew Sheard with Marcus & Millichap represented the seller, MQ Companies.
PetroChoice signed a 52,960 square feet lease renewal at 12001-12003 Corporate Dr. in Dallas. Stuart Smith of Cushman & Wakefield represented the tenant. The landlord, Proterra Properties, was self-represented.
Prolift Rigging leased a 52,000 SF industrial building at 1005 S Blue Mound Rd located in Blue Mound. Stream Realty Partners' Forrest Cook and Sarah Ozanne represented the landlord, Hilzer Family Trust.
Han's Laser, a China-based public company, signed a 44,685-square-foot long-term lease on a facility in Carrollton for their subsidiary, Han's Laser Smart Equipment Group North America. Han's Laser Smart Equipment Group is a world-leading laser machinery provider for industrial manufacturing, and this move will centralize their southwestern U.S. operations. Chad Albert, a principal/partner at NAI Robert Lynn, represented the tenant in the deal.
Mercury One leased 30,933 square feet in Dallas Communications Complex at 300 E. Royal Lane in Irving. Steve Wentz and Mike Wyatt of Cushman & Wakefield represented the tenant. Trae Anderson and Parker Morgan of Younger Partners represented the landlord, CCI-Irving IV, LP.
RETAIL
Dick's Sporting Goods & Golf Galaxy, a combo store, has leased 73,112 square feet at Best Buy Plaza, 9385 North Central Expressway. Greg Bracchi and Megan Nabholtz Trimble with Edge Realty Partners represented the buyer, and Dan Shoevlin and Darrell Hernandez with CBRE were the leasing agents.
Coworking-operator VentureX expanded its current lease at Village on the Green to 22,126 square feet. VentureX was represented by Tarisa Casper Tibbit and Rosanna Hudson with NuStar Real Estate in Dallas. VentureX was represented by Tarisa Casper Tibbit and Rosanna Hudson with NuStar Real Estate in Dallas. Dan Shoevlin, Claire Galpern, Jackie Marshall, and Jackie Smith, with CBRE in Dallas, represented the landlord.
Mattison Avenue Salon Suites & Spa recently purchased Iconic Salon Suites, an existing tenant at the Village on the Green, a mixed-use development across from the Galleria in Dallas. As part of the acquisition, Mattison renewed Iconic's 7,500 square foot lease and added 2,620 square feet of space. Dan Shoevlin, Claire Galpern, Jackie Marshall, and Jackie Smith with CBRE in Dallas represented the landlord, Entrada Partners, in lease negotiations. Tucker Gagen represented Mattison Avenue with Leon Capital in Dallas.
MULTIFAMILY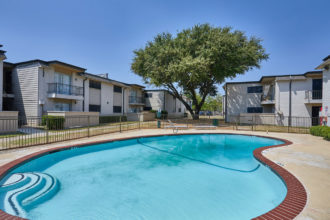 Marcus & Millichap announced the sale of The Apartments at Fountains Corner, a 418-unit apartment property located at 5046 Hildring Drive East in Fort Worth. Al Silva, senior managing direct investments in Marcus & Millichap's Fort Worth office, exclusively marketed the 62-building property on behalf of the seller, Dallas-based WAK Management, who had owned the property for more than 20 years.
CBRE announces the sale of Silverado Apartments, a 185-unit multifamily community located at 1319 N. Nursery Road in Irving. Built in 1970, the property has 144,258 square feet net rentable area, with an average unit size of 780 square feet. Legacy REI Group purchased the property from Plano-based Elmstone Group. Chris Deuillet and Chandler Sims with CBRE Capital Markets' Investment Properties represented the seller.
Get the D CEO Newsletter
Stay up to speed on DFW's fast-moving business community with weekly news reports, interviews, and insights.