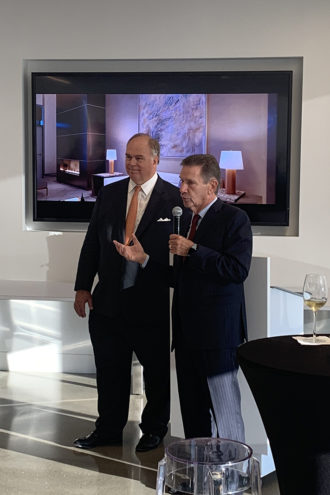 Dallas-based real estate developer HALL Group announced the hire of Briggs Freeman Sotheby's International Realty to assist with home sales at HALL Arts Residences, the exclusive 28-story luxury residential high rise on-schedule to open in early 2020 in the Dallas Arts District.
Briggs Freeman Sotheby's International Realty began working in partnership with HALL Group this October.
"What Craig Hall and his team have done with HALL Arts Residences is nothing short of incredible," says Robbie Briggs, president and CEO of Briggs Freeman Sotheby's International Realty. "The project's commitment to quality, prime location in the Dallas Arts District, and limited availability offer a rare opportunity to homeowners looking for an exclusive high-rise setting in Dallas.
"We love passion and vision when it comes to people and projects — so we are excited to begin this partnership with the HALL team and to help market these exquisite homes."
HALL Group founder and chairman Craig Hall says he has always admired Briggs and the team he has built.
"We are looking forward to having them on board to drive new sales at HALL Arts Residences," Hall says. "Their local expertise, coupled with the global reach of the Sotheby's International Realty brand, make them a great partner for our team as sales interest continues to grow."
HALL Arts Residences features an exclusive collection of around 40 homes, all carefully crafted to provide breathtaking views of the city in residences that range from 1,600 square feet to the more than 10,000-square-foot penthouse.
The high-rise topped out construction in May 2019 and, as of this fall, has reached 30 percent in pre-sales.
HALL Group will continue to oversee all sales and marketing efforts at the residences, with Briggs Freeman Sotheby's International Realty bringing additional local and global expertise to the project.
"With the opening of the HALL Arts Hotel approaching later this fall, now is the ideal time for us to be bringing on the talented team at Briggs Freeman Sotheby's International Realty to carry forward the sell-through of HALL Arts Residences," says Lea Anne Laughlin, Vice President of Residential Programs at HALL Group. "We look forward to welcoming homeowners to the building in just a few short months."
HALL Arts Residences Overview
The average home size is approximately 3,800 square feet.
The 28-story glass residential tower is designed by architect HKS Inc., with interior design by Emily Summers Design Associates and landscape design by OJB Landscape Architecture.
The 17,000-square-foot amenity level includes outdoor terraces, a resort-style pool, a wine room for entertaining with climate-controlled wine storage, additional indoor and entertaining outdoor spaces, a full catering kitchen, private dog park, and grooming station, a putting green.
The design was thoughtfully conceived to complement the Pritzker Prize-winning architecture of the surrounding buildings in the Dallas Arts District.
HALL is the first residential building in Texas to register for WELL Certification, a new system for designing buildings that positively impact the health and well-being of their users.