One of life's nuances is that we fall into habits and ways of thinking that either inspire us or, conversely, undermine our creative energy. As an architect, I have experienced great emotion when standing before certain buildings that touch a nerve within my spirit and momentarily take my breath away. Realistically, those moments of awe are rare. More commonly, I see buildings that are so formulaic that my sensory preceptors shut down and I ignore them.
My lifelong desire has been to design buildings that connect to a higher calling. I have tried many different approaches, including exploring new materials, new systems, and unusual construction techniques. About five years ago, I had a conversation with Drew Steffen about Hines' T3 office building in Minneapolis. T3 stands for transit, technology and timber coming together to create an alternative business style that enhances the quality of life for users and the broader community. That conversation piqued my interest in the timber part of the equation because it struck an emotional chord in me. Seeing photos of the pristine wood ceilings, columns, and beams inspired me to explore the use of mass timber as a viable structural system for office buildings, hotels, and multi-story housing. I then met with Gerald Epps, the owner of StructureCraft, to determine a pathway for constructing mass timber buildings in Texas. Gerald saw a need for turnkey delivery of the timber components in order to alleviate schedule, cost, and quality concerns for prospective owners and developers. Early involvement by a mass timber frame designer is essential to making informed decisions and avoiding costly mistakes.
Given the potential to someday construct a mass timber building, I learned all I could about the system limitations in terms of structural bay sizes, column sizes, optimal beam depths, and how other building components must be rethought to work harmoniously with the wood.
In January of 2017, I received a phone call from John Beauchamp with Hixon Properties in San Antonio on the advice of Clayton Elliott, a former Hines partner in Dallas. John wanted to gauge our interest in becoming the architect of record for a six-story mass timber office building being designed by Lake Flato. My research paid off and we were awarded the commission. Called "The Soto," it is the first mass timber office building in Texas. To say that this project is rewarding is an understatement.
The photos featured here show the structural frame up to the third floor with columns cantilevered to the fourth level.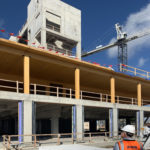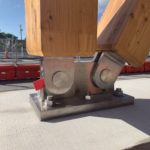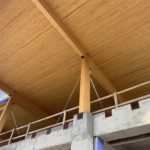 The expression of wood columns at the building's entrance and the transparency of the glazing will afford ample understanding of what lies behind.  Upon entering the office floors, employees and visitors will be struck by the unrivaled beauty of the finished wood structure, which has been enhanced by relocating duct work and conduit to an underfloor distribution system.
Mass timber is not an inexpensive way to build an office building. But it is so unique and attractive to employee-minded corporations, that the response from the leasing market has been a resounding success. Attracting and retaining employees is the number one motivating factor in corporate America. The Soto's beauty offers a striking alternative to mundane office buildings and it takes my breath away when I see it.
Post Script: There are plenty of fabricators in the mass timber market today who can competitively supply individual components such as beams and columns, and floor planks, but turnkey subcontractors, like StructureCraft, have proven to be reliable and trustworthy partners.
Don Powell is principal in charge of Dallas-based architecture firm BOKA Powell.
Get the D CEO Real Estate Newsletter
Get weekly updates on breaking commercial real estate news and relevant industry reports.