On March 28 at Gilley's Dallas, we announced our 2019 Commercial Real Estate Awards winners. The winner of Best Redevelopment for 2019 is Cambria/1900 Pacific Residences. The finalists were Dallas High School, The Luminary, and the Trammell Crow Center.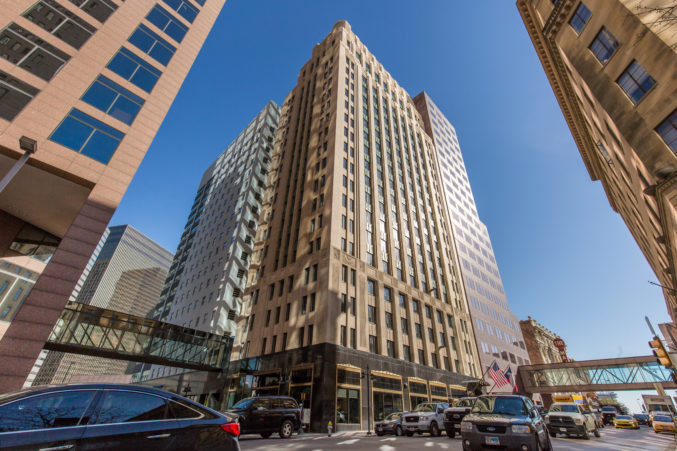 Winner: Cambria/1900 Pacific Residences
This beautiful pair of historic downtown towers underwent a three-and-a-half-year transformation courtesy of owner John Kirtland, who selected Merriman Anderson Architects to bring his vision to life. Built in 1933 and 1950, respectively  the Tower Petroleum and the adjacent Corrigan Tower have been reimagined as the 177/180-room Cambria Hotel and a 150/220-unit high-rise residential tower called 1900 Pacific Residences. Together, they've brought vitality back to what was a dormant area of the city center.
Dallas High School
One of the oldest buildings in Dallas, the old Dallas High School has gone through many a change since 1907. In it newest iteration it has become a 102,000-square-foot office building owned by Matthews Southwest. Merriman Anderson Architects took care of the redesign of the Classical Revival building, and Matthews intends to use it as a jumping off point for the reactivation of the rest of the 5.4-acre tract fronting the Pearl Station. "The Dallas High School redevelopment is the catalyst for the development of the remaining 5 acres of land," MAA founder and President Jerry Merriman said. "This development will contribute to the revitalization of the eastern end of downtown and activate a long-neglected parcel of land."
The Luminary
A West End redevelopment project owned by Crescent and Long Wharf Capital, this 160,906-square-foot office building is on the bleeding edge of the revitalization of the West End and, thanks to technological advancements baked into its fabric, a large part of the push to turn the neighborhood into Dallas's first ever innovation district. The building topped out in 2018 and because of a nine-foot variance allowance, will be the tallest building in the West End. Crescent tasked Corgan with the redesign of The Luminary, which is adjacent to Corgan's old office and will be the firm's new office upon completion of the project.
Trammell Crow Center
Bought by J.P. Morgan Asset Management in 2015, the Trammell Crow Center has been in the thick of a massive redevelopment endeavor ever since. In addition to a facelift, the nearly 1.2-million-square-foot tower will be stepping up its amenity game with two new restaurants, a Royal Blue Grocery, an athletic club, new multifamily and hospitality offerings and more. It's position in the Arts District and downtown Dallas gives it a unique opportunity to increase the walkability and quality of our city center.
Get the D CEO Real Estate Newsletter
Get weekly updates on breaking commercial real estate news and relevant industry reports.