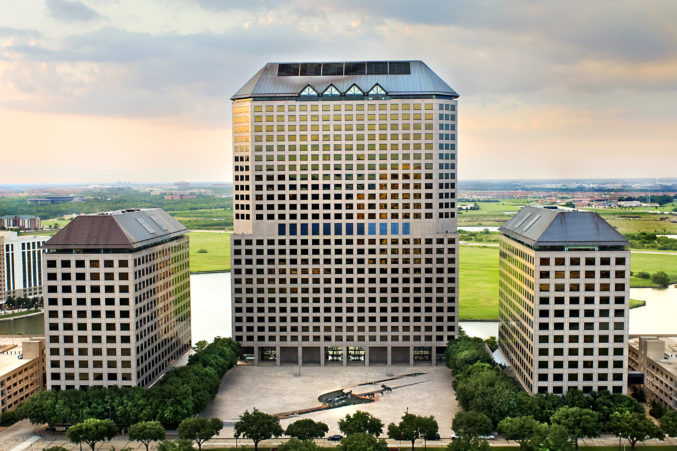 Las Colinas Bags a Big, Fat WeWork Lease
Three floors and 77,000 square feet of coworking space are coming to Las Colinas' The Towers at Williams Square. The submarket is solidifying itself as a one-stop-shop.
The coworking giant WeWork signed a lease for three floors at The Towers at Williams Square in Las Colinas, adding momentum to the trend of coworking companies staking their claim in the 'burbs.
WeWork's lease will encompass 77,000 square feet in The Towers on floors 11, 12, and 14.
"There's a great deal of interest in space at The Towers at Williams Square from innovative companies such as WeWork because of the building's legacy, it's strategic location, and the city's business-friendly environment," said Bill Brokaw, senior vice president with Hillwood, who lined up the lease for The Towers' ownership.
"As the city of Irving continues working with residents and surrounding businesses on redesigning the plaza and augmenting the existing amenities, we're confident we will remain a preferred corporate location."
The new space will target enterprise customers in Las Colinas to capitalize on the influx of companies looking for flexible space in the metro.
WeWork's presence and the addition of coworking space to the Irving/Las Colinas submarket are evidence of the up-and-coming suburb's quickly solidifying position as the dark horse in the DFW office market with an average asking rent of $25.45 psf (the upper middle range of average rents in DFW) and 6.3 million square feet of available office space as of Q4, according to Younger Partners' data.
The submarket has also seen drastic improvements in multifamily inventory and retail options (i.e. the Music Factory) over the last few years. Thanks to these improvements and its strong office game, Irving/Las Colinas is quickly becoming a viable and affordable option for companies looking to locate near DFW's ample tech talent pool without breaking the bank.
On top of that, as Brokaw mentions, Irving/Las Colinas has not been shy about its business-friendliness and is one of the most active corporate relocation headhunters in the metro.
"WeWork chose the perfect spot—Irving, Texas. As one of the top tech markets in the country and one of the leading national and international corporate destinations, WeWork's shared, professional workspace will help support our growing number of enterprise customers," said Irving Mayor Rick Stopfer.
As the economy continues to move toward a downturn and corporations look to cut costs, Las Colinas is well-positioned to soak up demand with its come-one-come-all mentality and a steadily maturing suite of office, retail, and multifamily offerings.