Houston-based cash machine company Cardtronics is expanding its offices by 46,000 square feet, relocating to a total of 82,000 square feet in HALL Park's newest office tower at 3201 Dallas Parkway in Frisco. Cardtronics began the process moving in early last month, occupying the first and third through fifth floors of the building.
"Our space in the new HALL office tower has allowed Cardtronics to consolidate offices and expertise into one location, bringing together our technology, operations and product development teams into a highly collaborative environment that is conducive to innovation and growth," said executive vice president Stuart Mackinnon in a statement. "Our new home in North Dallas provides an ideal setting for us to come together as one team."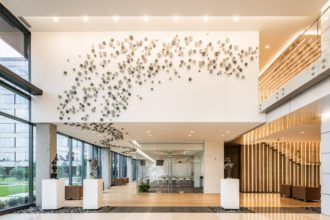 While around 240 employees from Cardtronics operation centers in different cities are being consolidated into the new building, the space will allow for growth within the company. "We are thrilled to welcome Cardtronics to their new home at HALL Park as they continue their global growth trajectory," said Kim Butler, director of leasing at HALL Group. "It has been incredible to see their success over the years, and know they will continue to thrive as industry leaders from their new location."
Garrold Parratt, Greg Biggs, and Kimarie Ankenbrand with JLL represented Cardtronics in the negotiation, while Kim Butler, Brad Gibson, and Cynthia Cowen represented HALL Group.
HALL Park's newest office tower, a class AAA building with 12 stories and 300,000 feet of office space, is the tallest building in Frisco. Amenities include a conference room on the ground floor and a full-service fitness studio. The building also features an event lawn that incorporates outdoor dining areas, a putting green, and a LED water feature.
"Cardtronics focused on attributes for their office space solution that give them a competitive advantage to attract and retain top talent in the market, as well as the necessary space to continue growing their business," said Biggs. "HALL Office Park delivers that exact type of business environment. The amenities and accessibility of the park will enable Cardtronics to continue building their brand and business for the future."
Get the D CEO Real Estate Newsletter
Get weekly updates on breaking commercial real estate news and relevant industry reports.