Hillwood's Bringing 3,000 Homes to Northlake
The Northlake population is less than 2,500, but it's about to get 3,000 single family homes within the new Pecan Square development.
A new planned community is coming to Denton County. Hillwood Communities broke ground last week on Pecan Square, a development in Northlake that will include more than 630 single-family homes in its first phase, where prices will range from the mid-$200,000s to the $500,000s.
The development, estimated to be valued at $1.5 billion, will span 1,157 acres when it opens in fall 2019. Over the next 10 to 15 years, Hillwood plans to develop some 3,000 homes within the rural site. Northlake's current population is under 2,500.
Hillwood says Pecan Square is designed to mimic a classic Texas town, with the community center resting on a square at the end of a boulevard lined with hundreds of pecan trees.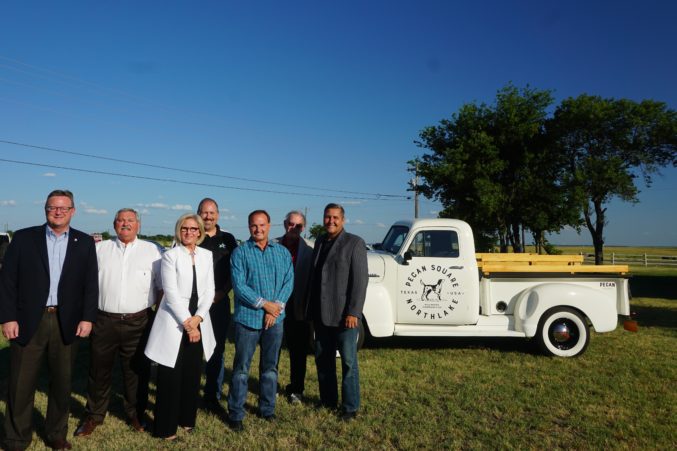 "Pecan Square is really a chance for us to put our best and brightest ideas on community together in a new concept—taking what we've learned at Harvest and across the state, and putting all our ideas together in one community," Vice President of Hillwood Communities Andrew Pieper says.
Pieper says Pecan Square will target many types of homeowners, from first-time buyers to empty-nesters. Many of those first-time buyers will be looking for quality schools. As part of its Northlake development, Hillwood Communities also sold land to the Northwest ISD. The development will also have a co-working facility and 22,000-square-foot horse arena-turned event space.
"We really want to embrace this small-town, rural heritage that Northlake represents. They've been a great partner and we've worked closely with them for years now," Pieper says. "We're excited about the future of Northlake and the future of Pecan Square, and it's really a chance to put Northlake on the map."
The eight homebuilders working on the project are Ashton Woods Homes, Lennar, D.R. Horton, David Weekley Homes, Highland Homes, Perry Homes, Plantation Homes, and Pulte Homes.
"From the very beginning of Pecan Square's planning and design process, Hillwood Communities has taken into careful consideration all that is important to the Town of Northlake. And by complying with our town's comprehensive land use plan, Hillwood is setting Northlake up for viable, long-term growth," Northlake Mayor Peter Dewing said in a press release.
"We are excited to continue our partnership with the town of Northlake to drive conscious growth, support economic development, and provide communal spaces for the town to gather," Hillwood Communities President Fred Balda said in a statement.
Pecan Square will sit across the street from Harvest development near Argyle, a $1 billion, 1,150-acre mixed-use development that Hillwood began developing in 2012.