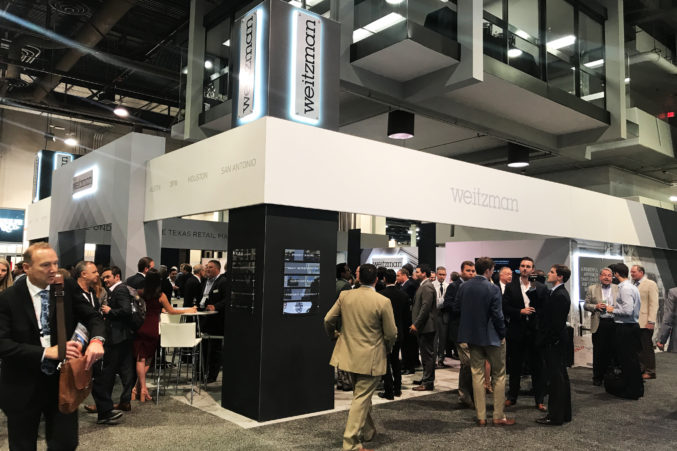 CRE Opinion: Texas heads to Vegas to spread the great news
At ICSC, Weitzman will be sharing its belief that nowhere in the U.S. offers more retail opportunity than Texas.
Next week, the national and international retail real estate industry will converge in Las Vegas for what we call the greatest show in retail. The International Council of Shopping Centers RECon show—ICSC for short—is expected to attract 35,000 or more retailers, retail brokers, developers, managers, investors, economic development directors, vendors, and more.
Everyone at ICSC will be looking for the next opportunity. And we believe that nowhere in our great nation offers more opportunity than Texas. A quick review of our four major metros supports that belief. Currently, Dallas-Fort Worth, Austin, Houston, and San Antonio report their highest retail occupancy rates in years.
This is due to in part to stellar population and job growth, healthy economies and, importantly, near-record-low retail development, even in the midst of a healthy retail environment. Let's take a closer look at the three major drivers for our healthy retail market in Dallas-Fort Worth.
Population Growth (2010-2017): DFW ranks first in the nation for population growth, based on an increase of 146,000 during 2017, bringing total population to 7.4 million.
Job Growth: We rank No. 2 in the nation for job growth, based on an increase of 101,200 net new jobs added between March 2016-March 2017.
Retail Market Growth: DFW's 197.9-million-square-foot retail inventory is currently at a three-decade high in terms of occupancy and is now at 92.5 percent, exceeding the previous high of 92 percent in 1984.
DFW only added 4.2 million square feet in 2017, with new space dominated by grocery- and entertainment-anchored retail, as well as key mixed-use projects with significant retail components. More of the same is on track for 2018. And the new space coming online last year and this year represents major anchors making major commitments to their faith in the future of brick-and-mortar retail in DFW.
From January 2017 through the end of this year, these expanding anchors include Neiman Marcus, AMC Theatres, IKEA, Walmart, WinCo, REI, Barnes & Noble, Tom Thumb, Costco, Dick's Sporting Goods, Kroger, Sprouts, Alamo Drafthouse, Flix Brewhouse, Pinstripes, and several others.
The story is equally strong for our other metros.
Austin added 55,269 new residents in 2017, to total 2.2 million population, and ranks in the nation's top 10 with 36,800 new jobs between March '17 and March '18.
Houston added 94,417 new residents in 2017, for a population of 6.9 million, and ranked fourth nationally with 62,500 new jobs. This is all despite the temporary economic downturn caused by Hurricane Harvey in 2017.
San Antonio added 47,763 new residents, bringing population to 2.5 million. The market also added 27,273 net new jobs, and unemployment is a low 3.5 percent.
And the retail markets in these metros reflect their positive economies. Austin retail occupancy is at 96 percent, Houston is at 95 percent, and San Antonio is at 94 percent. So when we talk to retail industry players in Las Vegas who want to know more about DFW and Texas, we're got a lot to share about the great news for our markets.
Bob Young is Executive Managing Director at Weitzman.