HALL Group recently completed its latest development, a 300,000-square-foot office building in Frisco's HALL Park. The building, HALL Park's 17th, will welcome three tenants in the coming months.
Serendipity Labs, the upscale co-working concept which established its North Texas presence in HALL's KPMG Plaza late last year, will open its second area location later this year. Craig Hall, founder and chairman of HALL Group, is an investor in the hospitality-focused co-working concept. HALL Group will be a joint venture partner in the new Frisco location. The co-working concept will move into 25,000 square feet, including a small footprint on the ground floor of 3201 Dallas Pkwy. Serendipity Labs has ramped up its North Texas expansion and recently hired a director of sales, Karen Pierre. Worth Coworking, which manages the Dallas location, will also manage the new office.
Oportun, which provides affordable loans to people looking to establish credit, will open its first Texas location at HALL Park. Cushman & Wakefield's Travis Boothe, Craig Wilson, and Randy Cooper represented Oportun in its 16,182-square-foot lease.
Origin Bank will occupy 11,500 square feet spread across a ground-floor banking center and a third-floor office. SRS Real Estate Partners' Tyler Isbell and Ryan Johnson represented Origin.
JLL's Kimarie Ankenbrand and Michael Berman represented Serendipity Labs.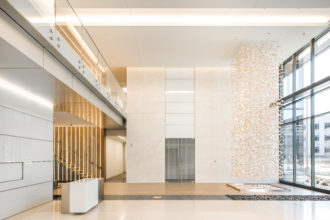 In addition to these three tenants, HALL is in lease negotiations with three others, and has letters of intent for for others. "Leases on this building has been going much faster than any of our others," says Kim Butler, who leads leasing efforts for HALL along with Cynthia Cowen and Brad Gibson. "Part of that is the market and growth in Frisco. Also, tenants are looking to go to quality."
Though this is HALL Park's 17th office building, Butler says several things set this 12-story building—the tallest office in Frisco—apart from the rest of the park. For one, its adjacent parking garage connected through a covered walkway, gives the building 100 percent structured parking. A half-acre event lawn filled with a kitchen, putting green, games, and lawn furniture, allows tenants to work outside or hold events on the lawn.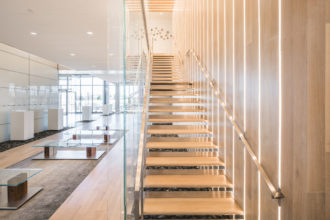 Also, for the first time in the office park, HALL made its back lobby, in addition to its front lobby, span two floors. "First impressions are everything … but it's hard when you do this, because you basically take away leasable square footage. So not only is it more expensive to build, but then you cannot rent it," Butler says. But HALL wanted to utilize a lot of natural light in the front and back lobbies with its floor-to-ceiling windows. Also on the building's ground-floor is a 4,000-square-foot fitness center, conference center that seats 65, and a forthcoming Origin Bank. Serendipity Labs will also have a small footprint on the ground floor.
Architect HKS and general contractor Austin Construction worked on the office, which broke ground in September 2016. In January 2017, HALL finalized more than $57 million in financing for a construction loan with a lending syndicate led by Commerce Bank.
HALL Park currently has about 2.5 million square feet across its 162 acres, but could build up to 7.5 million square feet, including residential and hotel uses. Earlier this week, North Texas-based Pegasus Technology Solutions subleased about 7,600 square feet within HALL Park. Pegasus will move into its space on Internet Boulevard later this month.
Get the D CEO Real Estate Newsletter
Get weekly updates on breaking commercial real estate news and relevant industry reports.